Kellyanne Conway Messages Fake Mike Pence Twitter Account, Thanks VP for Being 'Pro-Women'
Another day, another gaffe for White House Counselor Kellyanne Conway—who this week praised a tweet from a fake "Mike Pence" Twitter account that criticized a CNN editor-at-large.
The imitation "Mike Pence" tweeted to CNN's Chris Cillizza on Monday evening, slamming as sexist the editor's piece on whether Amy Coney Barrett would be President Donald Trump's Supreme Court nominee.
"Coney Barrett graduated from a prestigious law school, was executive editor of law review, clerked on the DC Circuit and the Supreme Court. You reduced her to her looks. Disgraceful," the fake Mike Pence account tweeted, sharing Cillizza's tweet and prompting Conway to respond.
"@VP calls out sexism and shows what it means to be pro-woman," Conway wrote, before deleting the tweet later—possibly after realizing that the "Mike Pence" fan account is not in fact the vice president of the U.S.
Pence does indeed have two active Twitter accounts, one under @VP and one under @MikePence; however, the Republican also has a series of accounts named after him, some run by fans of the vice president, others spoofing him.
The account Conway responded to, @MikePenceVP, is an account that praises Pence, with the bio: "Fan account. My Goal is to expose liberal hypocrisy and Fake News Bias."
The White House counselor has previously made a series of gaffes, at one point appearing to be withdrawn from TV appearances for a short time in 2017 following a series of blunders, including famously referencing the "Bowling Green massacre" (that never happened) and suggesting TV viewers should buy Ivanka Trump's clothes after her line was dropped from Nordstrom.
But Conway later continued making TV appearances, in a move that was recently praised by Trump, who said she took on the jobs that no one else wanted to do—such as appearing on shows that are critical of the Trump administration, The Washington Examiner reported at the time.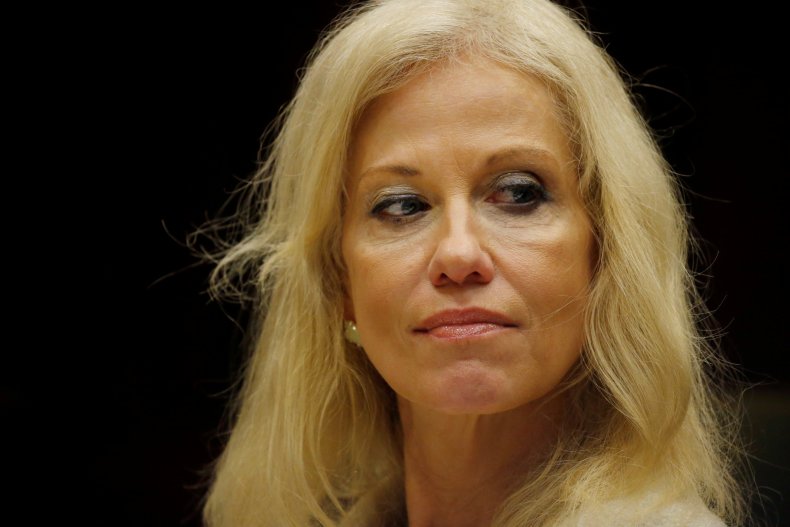 "What a job she's done. What a job she's done," the president said of Conway at the Susan B. Anthony List's Campaign for Life gala back in May.
"She'll do the shows that nobody else dares go near. I'll say, 'Do this one or that one.' 'No problem, sir.' Others say, 'Sir, do you think I could take a pass, please? I beg you, please?' Great going, Kellyanne, thank you," Trump added.