Kellyanne Conway Claims Everyone Who Said Donald Trump Couldn't Win 'Tried to Interfere in the Election'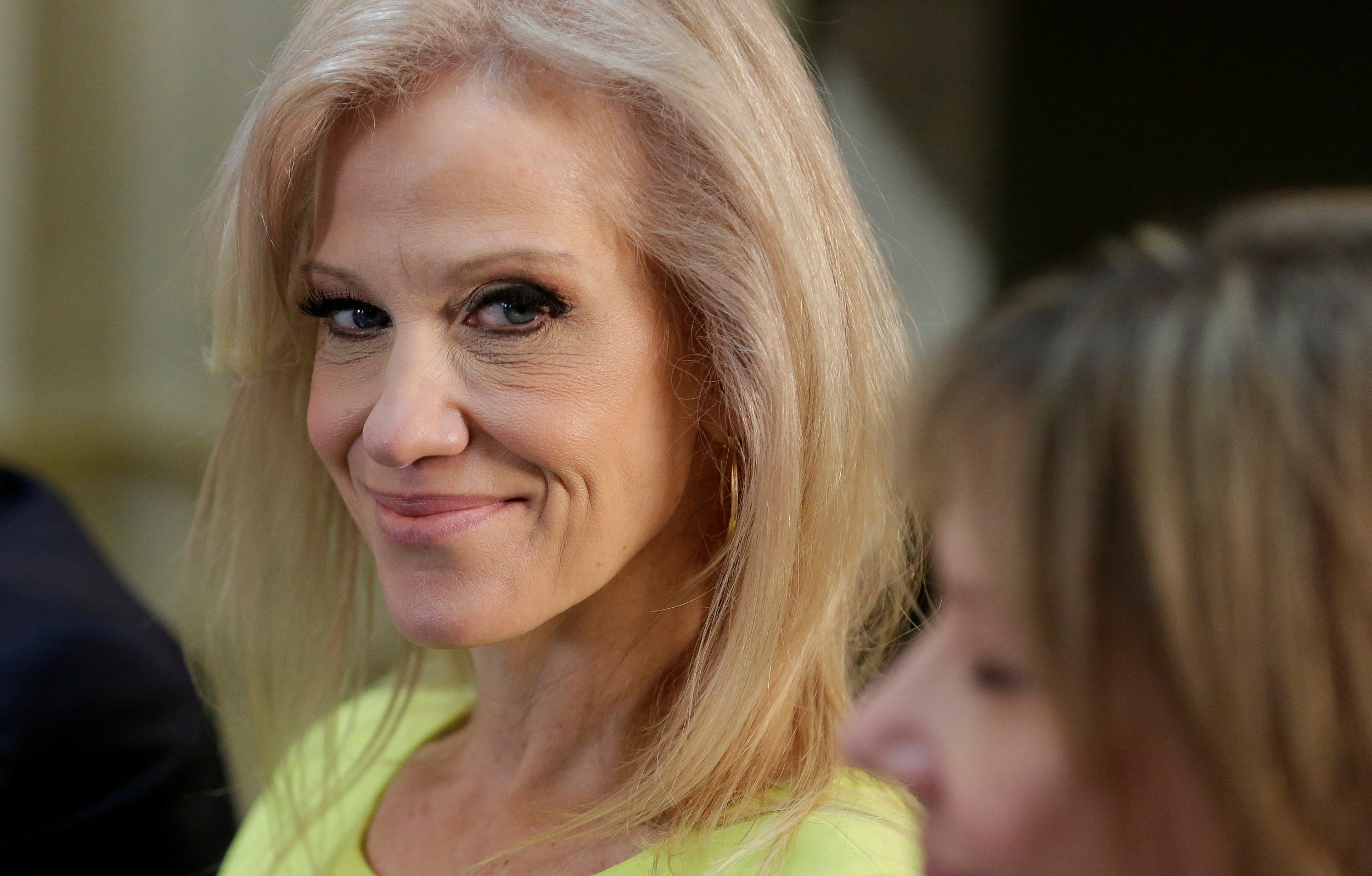 Counselor to the president Kellyanne Conway said Tuesday that Americans are not concerned about Russian meddling in the U.S. election and accused anyone who argued that President Donald Trump could not win were guilty of interfering in the election.
"Everybody who said Donald Trump couldn't win. Everybody who said the election was all wrapped up. Every screaming headline, every wrong poll. Every anchor, every pundit who said, 'This is over, it's a joke, he can't win, he can't govern' tried to interfere in the election," Conway told CNN's Chris Cuomo on New Day.
Conway clarified that she didn't say this "interference" was equivalent to the accusations made against the Kremlin.
On Monday, the Trump administration did not meet a deadline to impose new sanctions on Russia that were passed by Congress last July after key American intelligence agencies issued a report that said the Kremlin interfered in the 2016 elections.
"What did they do in the election?" Conway asked when pressed by Cuomo Tuesday to explain why the administration did not follow through with implementing the sanctions on Russia passed by Congress. The sanctions would penalize companies and other countries doing business with Russia's defense and intelligence agencies.
On Monday CIA Director Mike Pompeo told the BBC he believes that Russia will work to interfere in the upcoming 2018 midterm elections happening later this year.
Related: Russia will meddle in 2018 midterm elections, says CIA Chief Mike Pompeo
When Cuomo insisted to Conway that Russia's efforts to interfere in American democracy are still underway, Conway questioned whether Russia was really guilty—an argument that has been promoted by Trump who has publicly remained skeptical of Russia's involvement.
"And did they? Do you think that's why [Trump] won and why the person whose name I never mention on TV anymore lost?" Conway said of Trump's rival, Hillary Clinton.
Conway asked Cuomo if he felt "a little ashamed" because he and other media outlets seem to be "promising Russian collusion, impeachment, treason is coming around the corner?" The Trump campaign is currently being investigated by Congress and special counsel Robert Mueller over allegations it aided Moscow in its effort to interfere in the election.
Former George W. Bush administration speechwriter David Frum, now a senior editor at The Atlantic, commented on Twitter that Conway appeared to be saying "the real threat isn't Russia, it's the First Amendment."
Conway said that the issue is the least of Americans' worries. "It's not as important as jobs and the economy, health care and education, terrorism, immigration, national security," she said.