Kellyanne Conway Claims Intern Who Yelled 'F*** You' to Trump Would be Fired From White House 'Immediately'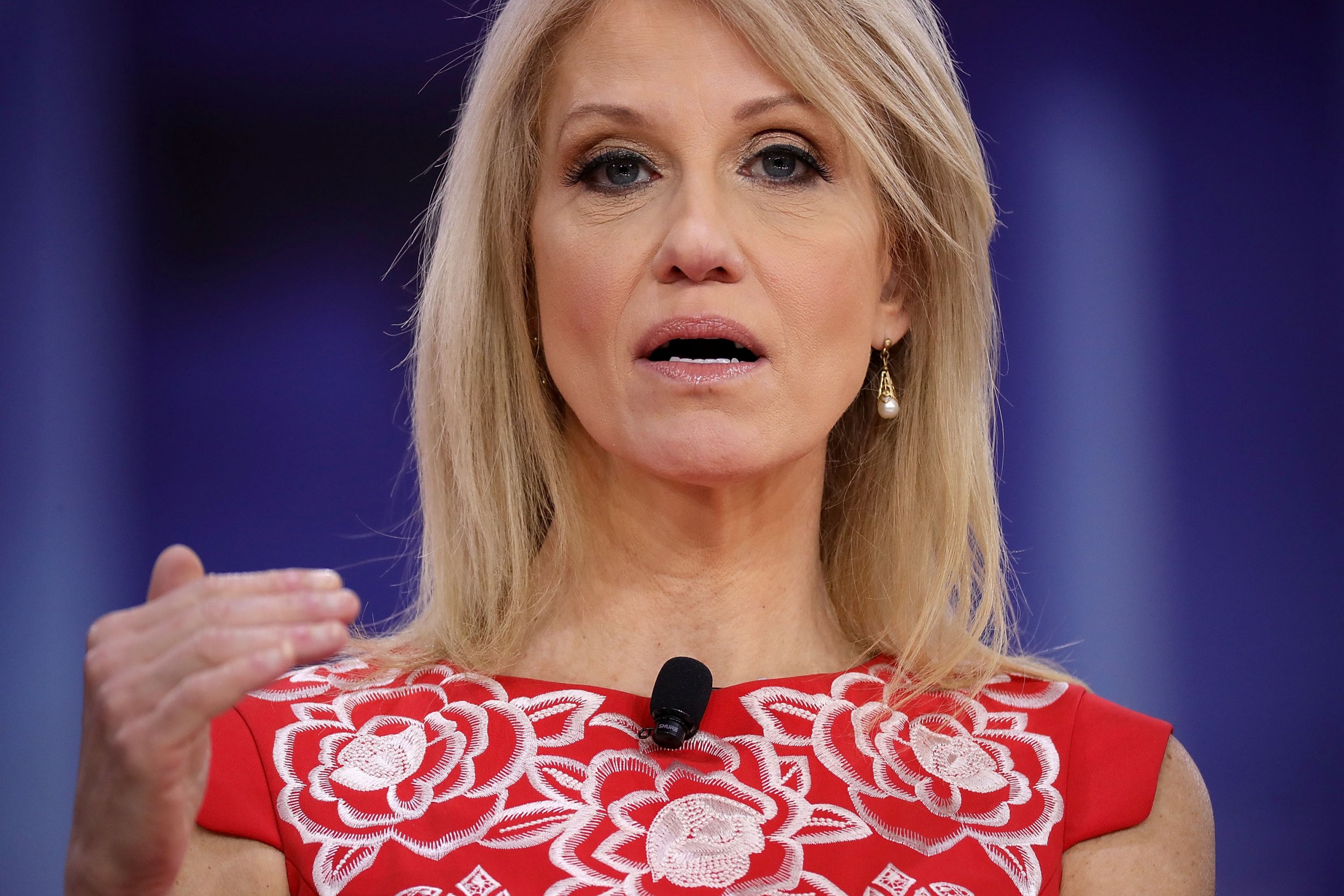 Counselor to the president Kellyanne Conway slammed an intern for a Democratic senator who shouted "fuck you" at President Donald Trump, and claimed that any intern for the White House who behaved that way would be fired.
Related: Laura Ingraham claims 'blood spilled' from shaming Trump officials will be on Maxine Waters's and Democrats' hands
The intern for Senator Maggie Hassan, identified as Caitlin Marriott, 21, uttered the expletive at Trump as he headed to a meeting with Republican lawmakers on immigration last week. Marriott has since been suspended, Hassan's spokesman said on Monday.
Conway said sarcastically on Fox & Friends Wednesday that she's sure that Marriott is "being deified on the left, the socialist left," for her actions.
"She got a week suspension and still has her job," Conway said.
"I guarantee, and I talked to the president this morning, he says hello by the way, I can promise you on his behalf that if a White House intern here this summer ever said anything like that to an elected official, let alone the president of the United States, the f-word followed by the name, harassing elected officials like Leader McConnell and his wife, a secretary, a Cabinet secretary last night," Conway said, "I guarantee you that person would be gone immediately."
Conway criticized Marriott in larger commentary on public shaming of Trump administration officials, including White House press secretary Sarah Huckabee Sanders last week at the Red Hen restaurant in Virginia.
Shortly after the incident, Democratic Representative Maxine Waters called on her supporters to tell Trump Cabinet members spotted in public that "they're not welcome anymore, anywhere."
"And so were not even sending the right message by having the punishments fit the, not just rhetoric," Conway said. "Let me make clear. There's a difference between these stupid playground insults that people hurl at each of us and asking for more action, but people are calling for that."
Though Conway claimed that an intern would be fired "immediately" from the White House for cursing at officials, she has taken a softer approach toward administration members who have come under scrutiny for their words.
When White House aide Kelly Sadler was eventually ousted from her job for saying that Senator John McCain is "dying anyway," Conway said she might qualify for other jobs within a Cabinet agency, and that it was up to her to pursue such opportunities.
"It's my understanding that Ms. Sadler is eligible for some of these positions," Conway said earlier this month.