Laura Ingraham Claims 'Blood Spilled' From Shaming Trump Officials Will Be on Maxine Waters's and Democrats' Hands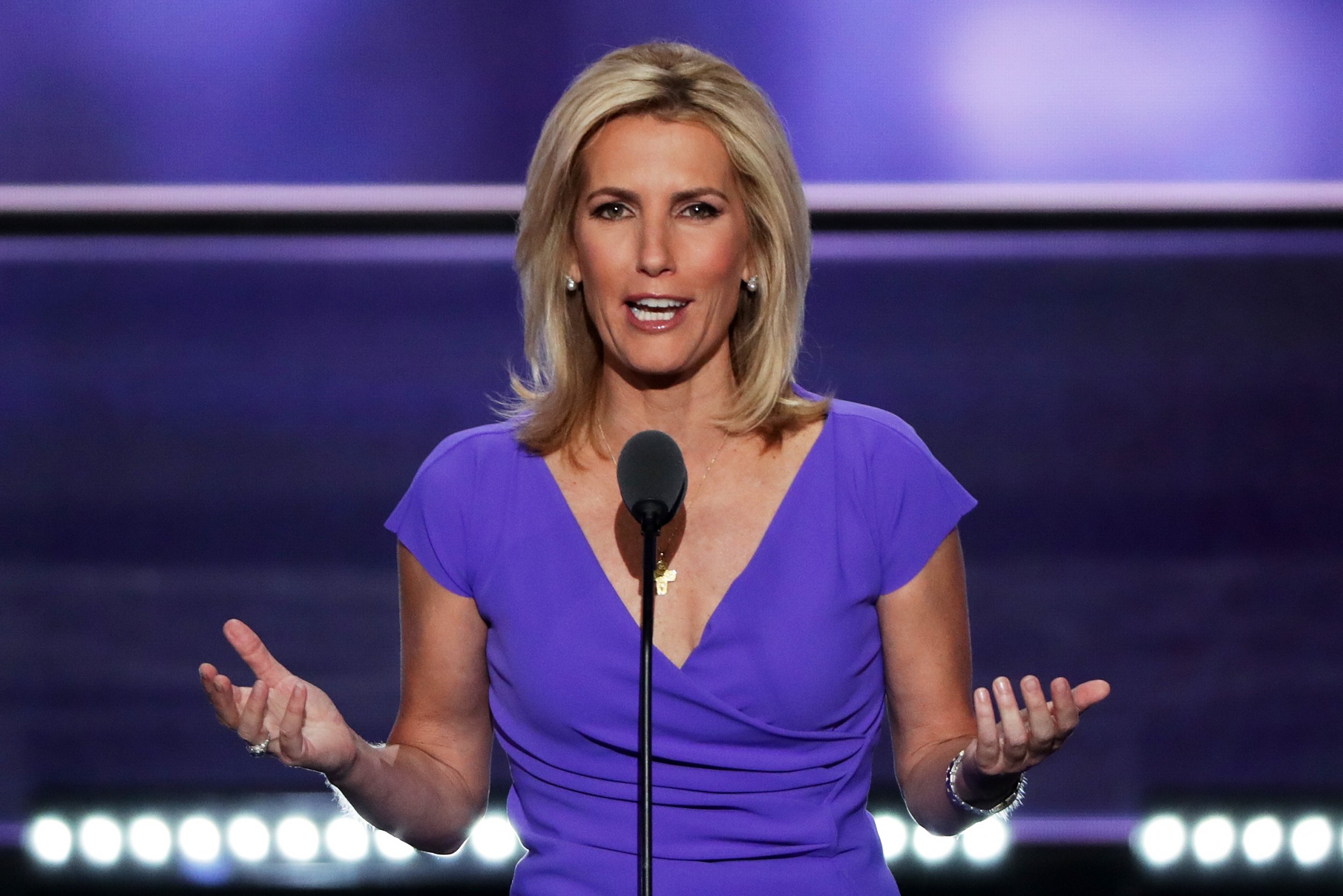 Fox News host Laura Ingraham took a shot at Democratic Representative Maxine Waters and Democrats who have encouraged public shaming of Trump administration officials, claiming that any "blood spilled" would be on their hands.
Related: Laura Ingraham Questions Michael Cohen's Loyalty to Trump Because He Spoke to CNN, ABC
Ingraham's comments on The Ingraham Angle late Monday came after White House press secretary Sarah Huckabee Sanders and her family were asked by the owner to leave the Red Hen restaurant in Virginia Friday, and senior administration officials Stephen Miller and Kirstjen Nielsen were heckled at Washington, D.C. restaurants.
"When Democrats are urging uprisings online to deny Republican women safe havens, peace, just having a dinner in private, in a public place, a moment of enjoyment for her family, they won't allow that?" Ingraham said. "Something is deeply wrong."
During a rally in Los Angeles Saturday, Waters, a vocal critic of President Donald Trump who has repeatedly called for his impeachment, asked her supporters to confront Trump administration officials in public in response to the president's "zero-tolerance" policy that has caused families to be separated at the southern border.
"Let's make sure we show up wherever we have to show up. And if you see anybody from that Cabinet in a restaurant, in a department store, at a gasoline station, you get out and you create a crowd, and you push back on them," Waters said, "And you tell them they're not welcome anymore, anywhere."
Ingraham said the moment has come for liberals and conservatives alike to condemn such "uncivil disobedience."
"Threatening, yelling and haranguing officials in public—that's not going to create positive outcomes or better policy," Ingraham said. "It will only harden the political divide in this country, and perhaps lead to violence."
"And any blood spilled will be on the hands—remember what happened a year ago to Steve Scalise," Ingraham continued, referencing the Republican representative who was shot at a congressional baseball practice last year. "Any blood spilled will be on the hands of Maxine Waters and any Democrats or 'Never Trumpers' condoning tacitly or explicitly these Antifa-style tactics of vicious intimidation."
"The whole Democratic Party has drifted into Maxine land," Ingraham claimed.
Ingraham said that public shaming and targeting of conservatives has "become the new tactic of the left."
"The left once decried attacking people, maliciously attacking them in public for their beliefs, their lifestyles," Ingraham said, even playing a clip of former President Barack Obama emphasizing the need for civil discourse. "But now because conservatives are the targets a new standard has emerged."
"We will not stand for that," Ingraham concluded.