Kellyanne Conway Accuses FBI 'Sexters' and 'Liar' James Comey of Fabricating Entire Russia Investigation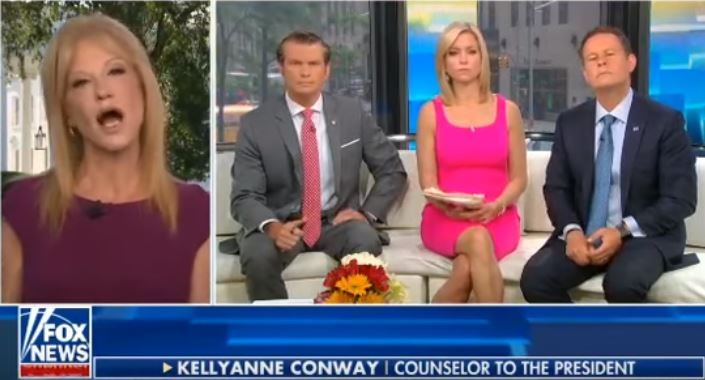 Kellyanne Conway ridiculed former FBI Director James Comey as a "liar and a leaker" again on Fox News and mocked FBI "sexters," former agent Peter Strzok and attorney Lisa Page.
The White House senior adviser appeared on Fox & Friends Wednesday morning to defend President Donald Trump and push back against Comey's recent comments in The Washington Post that there was "no attempted coup" or conspiracy by members of the Federal Bureau of Investigation. In March, Trump accused FBI officials of committing "treason," in part because of some uncovered text messages between FBI lovers Strzok and Page which were critical of the president and his supporters.
"It sounds like there's panic in the world of Jim Comey," Conway told the Fox & Friends hosts during a segment about 'Investigating the Investigators.' "Who cares what he thinks? We said 'no collusion' for two years. And they couldn't take us at our word."
On Tuesday, Comey wrote an op-ed in The Washington Post that Trump is acting like "a liar who doesn't care what damage he does to vital institutions." The former FBI head added in regards to the agency's handling of the Russia investigation that, "There was no corruption. There was no treason. There was no attempted coup. Those are lies, and dumb lies at that. There were just good people trying to figure out what was true, under unprecedented circumstances."
Conway used Comey's comments to offer a sly jab at Strzok and Page.
"I really resent him saying 'just good people' trying to get to the truth," Conway said. "We already know that Andy McCabe, his number two, lied. We already know that Jim Comey is a liar and leaker we already know that they wrote books that basically are on the fiction list.
"Peter Strzok," Fox & Friends co-host Brian Kilmeade interjected.
"We already know how much the sexters, I mean the texters, of course, were making fun of Trump voters," she continued. "Jim Comey is known as a grandstander and a showboat, it very much bothered the president to have somebody like that as the head of the FBI."
Comey defended Strzok in his op-ed, asking critics and Trump defenders to explain why the former FBI agent kept the investigation a secret if he was simply looking to undermine Trump. Comey mocked the "worst deep-state conspiracy ever" given that Clinton blamed her loss on the FBI's 2016 move and William Barr praised the steps the FBI took.
On Friday, former FBI General Counsel James Baker rebuked accusations of illegal behavior against Strzok, telling MSNBC: "I was there. There was no conspiracy. There was no effort to engage in treason, a coup d'état, what ever term you want to use. There was just none of that."
Conway refused to say Hillary Clinton's name during the segment but accused Obama administration officials of purposely undermining Trump's 2016 win—a claim she has made dozens of times on cable news shows since he took office. She said the Mueller investigation is less intriguing to her than what happened during Trump's transition, suggesting the "shocked" Obama administration and DOJ officials fabricated the information simply to redo the 2016 election.
"After the world was shocked and they were shocked Donald Trump was elected and they were trying to undo the election or redo the election, and of course they can't do that, but they were trying to declassify stuff or lower classification, that's something we need to know," she claimed.
After Kilmeade raised how former President Bill Clinton worked with congressional Democrats during the Ken Starr investigation, Conway said it was different because, "Bill Clinton was guilty. He had no choice. Donald Trump has been exonerated."
Special Counsel Robert Mueller reiterated in his first speech on Wednesday that Trump was not exonerated of obstruction of justice.