Kellyanne Conway Violated Hatch Act on Twitter 50 Times, 'Could Warrant the Suspension' of Account: Watchdog
Counselor to the president Kellyanne Conway has now violated the Hatch Act more than 50 times in less than a year on Twitter alone, and the social media company "could suspend" her from the platform, a watchdog alleged.
In a report on its website on Friday, Citizens for Responsibility and Ethics in Washington (CREW) noted that the Office of Special Counsel in mid-June found that Conway using her personal Twitter account @KellyannePolls committed at least 22 violations of the act. The federal act prohibits executive branch employees from using their official positions to influence elections.
CREW reviewed Conway's tweets since June 13, 2019, and found that "her apparent violations of the Hatch Act using Twitter have now reached more than 50 violations and counting." According to the watchdog, Conway's alleged violations fell in five categories: attacking Democratic presidential candidates, endorsing President Donald Trump's re-election effort, partisan advocacy against the Democratic Party, endorsing the Republican Party and partisan attacks against Trump's political opponents.
The watchdog concluded that Conway's tweets also violated Twitter's terms of service and rules, and that her "conduct could warrant the suspension of her Twitter account."
"Tweets might seem like small potatoes, but it illustrates the Trump administration's larger disdain for government ethics," CREW spokesman Jordan Libowitz told Newsweek on Friday.
"Kellyanne Conway has made a mockery of the Hatch Act," Libowitz continued. "Her 50-plus violations on Twitter alone over the past year, without punishment from the White House, show that this is an administration that does not and will not care about ethics laws."
CREW stated that Twitter does not allow users to "use our service for any unlawful service or in furtherance of illegal activities" and that the terms of service clearly state that "you may use the Services only in compliance with these Terms and all applicable laws, rules and regulations."
"While most Twitter suspensions and bans have been for using fake accounts or tweeting violent or harassing messages, Twitter's rules are clear," the CREW report states, "And Conway is in violation of them."
Twitter spokesman Ian Plunkett told Newsweek in an email, "We've nothing to share here," and provided a link to the company's guidelines for law enforcement.
The quotes CREW pulled from Twitter were in linked pages to its rules and terms of service.
Libowitz said CREW has not "sent anything to Twitter, just issued a report that identified the issue." He said, "We don't have any further action planned at the current time."
Plunkett added, "Also worth noting this isn't her official account. This is: @kellyanne45." After Newsweek found that @Kellyanne45 was suspended and inquired, Plunkett wrote: "Account was suspended in error—this has been overturned."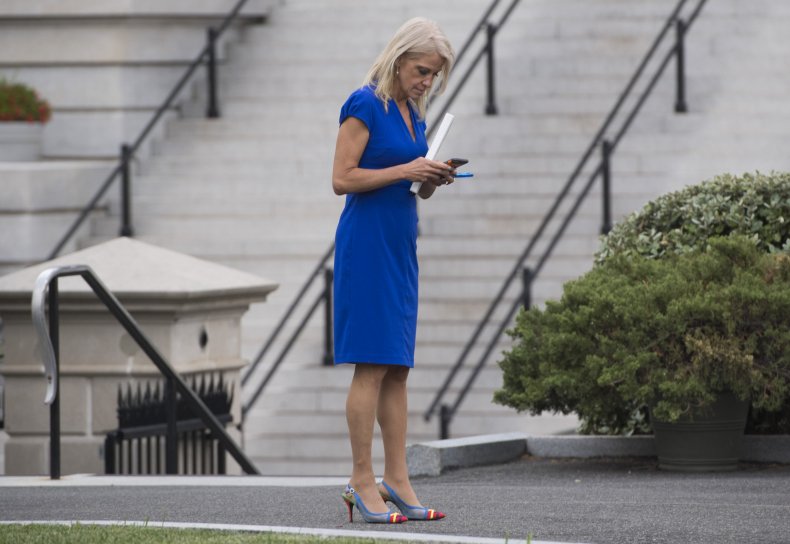 A former chief ethics lawyer under President George W. Bush, Richard Painter, previously told Newsweek that Conway is entitled to use her personal account @KellyannePolls to endorse or criticize candidates, but that
The White House did not immediately respond to a request for comment from Newsweek.
Among recent tweets that CREW flagged as in violation in its report are an October 7 post in which Conway wrote, "Another Elizabeth Warren lie about Elizabeth Warren," in reference to county records contradicting the 2020 Democratic candidate's claim she was fired because she was pregnant. CREW also cited an August 22 tweet in which Conway shared a story about Trump phoning into a campaign rally and included the hashtag #TeamTrump.
When the Office of Special Counsel recommended that Trump remove Conway from serving due to the violations, he said the office was threatening her right to free speech. Neither Trump nor Conway have indicated any intention of addressing or changing her conduct on Twitter.