Kellyanne Conway has said that the House of Representatives Select Committee investigating the events of January 6, 2021, didn't have "the balls" to subpoena former President Donald Trump.
Conway, who served as an adviser to Trump, made the comments on Real Time with Bill Maher on Friday just a day after the Select Committee held its first public hearing in prime time.
Maher asked Conway about Trump's repeated false claims that the 2020 presidential election was "stolen" from him and the fact she had told Trump that was not the case.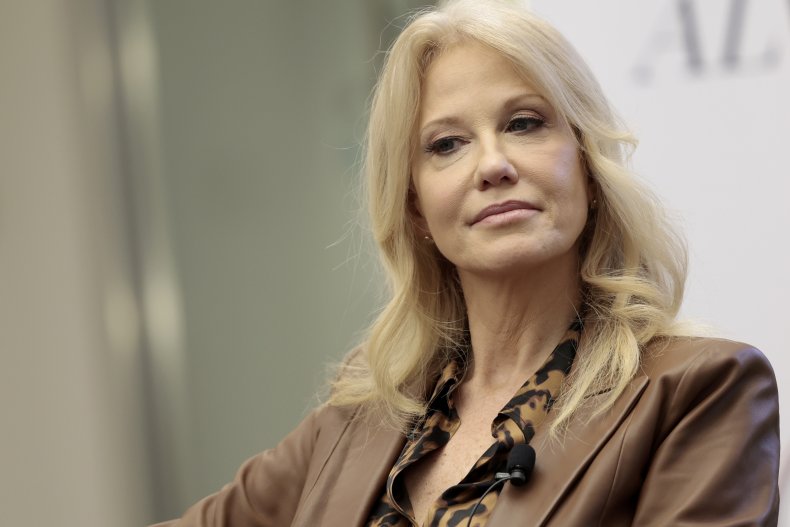 Conway called January 6, 2021 "a terrible day in our nation's history. Nobody's going to argue with that."
Maher said that there was an argument about Trump's culpability and that Conway seemed "hesitant" on that issue.
"Guess what—they didn't have the balls to call Trump," Conway said. "They didn't subpoena Donald Trump and they're not going to."
Her comments came after Democratic Representative Bennie Thompson, chair of the January 6 committee, said he would like to see Trump testify provided the former president didn't perjure himself.
"We welcome the former president. He would have to come under oath. He's a citizen, and if he thinks he can come to our committee under oath and perjure himself then I would suggest he not come," Thompson told MSNBC on Friday.
Maher questioned whether Trump would have shown up even if he had been issued with a subpoena.
Conway responded by criticizing Special Counsel Robert Mueller's report into Russian interference in the 2016 election, calling it a "dud" and pointing out that Trump was not subpoenaed during that probe. She also mentioned Trump's two impeachments where the Senate twice declined to convict him.
"They're like Lucy and Charlie Brown with the football every single time with him," she said, referring to a recurring gag from the comic strip Peanuts, in which the aforementioned Lucy usually goads Charlie Brown into kicking a football she holds upright, before pulling it away at the last second.
Conway went on discuss the events of January 6, 2021 and said that there "obviously was criminal activity that day and that should be prosecuted."
"But why is every day January 6?" she went on. "Why does the calendar say January 6 every single day to some people?"
Later, Maher asked whether Trump should be able to run for president again. He has repeatedly hinted that he intends to do so but has made no formal announcement.
"Yes, unless you prosecute him with a crime," Conway said and added that the Select Committee hearings "are not a court room."
"If they want to prosecute him with a crime, they haven't. They're not even calling him as a witness," she added.
Conway went to say: "Let's not pretend we're in a court room, here." She criticized the focus on the events of January 6, suggesting that Americans had more pressing concerns, such as high gas prices.