Mitt Romney Admits Trump Has Control Over 2024 Nomination
GOP Senator Mitt Romney admitted Wednesday that former President Donald Trump continues to have firm control over his party.
Romney holds the distinction of being the only Republican senator to have voted to convict Trump in both of his Senate impeachment trials. The unsuccessful 2012 Republican presidential nominee has long been one of Trump's harshest critics but has been a somewhat lonely voice within his party, which has largely aligned around Trump and his Make America Great Again, or MAGA, movement.
After Trump's endorsement of Ohio GOP Senate candidate J.D. Vance propelled him from third place in the polls to victory in the Republican primary this week, many analysts and supporters of the former president touted the win as a sign of Trump's continued influence. Romney agreed in comments to Politico on Wednesday.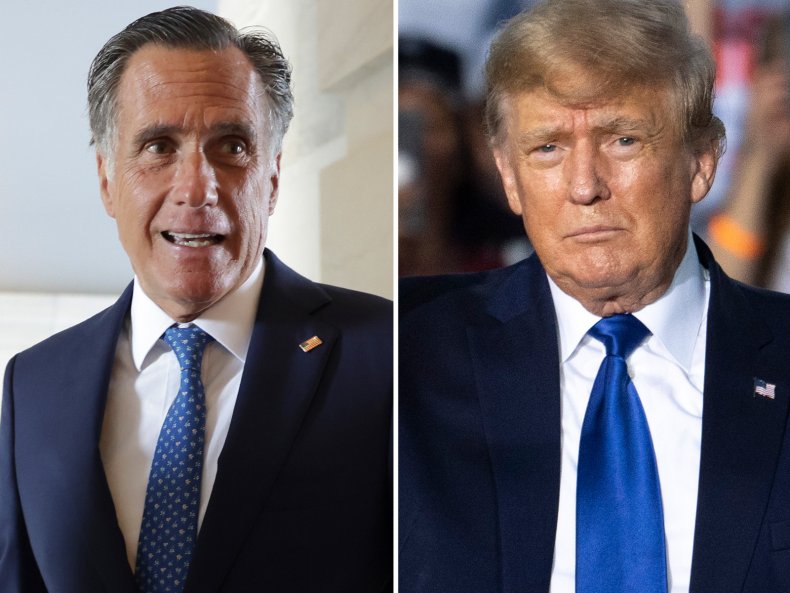 "I don't delude myself into thinking I have a big swath of the Republican Party," the Utah senator said. "It's hard to imagine anything that would derail his support. So if he wants to become the nominee in '24, I think he's very likely to achieve that."
GOP Senator Josh Hawley, a staunch Trump supporter who led the Senate effort to object to President Joe Biden's 2020 victory on January 6, 2021, gave a similar assessment. "He's the leader of the party, that's clear," Hawley told Politico, referring to Trump. "If he decides to run [in 2024], he will be the nominee."
Political activist Matt Schlapp, the chair of the American Conservative Union, hailed Vance's victory in Ohio as a sign that the GOP had been "transformed," In an opinion article published by Fox News on Wednesday, he said GOP primary candidates would succeed "due to their own abilities and association with Donald Trump, and not because of their fealty to Washington, Republicans or the support from major corporations."
Whether Trump, 75, runs for president again in 2024 is not certain. Although he has not confirmed his intentions, he has repeatedly hinted at the possibility and said his supporters will be "very happy" with what he decides.
Polls have consistently shown Trump would be the favored Republican contender by a substantial margin. Many recent polls also show that he would be well positioned to defeat Biden, 79, who has said he plans to seek a second White House term.
"If I ran, I can't imagine they'd want to run," Trump told The Washington Post in an April interview, discussing the possibility of other GOP contenders for the 2024 nomination. "Some out of loyalty would have had a hard time running. I think that most of those people, and almost every name you mentioned, is there because of me. In some cases, because I backed them and endorsed them."
If 2024 does end up being a rematch between Biden and Trump, polls suggest the former president is currently in the lead. The Real Clear Politics average of polls shows Trump with a narrow 0.8 percent advantage over Biden.
Biden is supported by about 44.2 percent of voters, while Trump has the backing of 45 percent. However, some April polls showed Biden 1 to two points ahead, and others showed Trump 1 to 4 points in the lead.
Newsweek reached out to Trump's press office for comment.