Josh Hawley Ripped by Missouri Newspaper as 'Pretend' Revolutionary Ahead of Jan. 6
A prominent Missouri newspaper criticized GOP Senator Josh Hawley for his actions on January 6, 2020—calling him a "pretend" revolutionary and referencing the expensive suit he was wearing that day.
The Kansas City Star's editorial board published the op-ed on January 5, just ahead of the one-year anniversary of former President Donald Trump's supporters' attack on the U.S. Capitol. The newspaper blasted Hawley, a Missouri Republican, for raising his fist in support of pro-Trump rioters that day and for promoting Trump's baseless allegations about the 2020 election.
"And that picture again: Sen. Josh Hawley of Missouri, raising his fist like a pretend 1960s revolutionary in a $7,000 suit, aiding and abetting the worst attack on American democracy in memory," the newspaper's editorial board wrote.
Outlining the unconstitutional effort to overturn the 2020 election, the op-ed noted that "Hawley is at the center of the little lies." The editorial board also criticized other Missouri and Kansas Republicans who attempted to subvert the will of voters and prevent the formal certification of President Joe Biden's election victory.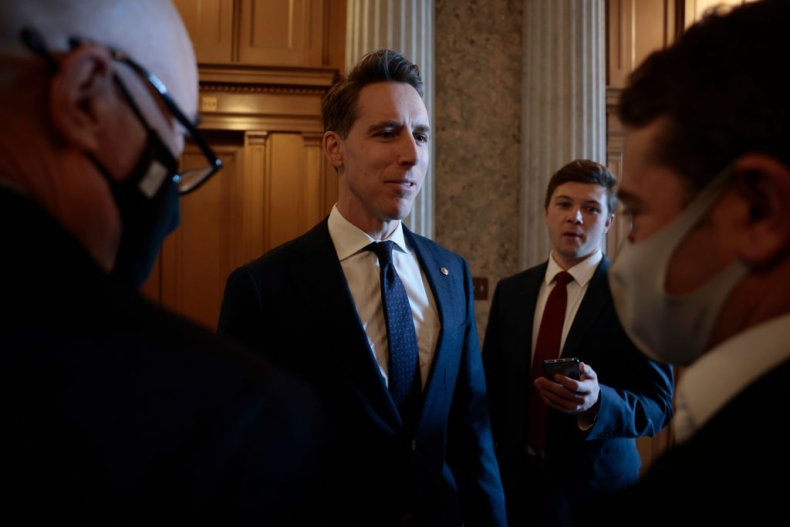 "Sen. Roger Marshall of Kansas, who voted to sustain a challenge to the electoral vote after the riot, plays a role as well," the editorial board said.
"Three Kansas representatives—Tracey Mann, Ron Estes and Jake LaTurner—also voted to overturn the election. So did five of Missouri's six House members, including Sam Graves and Vicky Hartzler. None has ever apologized," the op-ed continued.
"They all know better. Their shameful votes can never be forgotten, ignored, or swept away."
In late December 2020, Hawley became the first Republican senator to announce publicly that he would formally object to Biden's Electoral College victory on January 6, 2021. In total, eight GOP senators joined that effort—which grew out of Trump's groundless conspiracy theory that the 2020 election was "rigged" or "stolen" in favor of Biden.
Although Trump and his allies continue to claim that Biden's victory was fraudulent, they have not provided evidence substantiating their allegation. To the contrary, dozens of election challenge lawsuits brought by the former president and his supporters have failed in state and federal courts. Even judges appointed by Trump and fellow Republicans have dismissed the legal challenges.
Meanwhile, numerous audits and recounts across the country—including in areas where the election was overseen by pro-Trump Republicans—have consistently reaffirmed Biden's win. Former Attorney General William Barr, who was widely regarded as one of Trump's most loyal Cabinet members, confirmed in December 2020 that there was "no evidence" to support allegations of widespread fraud. The Trump administration official made that assertion after ordering the Justice Department to investigate the claims.
Nonetheless, hundreds of Trump supporters stormed the U.S. Capitol on January 6 in an apparent effort to disrupt the formal certification of Biden's Electoral College victory. The mob carried out the attack after Trump urged them at a nearby rally to "fight like hell" and to march to the federal building.
For his part, Hawley has dismissed criticism against himself and other Republicans who have promoted Trump's conspiracy theory. In an interview with Fox News host Tucker Carlson this week, Hawley slammed the national focus on that violent day. He said Democrats were attempting to use the pro-Trump attack against the Capitol to their advantage.
"This is the party that wants to control this country," the GOP senator said. "The only thing they have is this politics of fear, and it started last January 6, and they have used that event to try and consolidate their power and push this fear politics."
Newsweek reached out to Hawley's press secretary for comment but did not hear back before publication.
The Kansas City Star's editorial board has repeatedly slammed Hawley for his actions on January 6 and his support of Trump's conspiracy theory. In the direct aftermath of the assault on the Capitol, the newspaper accused the Republican senator of having "blood on his hands." Hawley's actions "had such impact that he deserves an impressive share of the blame for the blood that's been shed," the editorial board wrote at the time.