Trump Leads Pence, DeSantis by Over 30 Points Among Republicans for Potential 2024 Run
Former President Donald Trump is the clear front-runner for the Republican Party's 2024 presidential nomination, new polling shows.
Although a small faction of the GOP remains staunchly opposed to Trump, the vast majority of Republicans continue to view him favorably, and a significant majority want him to seek the presidency again. No other potential GOP presidential contender comes close to Trump's level of support, according to the latest survey results from Morning Consult.
The new poll found that 47 percent of Republicans say they would vote for Trump if the 2024 GOP primary took place now. The closest contender behind Trump is former Vice President Mike Pence, but he garnered the backing of only 13 percent of respondents. Florida's GOP governor, Ron DeSantis, was a close third, with just 12 percent of Republicans saying they'd vote for him.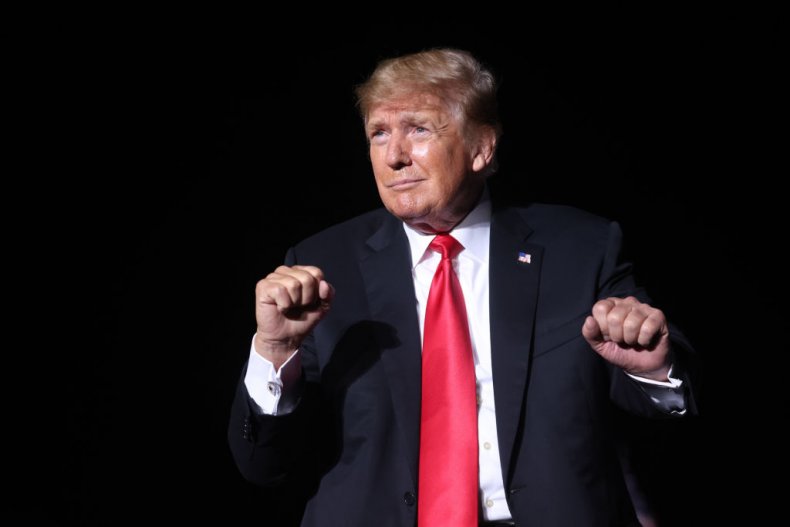 After Pence and DeSantis, no other potential Republican candidate polled in the double digits. Trump's eldest child, Donald Trump Jr., came in fourth, with the backing of 6 percent of GOP voters. Former South Carolina Governor Nikki Haley, Florida Senator Marco Rubio, Utah Senator Mitt Romney and Texas Senator Ted Cruz were each backed by 3 percent of Republicans.
Meanwhile, the survey showed that 82 percent of Republicans continue to view Trump favorably. Just over two-thirds (67 percent) said they want him to run again in 2024. However, Trump remains an unpopular candidate with the majority of all Americans—with 59 percent saying he should not run again in 2024
The survey was conducted from October 8 to 11. It has a margin of error of plus or minus 4 percentage points among Republican respondents and plus or minus 2 percentage points among all respondents.
Previous polling released in September by Harvard CAPS-Harris showed even greater support for Trump in a potential 2024 bid. That survey found that 58 percent of Republicans would cast their ballots for the former president. That survey showed Pence supported by 13 percent of GOP voters and DeSantis in third place with just 9 percent.
Trump has not formally announced his intention to run for president again but has consistently flirted with the possibility in public comments. Close associates of the former president—such as his former top advisers Steve Bannon and Jason Miller—have said multiple times in recent weeks that they expect him to announce another bid for the White House.
"He has not said the magical words to me, but if you talk to him for a few minutes, it's pretty clear that he's running," Miller told Cheddar News in September.
Bannon has predicted a "sweeping" victory for Trump and the Make America Great Again (MAGA) movement in 2022 and again in 2024. "He'll come back to us. We'll have a sweeping victory in 2022, and he'll lead us in 2024," the Trump ally said earlier this year at an event for Boston Republicans.
If 2024 does turn into a matchup between Biden and Trump again, recent polls suggest that it would be a close race. October survey results by Redfield & Wilton Strategies showed Biden leading Trump by only 2 percentage points among likely voters. That poll found the current president was backed by only 43 percent of voters, while Trump was supported by just 41 percent.