Biden Approval Still Higher Than Trump at Same Point in Presidency: Polls
President Joe Biden's approval rating still remains narrowly higher than that of former President Donald Trump at the same point in his presidency—despite a substantial decline throughout his White House tenure.
Analysts and commentators have focused significant attention on Biden's tanking poll numbers, which have plummeted by double-digits since he first took office last January. While the president's approval rating remains underwater, it continues to hover just above that of Trump during the same period of his time serving as commander-in-chief.
FiveThirtyEight's compilation of polls shows that as of April 15, Biden's approval rating stood at an average of 41.6 percent while his disapproval among voters was 52.2 percent. While those numbers are less-than enviable for any politician, they were slightly above where Trump stood in the polls on April 15, 2018.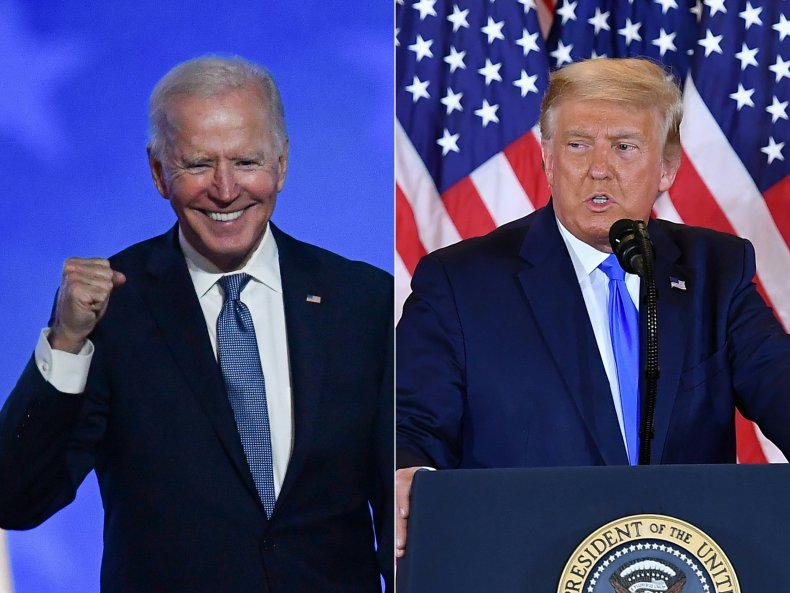 The former president had an average approval rating of 40.6 percent exactly four years ago on Friday, according FiveThirtyEight's compilation of polls. That was just 1 percent worse than Biden's current average. Trump's disapproval among voters was also slightly higher, at 53.8 percent—or 1.6 percent above that of the current president.
Biden entered office last year with an average favorability of 53 percent with just 36 percent saying they disapproved of the new president, according to FiveThirtyEight's averages. Comparatively, Trump started his presidential term in January 2017 with only 45.5 percent of Americans saying they approved as 41.3 percent disapproved.
Meanwhile, Trump's current favorability is higher than that of Biden. FiveThirtyEight's average shows that, as of April 13, about 43.7 percent of Americans viewed the former president favorably. Meanwhile, an average of 52.3 percent have an unfavorable view of Trump.
Polls also show that Trump would be well-positioned for a rematch against Biden if the next presidential election were held now. The RealClearPolitics average of recent polls show that about 45.4 percent of voters say they would back Trump in 2024 while just 41.7 percent say they'd support Biden—a lead of 3.7 percent for the former president.
Although Biden has repeatedly said that he plans to seek reelection in 2024, Trump has not confirmed whether he will run again. However, the former president has consistently teased the possibility—regularly responding to questions about his future political ambitions by saying his supporters will be "very happy" with his decision.
In an interview this month with The Washington Post, Trump said that he expects that other potential Republican candidates will step aside if he announces another White House bid.
"If I ran, I can't imagine they'd want to run. Some out of loyalty would have had a hard time running. I think that most of those people...[are] there because of me. In some cases, because I backed them and endorsed them," he said.
As for Biden, he's said that Trump seeking another presidential term would only embolden him to seek reelection in 2024.
"Why would I not run against Donald Trump if he were the nominee? That would increase the prospect of running," the president told ABC News in December.