Mitt Romney, Only GOP Senator to Back Donald Trump Impeachment in 2020, Wins Courage Award
Senator Mitt Romney has won the annual Profile in Courage Award for breaking ranks with Republicans and taking a stand against former President Donald Trump.
A committee appointed by the John F. Kennedy Library Foundation decides the annual award honoring public officials unafraid to take unpopular positions. It praised Romney for becoming the first lawmaker in history to vote in an impeachment trial to convict a president from his own party.
The Utah senator faced blowback from the public and within his party when he voted to convict Trump in his first impeachment process in January 2020. Trump was acquitted of allegations that he had sought foreign interference in the presidential election.
Romney was also given plaudits for defending the integrity of the results of the 2020 election and rejecting attempts to overturn the decision of the Electoral College.
After Trump faced an unprecedented second impeachment trial for inciting the insurrection in the U.S. Capitol on January 6, Romney joined six Republican senators in again voting to convict the former president.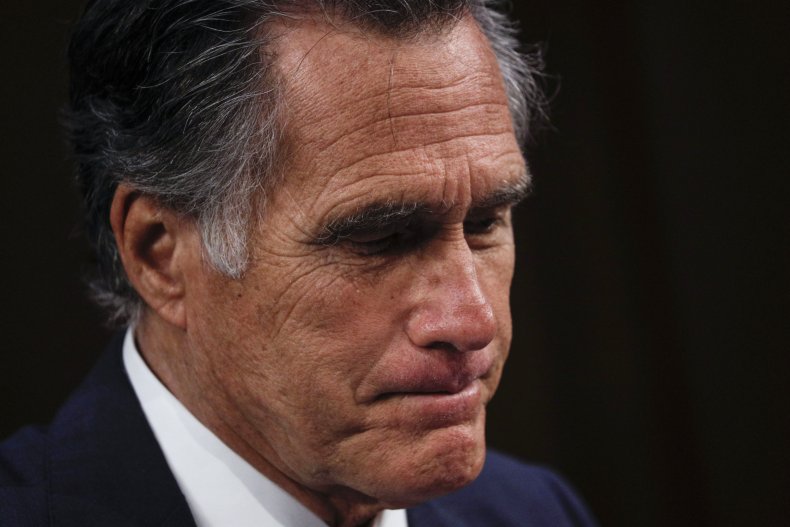 "As the first Senator to have ever voted to convict a President of his own party, Senator Romney's courageous stand was historic," the committee giving the award said in a statement.
It said that despite "unrelenting criticism" and demands he be censured or expelled from the Republican party, "Romney has continued to courageously defend the fundamental principles of democratic governance."
"During a time of grave threat to U.S. democratic institutions, Mitt Romney has been a consistent but often solitary Republican voice in defense of democracy and the rule of law," the citation added.
Romney told NBC that he was "humbled" by the honor and did not regret his decision to go against Trump and face the wrath of his own party.
"I sleep well because I know that I did what my conscience told me was the right thing to do," he said.
"I listened to the various testimonies that were provided, I looked into it with some depth," he said, "and I felt that that was a severe enough violation of his oath of office to require a guilty verdict."
The John F. Kennedy Foundation has been giving the Profile in Courage award every year since 1990. Named after the late president's 1956 book, previous award recipients include ex-president Barack Obama, the late civil rights activist and lawmaker John Lewis and House Speaker Nancy Pelosi.
Kennedy's daughter, Caroline Kennedy, a former ambassador, told NBC's Today show on Friday that Romney "was willing to risk his career and his popularity within his own party to do what's right for our country. I think his courage is an example for all of us."