Some Republicans in Utah are calling for Mitt Romney to be censured after he voted along with six other GOP senators to convict Donald Trump at the end of his impeachment trial, but the state's Republican Party is defending "diversity of thought."
Romney has long been critical of the former president and was the lone Republican senator to vote with Democrats to convict Trump during his first impeachment trial, in February 2020. That decision by the Utah lawmaker also brought calls for censure but only resulted in the Utah GOP releasing a watered-down statement praising Trump.
The motion to censure Romney being circulated by some Utah Republicans in a statement alleges that he is "an agent for the Establishment Deep State," The Salt Lake Tribune reported. Additionally, it complains that Romney used his "senatorial power and influence to undermine" the former president, while criticizing the senator for voting to convict Trump and maintaining that the Senate trial was constitutional—against the consensus of his GOP colleagues.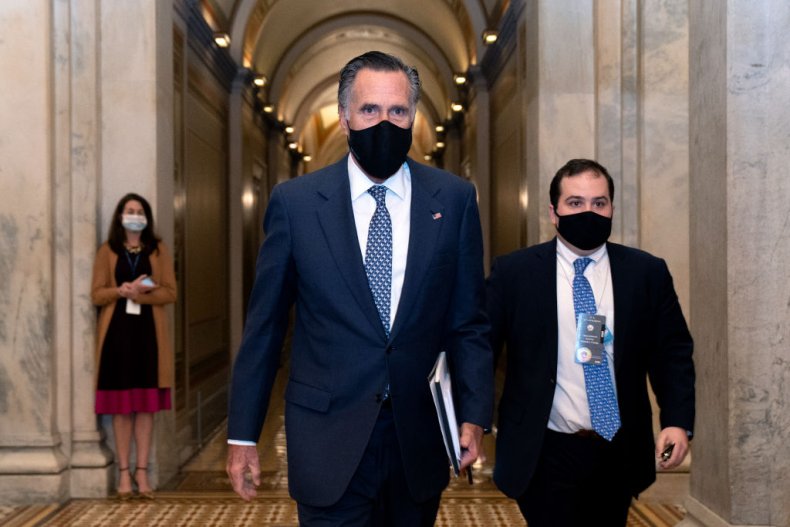 But Utah's GOP appears uninterested in pursuing Romney's censure.
"The differences between our own Utah Republicans showcase a diversity of thought, in contrast to the danger of a party fixated on 'unanimity of thought.' There is power in our differences as a political party, and we look forward to each senator explaining their votes to the people of Utah," the state party said in its Monday statement. Utah's other Republican senator, Mike Lee, voted with the majority of his GOP colleagues to acquit Trump.
Newsweek reached out to Romney's office for comment but did not immediately receive a response. Following his Saturday vote, he released a statement outlining the former president's actions that led him to make his decision to vote guilty.
"President Trump attempted to corrupt the election by pressuring the Secretary of State of Georgia to falsify the election results in his state," Romney said. "President Trump incited the insurrection against Congress by using the power of his office to summon his supporters to Washington on January 6th and urging them to march on the Capitol during the counting of electoral votes. He did this despite the obvious and well known threats of violence that day.
"President Trump also violated his oath of office by failing to protect the Capitol, the Vice President, and others in the Capitol," the senator said.
In addition to Romney, Republican Senators Susan Collins of Maine, Lisa Murkowski of Alaska, Ben Sasse of Nebraska, Bill Cassidy of Louisiana, Richard Burr of North Carolina and Pat Toomey of Pennsylvania voted to convict Trump. Although the Senate conviction vote was the most bipartisan in U.S. history, it failed to achieve the constitutional two-thirds majority (67 senators) threshold required for a successful conviction—which would have required at least 10 more Republicans to vote guilty. The final vote was 57 for guilty to 43 for not guilty.
Burr and Cassidy have already been censured by their respective states' Republican parties for their votes against Trump.