Kellyanne Conway Simplifies North Korea Tensions For Everyone, With 'Kim Jong Un Started It' Attitude
As if President Donald Trump's war of words with North Korean tyrant Kim Jong Un wasn't childish enough.
White House counselor Kellyanne Conway pulled out a schoolyard retort on Sunday, offering a version of, "Well, he started it!" when asked about the latest barbs exchanged between Kim and Trump, which included the president of the United States calling Kim "short and fat."
"The president is very focused on global security, and combating terrorism and most importantly containing a nuclearized North Korea," Conway said on ABC's This Week on Sunday.
"And you think name calling is helpful? Calling somebody 'short and fat'"? ABC host Martha Raddatz asked.
"I think that was the president just responding the way he does to somebody who insulted him first," Conway said.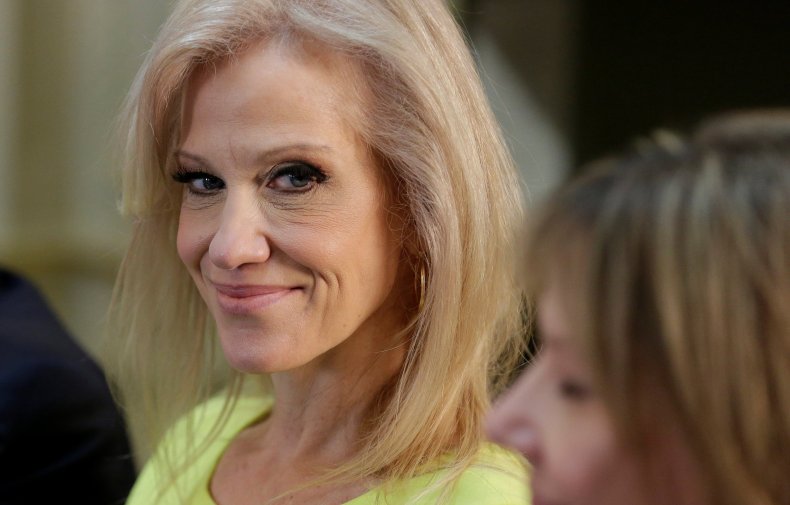 The discussion came after Trump and Kim once again traded insults in a public forum, with a statement from North Korea's foreign ministry released through the country's official news agency describing Trump's Asia trip as a "warmonger's visit" aimed at destroying world peace and again describing the president as a "dotard" — an archaic insult for an elderly person that the rogue nation has used before.
Trump, not unsurprisingly, took to social media to respond to the statement, writing in a tweet: "Why would Kim Jong-un insult me by calling me "old," when I would NEVER call him 'short and fat?' Oh well, I try so hard to be his friend — and maybe someday that will happen!"
The president has previously faced criticism for his rhetoric on North Korea, with his unchecked tweets and promises to bring "fire and fury" to the isolated nation should it threaten the U.S. prompting concern from both Democrat and Republican politicians.
However, the president expressed rather different sentiments at a press conference held shortly after his "short and fat" tweet — explaining he wanted to see "progress" rather than "provocation."
"Safety and security are goals that should unite all civilized nations. We want progress, not provocation," The Hill reported Trump saying at Saturday's Hanoi press conference.
"We want stability, not chaos, and we want peace, not war. All responsible nations must act now to ensure that North Korea's rogue regime stops threatening the world with unthinkable loss of life," he added.