Trump Sarcastically Aggressive In New Tweet Calling Kim Jong Un With 'Short and Fat'
President Donald Trump and North Korean leader Kim Jong Un engaged in a new round of and jibes Saturday, when Trump sarcastically said he would never call Kim "short and fat" after North Korea described Trump as a "dotard."
North Korea's foreign ministry on Saturday aimed a barrage of insults and accusations at Trump, who has tried to drum up support for increased sanctions against the rogue state on his 12 day tour of Asia.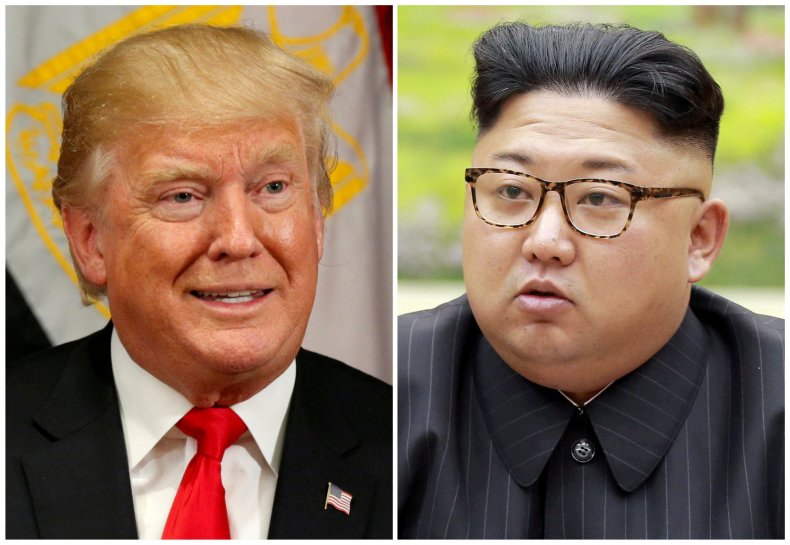 In the statement released through North Korea's official news agency, the ministry called the trip a "warmonger's visit" aimed at destroying world peace and again described the president as a "dotard" — an archaic insult for an elderly person that the rogue nation has used before.
That caused Trump to muse sarcastically, "Why would Kim Jong-un insult me by calling me 'old,' when I would NEVER call him 'short and fat?' Oh well, I try so hard to be his friend — and maybe someday that will happen!"
Even by the standards of Trump's tweets — which can be bullying and aggressive — this type of sarcasm is uncommon. On Twitter, critics compared the spat to an exchange between high school students, but highlighted the danger posed with the participants the leaders of two nuclear armed states.
Esquire political writer Charles Pierce tweeted, "What in the unholy FUCK is going on here?"
Others also weighed in.
Trump and the North Korean government have engaged in a spiralling series of insults in recent months, with Trump describing Kim as "rocket man" in an address to the United Nations in September following a series of ballistic missile tests by North Korea.
The president renewed his spat with North Korea as three U.S. aircraft carriers were taking part in a military exercise in the Western Pacific in a show of strength to North Korea.
U.S. Pacific Fleet commander Scott Swift said the triple-carrier drill, in which Japanese and South Korean vessels will also take part, was the first in the region since 2007.
In his tour of Asia, Trump has warned North Korea not to stretch U.S. patience, but also suggested the possibility of a diplomatic solution to the crisis.
Asked at a news conference in Vietnam if he could see himself being friends with Kim, the Trump replied: "That might be a strange thing to happen, but it's a possibility.
"If it did happen it could be a good thing I can tell you for North Korea, but it could also be good for a lot of other places and be good for the rest the world. It could be something that could happen. I don't know if it will but it would be very, very nice," he added.
Trump hasn't always been a rhetorical foe of Kim. Earlier this year, he called the North Korean dictator a "smart cookie."