Inside Kelsea Ballerini, Ex-Husband Morgan Evans Drama After Messy Divorce
Kelsea Ballerini and Morgan Evans announced their split this past August after almost five years of marriage, and ever since they have been on a roller coaster of drama.
The country music stars married in Cabo San Lucas, Mexico, in 2017 after 21 months of dating, and by November 2022 by they had finalized their divorce.
"Friends, I've always tried my best to share my life with you in a real and vulnerable way, while also protecting layers of my personal life as they unfold," Ballerini, 29, wrote on her Instagram Stories at the time. "This is now public record so I wanted you to hear from me directly that I am going through a divorce."
She continued: "This deeply difficult decision is the result of a journey of love, growth, and effort that ultimately has come to an end. It's hard to find the words here...but I feel extremely grateful for the years of marriage to Morgan and hopeful for the next seasons. With very active schedules coming up, please be mindful that we are both fragile, actively healing, and showing up the best we can."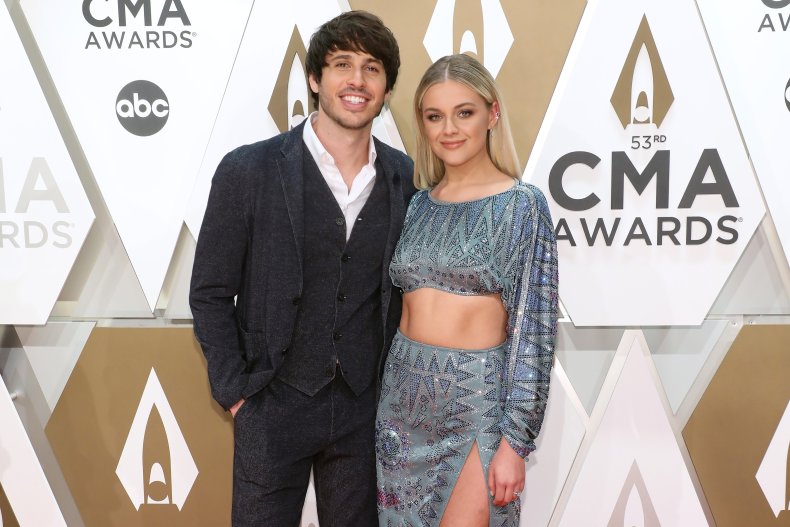 Evans, 37, also released a statement, suggesting it was not his decision to divorce.
"I am very sad to confirm that after almost 5 years of marriage, Kelsea and I are parting ways. I wish it were otherwise but sadly it is not," he wrote.
Shortly after they announced their split, the Australian singer released the breakup track "Over for You."
"'Over for You' is me singing about my feelings. This song is the most personal thing I've ever written and the most personal thing I've ever shared," Evans said in a statement at the time.
He also opened up about the song on the Bobby Bones Show podcast, saying it "felt good" to release the song.
"Just be honest and not try to cover things up," he said.
"Having gone through a situation like that, seeing that it helps other people going through situations like that, yeah, it's really a big deal," he explained, adding that "vulnerability and personal writing is actually the thing that most widely relates to people."
Ballerini then released a short film and six of her own breakup songs on Valentine's Day, with the title "Rolling Up the Welcome Mat."
"Here's my healing journey. Here's my heart. Here's my truth. I've never been this open, I've never been this bold, and I've never been this proud of my art," she explained on Instagram at the time. "So with love and respect, I'm rolling up the welcome mat. Six-song story and short film out now. Happy Valentine's Day."
She said in a media release about the project: "I wasn't worried about anything other than presenting the songs as honestly as possible. Most of them started with me and my guitar.
"The only way I've been able to handle my life since I was 12 was to write about it. Ironically, I started writing music because my parents got divorced; that was my therapy. 'Rolling Up the Welcome Mat' was how I processed everything. It's the way I got my feelings out of my body and heart and put them to music, which is the purest way I could've handled it," she said.
Ballerini, who is dating Outer Banks actor Chase Stokes, eventually addressed Evans' song on her Call Her Daddy podcast, saying, "Who you marry is not who you divorce. As he's putting out a song about being blindsided, he's taking half the house that he didn't pay for."
She added: "Hurt people, hurt people. I totally get that."
The CMT Music Awards winner went on to say she was "livid" when Evans released "Over for You" weeks after the split and "felt really used in that moment." She also talked about how she had reflected on their marriage and key moments she would have handled differently with the power of hindsight.
"I was not perfect, he was not perfect, it was not perfect. And so there were definitely moments that I look back on where I'm like, 'Oh, I should've done that different' or 'I could've showed up here. I could've taken the flight this time,'" Ballerini said.
"And in the unraveling, that thing I ended up sharing with him, just saying, like, 'I need to own the last few years.... I think I checked out a long time ago, and I need to let you know that.'"
Evans was quick to address those comments and took to Twitter to vent.
"It's really sad for me to see this person, who I spent so much of my life with and loved with all my heart, saying things that aren't reality and that leave out what really happened," he tweeted on February 21.
"She knows I'm not the type of guy to speak on those things publicly. If this is what she needs to heal, I hope it helps. All I ask is that if you're on my pages, please don't be mean. Don't be mean to Kelsea, don't be mean to each other. Life's too short."
But apparently Evans has changed his tune about sharing his personal life with the world and announced on Tuesday a new docuseries about his breakup song.
The five 10-minute episodes will follow him and his relationship with the song. It will also document his travels back to his native Australia and the moment he debuted "Over for You" at the CMC Rocks QLD festival in front of 25,000 fans.
"It felt like channeling all that sort of awfulness into something positive," he said in a statement. "I didn't realize that I was going to feel this, but after I played it at CMC Rocks, I did feel a weight off my chest,"
The docuseries' director, Peter John, said the short series "brings viewers backstage and back home where Evans grew up. After a year of planning and just weeks before shooting, Evans went through a divorce. That's when Evans sat down to write what he calls 'the song from my heart.'"
As for Ballerini, she is about to embark on a national tour and will make her Saturday Night Live debut on March 4.