Ken Jennings Returns to Host Jeopardy! on Special Anniversary, Talks 'Daunting' Gig
Former Jeopardy! champion Ken Jennings returned Monday to host the iconic show once again, and this time it came on a particularly somber day: the one-year anniversary of former host Alex Trebek's death.
Jennings, 47, the highest-earning contestant in the history of American game shows, admitted that he had gone through a mix of feelings ahead of the job. He previously stated that he has had "every possible emotion now" related to Jeopardy!.
Reportedly, the producers of the show did not tell Jennings that his first episode back, which was recorded this past September, would air on the one-year anniversary of Trebek's death. Jennings, however, was seemingly appreciative of the effort to not bog him down with this information.
"Apparently, everyone was aware that we were going to air [his first episode] on the anniversary and nobody told me," Jennings said during a recent interview. "They didn't want to put that in my head. So I was not told until after that it was the Nov. 8 show."
He also lauded the difficulty of hosting a show like Jeopardy!, and how Trebek had left him a large pair of shoes to fill.
"It's a very tricky job. The mechanics of hosting 'Jeopardy!' are daunting. There's a lot going on at once, and Alex made it all look so easy. But I can tell you firsthand, it's not easy," Jennings added.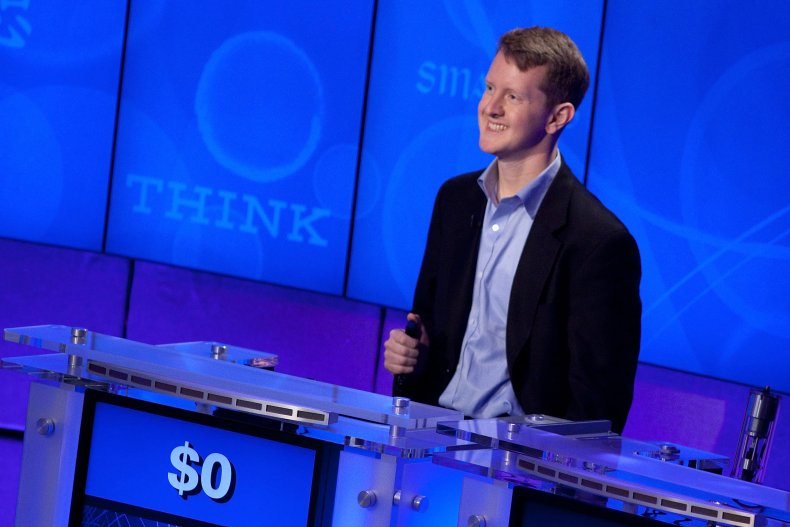 Jennings, however, is not the only person in recent months who has seen time at the host's stand.
He currently splits his duties with neuroscientist and actress Mayim Bialik. She had previously been announced as the host of the primetime version of the show, while Jennings hosts the syndicated version.
Following Trebek's passing from pancreatic cancer in November 2020, Jennings became the first person to take over as host of the show, with his episodes airing from January 11 to February 19. Jennings previously described those first episodes as especially difficult given how recent Trebek's death had been.
"I was just terrified, and I think rightfully so. I mean, Alex had just barely passed, and really no one else had hosted the show since 1974; like, literally, in my lifetime," Jennings had stated.
After a hiatus following February, in which producer Mike Richards hosted the show, both Jennings and Bialik were brought back after Richards' high-profile departure.
Even as the transition back to Jennings' hosting duties resumed Monday, the one-year anniversary of Trebek's death was not directly mentioned during the episode, nor did Jennings speak on the matter.
Jennings is scheduled to host Jeopardy! for the next three weeks, at which time Bialik will resume duties.
While he is also known for his work as an author and trivia buff, Jennings has been enshrined into Jeopardy! history for his record-breaking run in 2004, winning the game for 74 consecutive days. In total, Jennings has received over $4 million in prize winnings competing on five different game shows.
Jennings' game show prowess reportedly even led to a number of changes behind-the-scenes of Jeopardy!. New contestants were given additional time to practice using their buzzers, and the producers even swapped out the person who ran the buzzers, according to TriviaHallofFame.com.
Newsweek has reached out to the producers of Jeopardy! for comment.