Ousted 'Jeopardy!' Host Mike Richards Subtly Addresses Backlash on Show
Mike Richards appeared keen to take the focus away from his controversial appointment as Jeopardy! host during Tuesday's episode of the show.
Following a months-long search that saw a long line of celebrity guest hosts try out to become the late Alex Trebek's replacement, Jeopardy! executive producer Richards was named as presenter of the primetime show.
Of course, as every dedicated fan of the show now knows, scandal-plagued Richards' tenure would be a remarkably short one, as he stepped down just nine days after it was announced that he had landed the coveted role.
The day before stepping down on August 20, the beleaguered TV executive was able to put in a single day of work in front of the camera as host, recording one week's worth of episodes that started airing on Monday.
And as he was shown opening Tuesday's installment of the syndicated quiz show, Richards appeared to subtly acknowledge the controversy that would lead to his rapid exit by trying to switch the focus back to the contestants.
"You know, the power of this show has always been derived from the contestants," Richards said. "And my pledge to Jeopardy! fans everywhere, is to continue to make this stage a place where our contestants can shine their absolute brightest."
Richards was given no such opportunity as, soon after he stepped down from his role as presenter, he was also ousted as executive producer of Jeopardy! and Wheel of Fortune.
The California native's fall from grace started to brew in the days leading up the announcement that he would be named the new Jeopardy! host.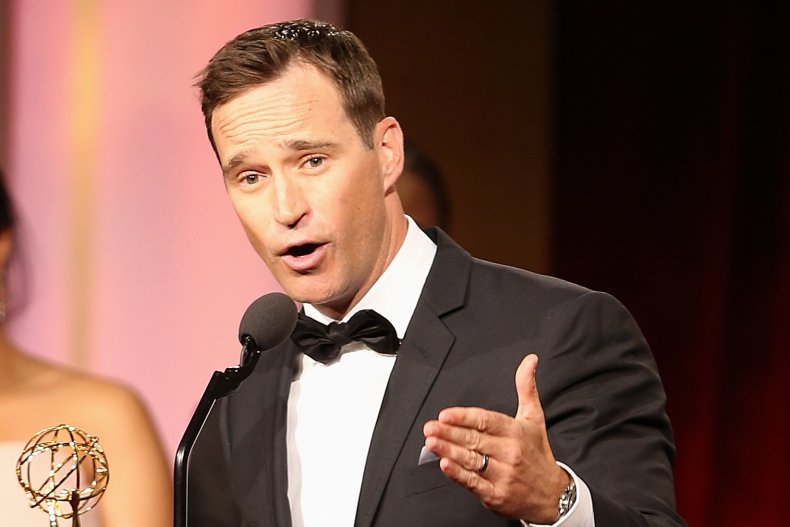 Reports resurfaced that multiple models had accused him of discriminatory behavior during his time as a producer on game show The Price Is Right.
History came back to haunt him once again when, days after his new hosting role was announced, The Ringer published an article detailing a number of offensive comments he had made on his now-defunct podcast between 2013 and 2014.
Despite his apology for the comments, pressure soon mounted for Richards to step down, which he duly announced he would be doing days later.
In a statement sent to the show's staff, Richards said that continuing in the role: "Would be too much of a distraction for our fans and not the right move for the show." He also added that the search for a full-time Jeopardy! host would resume in the wake of his departure.
Ultimately, the move was not enough, with Sony Pictures Television announcing days later that Richards would also be removed from his executive producer role.
Suzanne Prete, executive vice president of business and strategy for Jeopardy! and Wheel of Fortune, announced his exit in a message to staff members that Sony shared with Newsweek at the time.
Prete said in her message: "I'm writing to let you know that Mike will no longer be serving as EP of Wheel and Jeopardy! effective immediately.
"We had hoped that when Mike stepped down from the host position at Jeopardy! it would have minimized the disruption and internal difficulties we have all experienced these last few weeks. That clearly has not happened."
Mayim Bialik, who had previously been announced as host of Jeopardy! specials and tournaments, will take over from Richards as presenter of the nightly primetime show for three weeks once his episodes have aired. A batch of guest hosts, whose names have yet to be publicly revealed, will then be rotated in.