Ken Paxton's GOP Support Is Lagging and It Could Give Democrats a Win
Texas Attorney General Ken Paxton had the smallest lead among Republicans running in three statewide races in a new poll, potentially giving Democrats the chance to secure a win in November's midterm elections if Democratic challenger Rochelle Garza is able to close in further.
The poll from the University of Houston's Hobby School of Public Affairs showed that Paxton is leading by 3 percentage points overall, with 45 percent of support compared to Garza's 42 percent. Compared to the two other statewide races for Texas governor and lieutenant governor considered in the survey, this is the smallest lead a Republican has over their Democratic opponent.
Texas Governor Greg Abbott is leading Democratic challenger Beto O'Rourke by 7 points in the race, with 49 percent of support among likely voters compared to O'Rourke's 42 percent. Lieutenant Governor Dan Patrick is leading his Democratic opponent Mike Collier by a slightly lower 6 points, with 49 percent compared to Collier's 43 percent.
When broken down by party, Paxton also saw the lowest percentage of support among GOP voters when compared to Abbott and Patrick. Paxton's GOP backing of 87 percent is still an overwhelming majority, but lower than Patrick's support of 91 percent and Abbott's support of 93 percent among surveyed Republicans. On the flip side, 91 percent of Democrats indicated that they intended to vote for Garza.
While it remains unclear whether Garza will ultimately be able to gather enough backing to close the gap with Paxton, the survey is the newest indication that the Democrat may have the biggest chance of unseating a Republican in those three statewide races. Another recent poll has shown Garza to be trailing Paxton by an even smaller margin. A Dallas Morning News-University of Texas at Tyler survey from August showed that Paxton received 38 percent of support among those certain to vote, while Garza received 36 percent.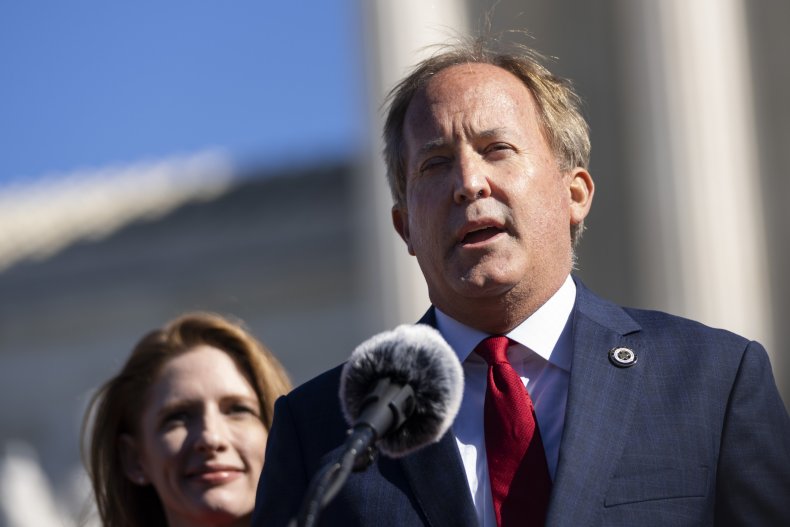 Garza is a foil to Paxton on several key issues. According to Garza's website, she is a lawyer who believes refugees, asylum-seekers and immigrants "must be welcome in Texas—but that will never be the case as long as the GOP holds onto power."
Paxton listed securing the border as one of his top issues on his campaign site.
"As threats from violent drug cartels creep across our borders, it's a stark reminder that securing our borders is not very high on our federal government's list of priorities," Paxton's site says. "As Attorney General, I am making it a top priority to work with the Department of Public Safety, local law enforcement officials, and the executive cabinet to determine the strategic needs to secure our international border and how to achieve our goals for border security to protect Texans. I am also working to achieve operational control of our border."
Paxton is also against abortion rights, while Garza has vowed to fight for them.
Paxton was first elected as attorney general of Texas in 2014 and was picked for a second term in 2018. He was indicted on securities fraud charges in 2015 but has yet to face trial, the Associated Press reported.
Newsweek reached out to the campaigns of Paxton and Garza for comment.