Ken Starr Says Trump Racist Comments Not An Impeachable Offense, Says Impeachment Only 'Last Resort'
Former independent counsel Kenneth Starr, who led several 1990s investigations into former President Bill Clinton, said Tuesday that allegations President Donald Trump made racist comments toward four congresswomen are not an impeachable offense -- "if that's what he did."
The Republican and former federal judge issued the infamous 1998 Starr Report detailing Clinton's salacious sexual behavior and accusations of perjury, but he said today's unprecedented "polarization" has caused House Democrats to use impeachment as a "first resort" rather than the last. Starr responded to Tuesday's 240-187 House of Representatives vote officially condemning Trump's racist "go back" tweets.
Speaking with Fox News Tuesday, Starr partially blamed Trump impeachment talk on a lack of a "foreign enemy at war" and there being no event similar to the September 11, 2011 terrorist attacks which he labeled a "unifying force" in years past.
After the passage of the House resolution condemning Trump Tuesday evening, Fox News anchor Martha MacCallum asked Starr: "The latest [case for impeachment] is that Trump makes racist comments -- is that an impeachable offense -- if that's what he did?"
"I don't think so, if that's what he did," Starr said. "Obviously people are going to debate over the reason we differ over the nature of those comments, but when you talk about impeachment, we are in a stage of our history when impeachment is becoming the tool of first resort as opposed to last resort."
Starr said it "makes sense" the House passed the resolution Tuesday. But he lamented the introduction of articles of impeachment -- which Texas Democrat Al Green introduced to try and force a vote that was not taken up Tuesday. He said such a move is implausible because a required simple majority could not even be found within the Democratic members of Congress.
"That is not what the founding generation wanted, it's not what they intended, and so we need to bring this back and have a debate, have a discussion, have a vote, but let's put the impeachment talk aside," Starr continued. "We know there's not going to be a majority or even, much less, a supermajority, in favor of the impeachment of the President of the United States, so they should march on."
"I think at least expressing themselves through this kind of resolution -- whether I would have voted in favor of it or not -- makes sense as opposed to 'let's start impeachment.' So yes, express your disapprobation or your approval as the case may be."
Starr said there is a major difference between Washington politics in 1998 under Clinton and the political rhetoric expressed today -- although he at no point said Trump himself has instigated the divide. Starr said the immediate push for impeachment is indicative of a lack of unity in the country in 2019.
"There's a very deep divide, the kind of rhetoric, the kind of polarization that we just have not seen, we do not have the foreign enemy at war," he continued.
"We have threats from China, threats from Russia and so forth, so we don't have a unifying force. And heaven forbid that there would be another 9/11 but that's -- I think we are a deeply divided country but here's the good news: we've always been deeply divided and we always will be deeply divided, I just wish the rhetoric were a little bit toned down."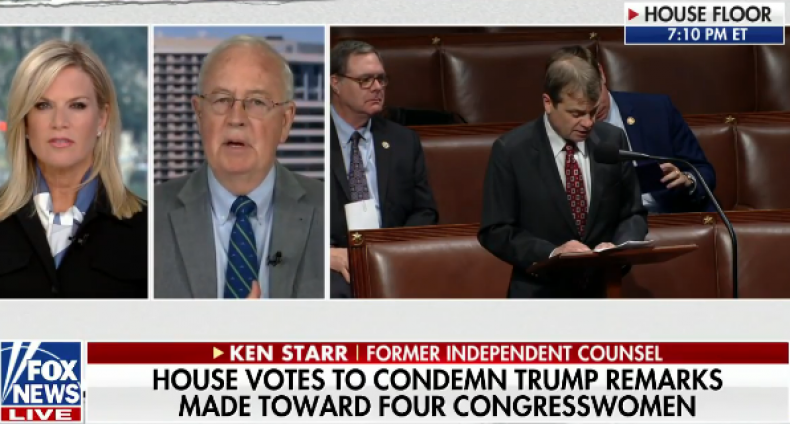 Trump, speaking with reporters Monday, responded to accusations he is being officially labeled a racist: "It doesn't concern me because many people agree with me."
The House resolution passed with the support of 235 Democrats, four Republicans and one Independent, recent GOP defector Justin Amash.
The four House Republicans who voted in favor of the resolution condemning Trump's remarks toward the progressive "Squad" included Brian Fitzpatrick of Pennsylvania, Will Hurd of Texas, Fred Upton of Michigan and Susan Brooks of Indiana.
Speaking just prior to Starr on Fox News, Ohio Republican Jim Jordan dismissed the vote as a Democratic-led political stunt, and said "these are the same people who said 'abolish ICE, abolish the Department of Homeland Security, these are the radical positions they've taken."