In An Overly Officiated Second Half, The Refs Blew A Gimme Call In the Last Minute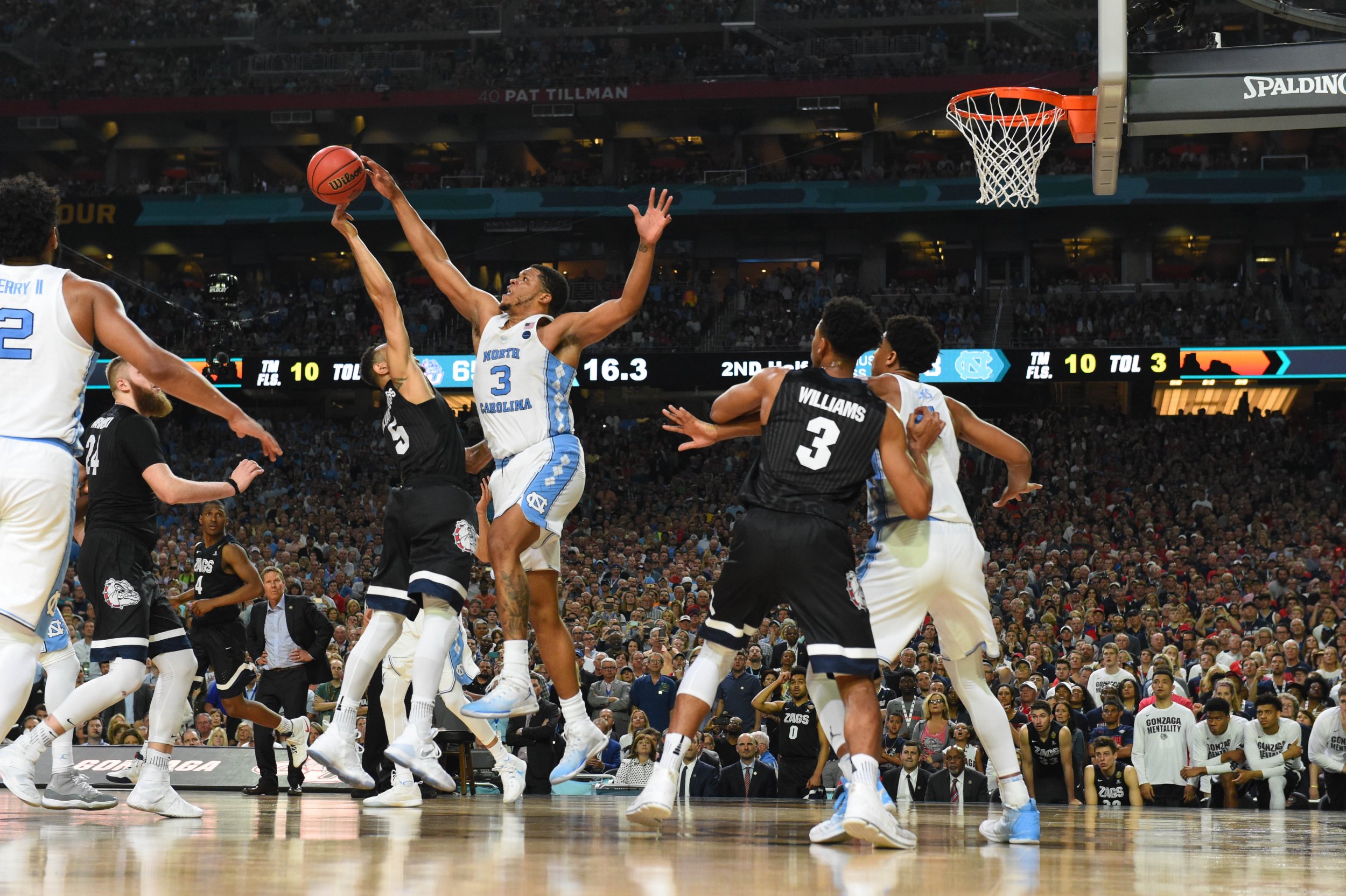 The world is not lacking for Kennedy conspiracy theories, so let us not wonder whether the missed out-of-bounds call involving North Carolina's Kennedy Meeks with :50 remaining in Monday night's NCAA championship game was anything other than an honest mistake. Certainly it was a blown call—a referee is standing 3 feet away and staring directly at Meeks—but it was hardly the only one of this tournament, much less this game.
To return to the waning moments, Gonzaga trailed 66-65 with just under one minute to play when the Tar Heels' Joel Berry II attempted a three-point jumper. The 6-foot-10-inch Meeks, an offensive rebounding titan the final three games of March Madness, grabbed the board. The ball slipped from his grasp, though, and he fell to the hardwood. As he wrestled with Gonzaga's Silas Melson for the ball with his left hand, the palm of Meeks's right hand rested on the court out of bounds.
Instead of awarding the ball to the Zags, the referee whistled jump ball. The possession arrow favored the Tar Heels, who retained possession, scoring on an Isaiah Hicks jumper 23 seconds later to take a 68-65 lead. The final margin would be 71-65, as North Carolina outscored Gonzaga 8-0 in the contest's final 1:55.
Bulldogs coach Mark Few had no idea from his vantage point on the far end of the court that the jump-ball call was questionable. "From my angle, it didn't look like it was a situation where there was an out-of-bounds situation or else I would have called for a review," Few said. "So that's tough. It's tough to hear. But, you know, that's just the way it goes."
Related: Big men off campus include Collins, Karnowski, Meeks
Northwestern fans would agree. Two weeks and two days earlier, the Wildcats trailed the Zags 63-58 in the second half when Gonzaga's Zach Collins clearly committed basket interference while blocking a Northwestern dunk attempt. The officials not only missed the call but also assessed a technical foul call to Northwestern coach Chris Collins for stepping out onto the court to argue the missed call.
Gonzaga fans will gnash their teeth about the missed out-of-bounds call, as they will about their backup center, Zach Collins, a stellar 7-footer, fouling out with five minutes to play. They'll also wonder what might have been had leading scorer Nigel Williams-Goss not re-aggravated an ankle injury with the Zags trailing by one point with 1:25 to play. He missed his next shot and had the following one blocked by Meeks with :17 to play.
The tiny Jesuit school from Spokane proved all the doubters wrong over the past three weeks, advancing to its first Final Four and coming within two minutes of downing a college hoops blueblood for the national championship. It may be a little early for long-term perspective, though; the next day is for thinking about how agonizingly close they came. "I spoke to [Syracuse coach] Jim Boeheim a few days ago," said Few, "and he said, 'You know, if you lose this game it will totally crush you.' He was right."