Big Men Off Campus: Low-Post Studs Karnowski, Collins and Meeks Rule Final Four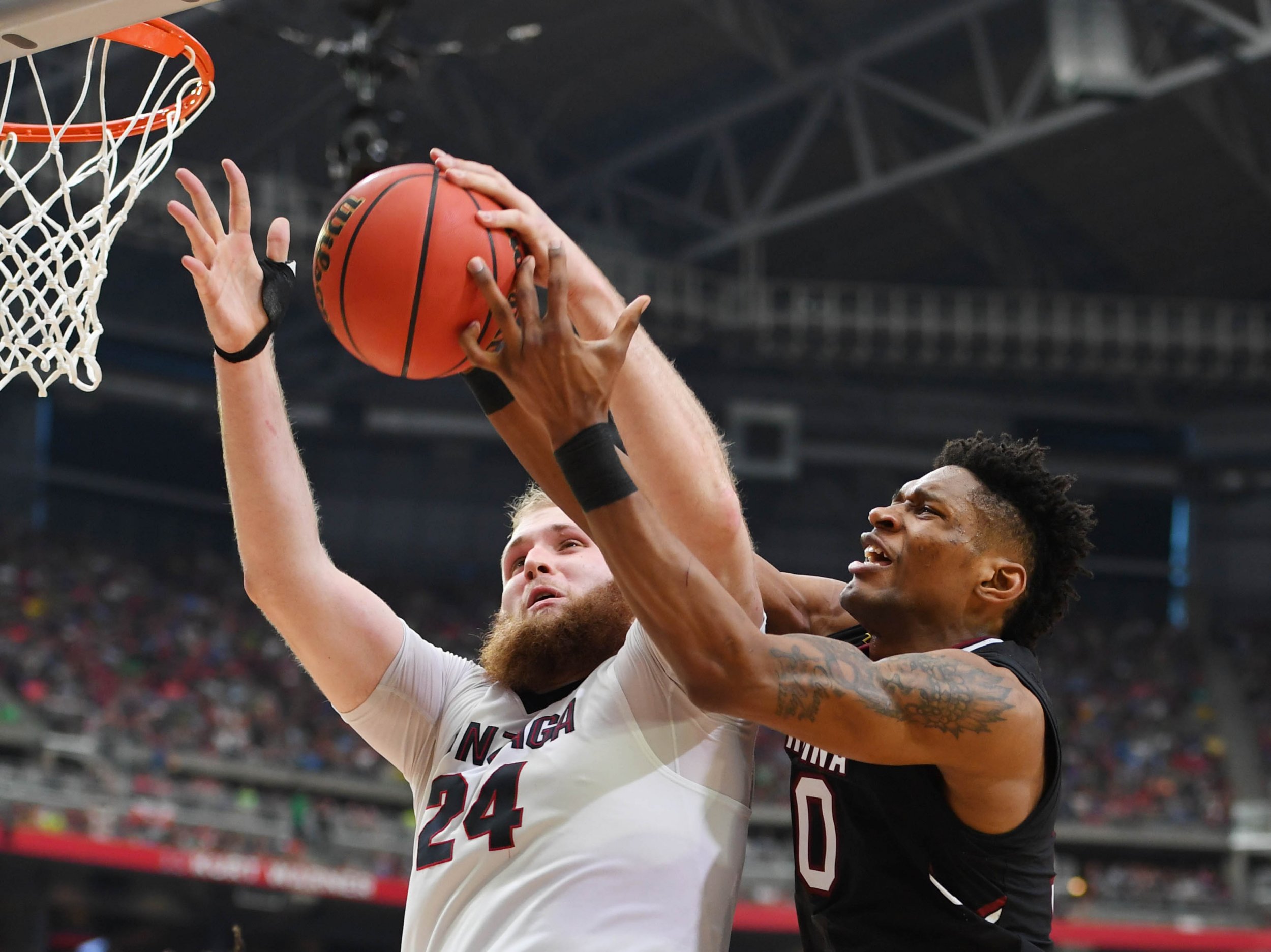 Monday night's college basketball national championship game promises a blend of something old-school, something new and something Carolina blue. As Gonzaga makes its finals debut in Monday night's title game, facing a North Carolina program that has taken the court for the season's ultimate game 10 times already, fans will be treated to an offensive theme more retro than Florida forward Canyon Barry's underhanded free throw shot: low-post scoring.
RELATED: UConn women's historic win streak is over
Big men are back in the Final Four, and playing with their backs to the basket as opposed to in a "stretch-four" manner. Saturday's Final Four games were less coast-to-coast than post-to-post. Gonzaga seven-footers Przemek Karnowski and Zach Collins were, true to their build, huge in the Bulldogs' 77-73 defeat of South Carolina on Saturday evening. The Tar Heels' 6'10" Kennedy Meeks played even larger in stature, registering a 25-point, 11-rebound performance that drew comparisons to UCLA-era Bill Walton, who went 21-for-22 in the 1973 NCAA championship game (scoring 44 points) and on Saturday was seated courtside at University of Phoenix Stadium.
Football is a game of inches, but college basketball has been a game of fewer inches this season, in which 21 of the nation's top 24 scorers stood 6'6" or shorter—Winthrop's Keon Johnson, who averaged 22.3 points per game, is 5'7". On Friday night, in the women's Final Four, 5'3" Morgan William of Mississippi State's hurled the stone that slayed that sport's Goliath, UConn. Randy Newman had it all wrong: short people, at least those who shoot above 40 percent from beyond the arc, have every reason to live. Tall people? They were simply glorified goalkeepers or, in the current vernacular, "rim protectors."
That is, until Saturday in Glendale, Arizona. Before a crowd of 77,612, the second-largest ever to witness a Final Four, giants once again roamed the earth. Karnowski, a 7'1", 300-pound senior from Poland who a year ago was bedridden for weeks and missed the tourney due to a staph infection, scored 13 points on 50 percent shooting and had five rebounds. Collins, a lean and athletic seven-foot freshman from Las Vegas, scored 14 points, grabbed 13 rebounds and blocked six shots. When Collins woke up Saturday morning, he told his roommate, guard Nigel Williams-Goss, "I wouldn't want to have to play against me today."
Related: How Stephen Curry has opened the door for sub-six footers
As for North Carolina's Meeks, on a roster filled with sinewy, chiseled McDonald's All-Americans, his burly frame suggests McDonald's all-day breakfast (the Meeks shall inherit the girth). And yet there he was on Saturday evening, making 11 of 13 field-goal attempts and securing an offensive rebound off a missed free throw with :04 remaining and the Tar Heels nursing a one-point lead over Oregon. "I thought he was sensational around the basket tonight," North Carolina coach Roy Williams said of Meeks.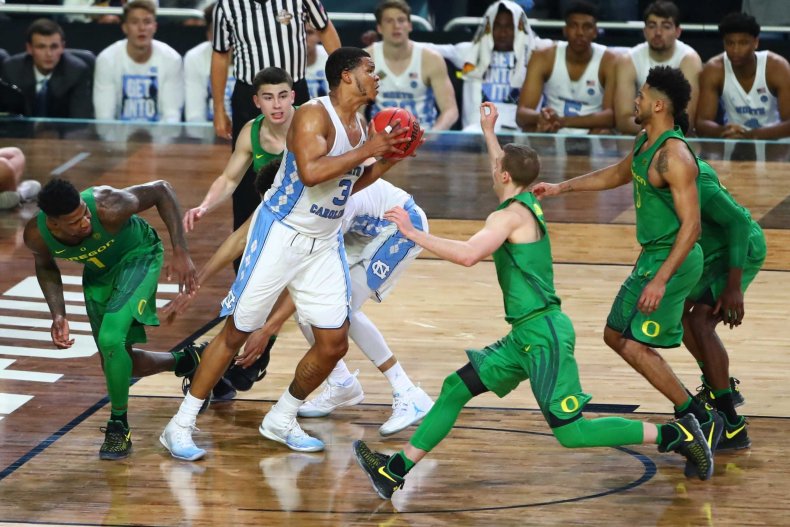 This trio of trees—Karnowski, Collins and Meeks—not only played well on Saturday, but they returned the game to an area code it has recently forsaken: the paint. Numerous times they set up on the low post, fielded an entry pass and backed down their defenders. All three demonstrated remarkably deft and nimble touches near the cylinder: Karnowski scored one hoop with his back to the basket by simply flicking the ball behind him. All three swatted shots the way Roger Federer knocks down lobs.
Aside from their play, Przemek, Collins and Meeks have little in common. With his long beard, thinning blond hair and mammoth physique, "Shem" (Karnowski's first name is pronounced "Shemek") looks like a cross between two Game of Thrones figures: The Mountain and Hodor. There may be a larger creature than Karnowski in the Pacific Northwest, but that all depends on your feelings about Sasquatch. A year ago, his staph infection threatened to claim his left leg. He has since made what coach Mark Few calls "literally a miraculous" recovery. A senior, he has played in more wins than any male player in Division I basketball history.
Collins, then a five-star recruit at Bishop Gorman High School in Las Vegas, signed with Gonzaga in part because it appeared that Karnowski's career was over. When Karnowski recovered, Collins, the most highly coveted future NBA talent on either Gonzaga's or North Carolina's roster, became a sub. He will likely not start on Monday night.
Meeks, the senior from Charlotte, arrived in Chapel Hill weighing 335 pounds. He has since shed the weight of a mid-sized retriever, 70 or so pounds. His evolution, much like his game, harkens back four decades or so, when players remained in school for four years and steadily improved. Meeks was on the floor last April when Kris Jenkins of Villanova buried the buzzer-beater that ended Carolina's run for a sixth national championship (only UCLA and Kentucky have more). He will become that rarest of 21st-century college basketball players on Monday night, someone who has played in two national championship games.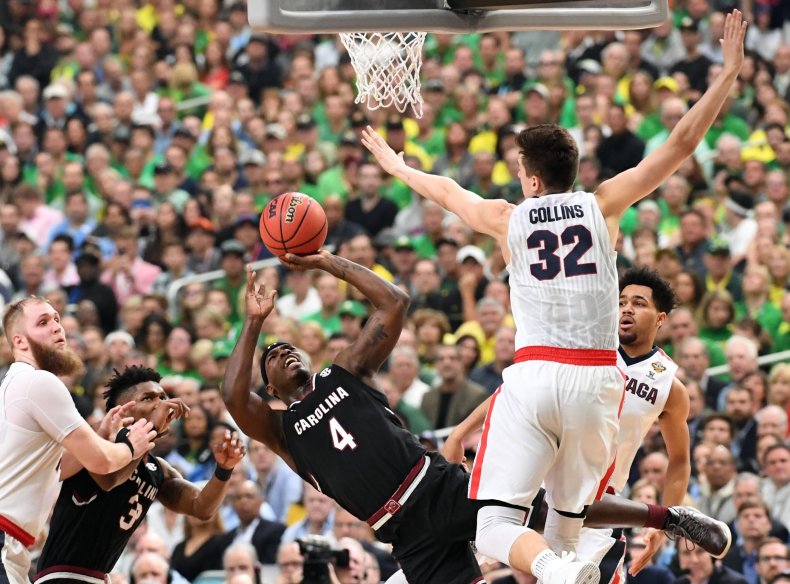 Last year, Villanova. This year, Gonzaga. Get ready for Catholics versus Carolina, The Rematch. And expect the big men to do what comes naturally: come up big.