Not An April Fool's Joke: The UConn Women's Historic 111-Game Win Streak is Over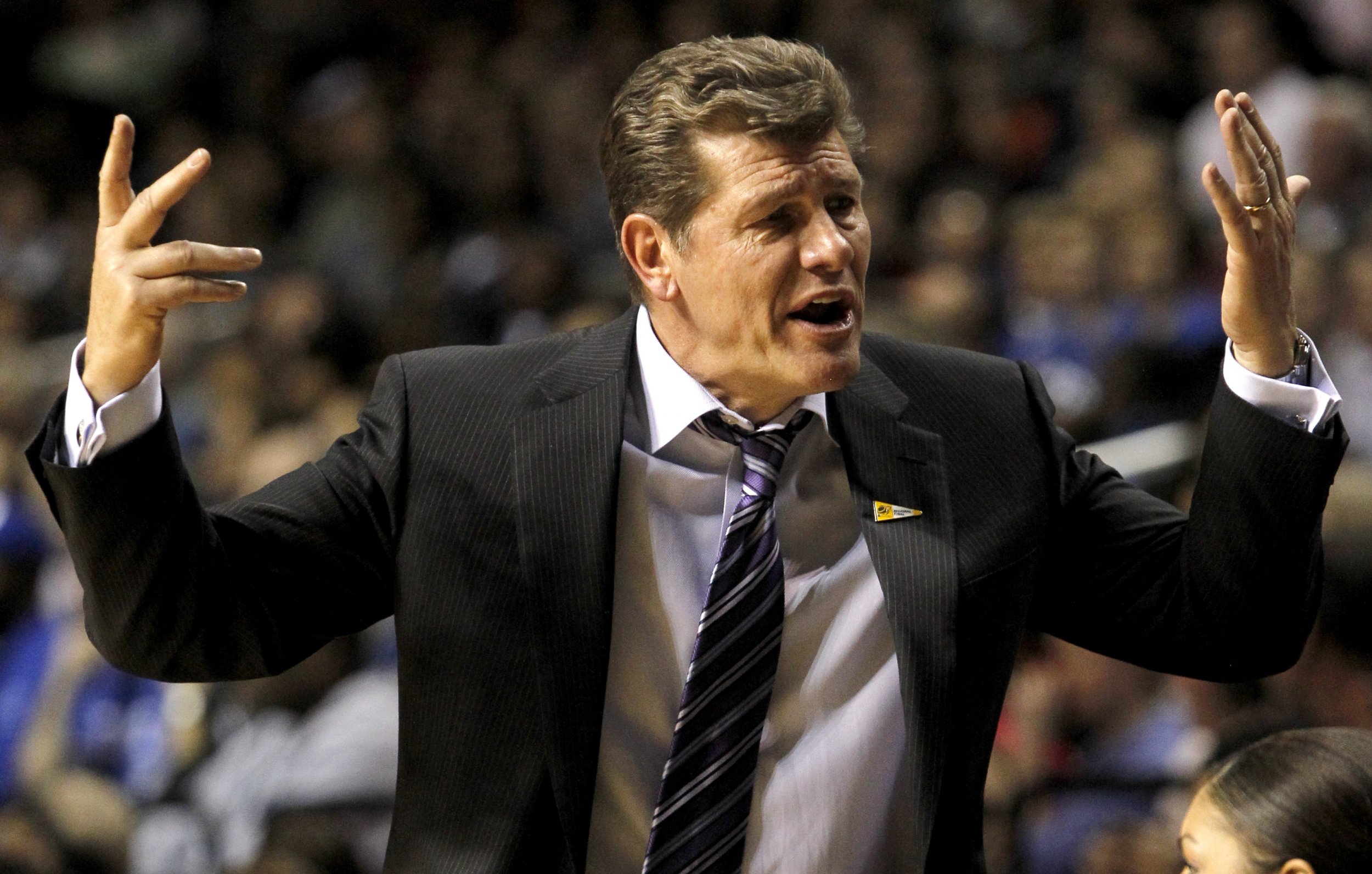 The UConn women's basketball team lost in the NCAA Tournament. This is not an April Fool's joke. The 111-game win streak is dead.
The Mississippi State Bulldogs, who last March lost to UConn in the Sweet 16 of the women's NCAA tournament by 60 points, defeated the Huskies in overtime at the Final Four in Dallas. Morgan William, the smallest player on the court at 5'3", swished in an 18-foot rainbow from just outside the right elbow as time expired over the outstretched arm of 5'11" Gabby Williams.
As William's shot flushed through the net, ending a 111-game win streak that dated back to November 17, 2014, UConn coach Geno Auriemma smiled and walked to midcourt to shake the hand of his counterpart, Vic Schaefer. "I knew this was going to happen at some point," Auriemma said later. "I'm just shocked it took this long to happen."
The Bulldogs may have shocked the Huskies, women's college basketball and the sports world in general on Friday night, but they outplayed Connecticut throughout. On the game's first possession, a Mississippi State defender stole a UConn entry pass to the low post, setting the tone for the rest of the evening. The Bulldogs out-hustled the usually indomitable Huskies from start to finish, collecting twice as many offensive rebounds (14 to 6) and getting twice as many steals (8 to 4).
"We had our pride stepped on last year," said Bulldog coach Schaefer, who had never taken a team to the Final Four. "We got humiliated by a great team. There's a lot of people in this locker room with a lot of pride."
There's no such thing as "deserve" in big-time sports, the final score is the only arbiter. And yet, although Mississippi State led and outplayed UConn most of the game, the Huskies had a great chance to win in overtime. The Bulldogs were called for a flagrant 1 foul with 0:26 remaining, giving Connecticut two foul shots and possession of the ball, while trailing by two. Katie Lou Samuelson hit both free throws, but after UConn inbounded the ball, senior guard Saniya Chong committed a turnover as she drove to the basket with 0:12 left. Why she didn't wait for the last shot is the difference between instruction and execution. "She was trying to make a winning play, God bless her," Auriemma said.
Mississippi State took over, and William buried her rainmaker. It only seemed, well, just. "When it went in it was almost like, of course," said Auriemma. "Of course it's going to go in."
Related: Alaska-Anchorage, The Best Women's Hoops Team West Of UConn And The Yukon
The Bulldogs lost 6'7" center Teaira McCowan to a pair of fouls in the opening minutes, but that setback only appeared to motivate them further. They opened up a 22-13 lead on the sluggish Huskies after one quarter and led by as many as 16 (29-13) midway through the second quarter. UConn, which is renowned for exposing opponents' defensive flaws in half-court sets and for reaping easy buckets in transition, was stymied all evening. The clinical passing for which the Huskies are known was absent all night, partly due to Mississippi State's wet-blanket defense and partly to UConn's immaturity.
"I've been telling the guys who cover us all year that this team is playing older than their years," Auriemma, who turned 63 a little more than a week ago, said. "Tonight it caught up to us."
864 Days Without a Loss
Let us pause to admire the majesty of what UConn has accomplished and what still remains. The Huskies went, from that two-point overtime loss at Stanford in November of 2014, 864 days without a loss. They have gone 203 games and 1,482 days since their last loss either in regulation and 206 games and 1,490 days since their last defeat by more than two points (both defeats came in March of 2013 to Notre Dame).
The Huskies finished 38-0 last season and won their fourth consecutive national championship. The ladies from Storrs were leviathans, winning 24 of their 38 contests by at least 40 points. No opponent came within single digits. When this season began, UConn had a 75-game win streak but had also lost its top three players—Breanna Stewart, Moriah Jefferson and Morgan Tuck—to the WNBA. That trio was selected, respectively, one, two and three in the pro draft.
The Huskies opened this season with a two-point win at Florida State and for the first time in a few seasons, appeared vulnerable. The top two players, Napheesa Collier and Samuelson, were sophomores and the next best two, Kia Nurse and Williams, juniors. Point guard Chong was the only senior in the starting five.
Still, this Connecticut squad took off after that nailbiter in Tallahassee, defeating a pair of second-ranked foes, Baylor and Notre Dame, by an identical score (72-61), and stopping fourth-ranked Maryland by six. The march to 100 consecutive wins, unprecedented in Division I basketball, proceeded without a stumble.
Auriemma's squad nearly was caught napping in its 101st consecutive win, a 63-60 victory at unranked Tulane, but then resumed its insuperable ways. Only one of the next 10 victims came within 22 points of UConn and Albany, its first-round opponent in the NCAA tournament, lost by 61.
The Bulldogs, meanwhile, entered Friday night's national semifinal with a 33-4 record, two of those defeats having come at the hands of South Carolina, their opponents in the championship game on Sunday. Last year's 60-point humiliation in Bridgeport, in which Mississippi State trailed the Huskies 32-4 after the first quarter, had inspired yet another round of lazy "Connecticut is bad for women's basketball" columns from troglodytes armed with laptop computers. Schaefer, who had been scheduled to speak on defense at a coaches' clinic at the 2016 Final Four, phoned the organizer of the event and asked if they still wanted him.
'Back to Work'
"You have two choices after a loss like that," Schaefer said. "You can either hope you never see UConn again or you can get back to work and find ways to improve so that you'll be able to compete."
Schaefer and his veteran team clearly did the latter, and the 5'3" William, a.k.a. "Itty Bitty," led them. William, a junior from Birmingham, Alabama, scored 41 points last Sunday in an Elite Eight overtime upset of Baylor. She was teary-eyed afterward, explaining that the day before had marked the third anniversary of her father's passing.
On Friday night, William was all smiles. At the end of regulation, the ball was in her hands and she drove to the basket, only to have her shot blocked by Williams. Given the same opportunity in overtime, she drove hard to the basket from the top of the arc, then stopped abruptly and calmly launched her step-back dagger. As former Mississippi State and current Dallas Cowboy quarterback Dak Prescott pumped his fist from his second-row seat, William's teammates sacked her in jubilant pile-up at midcourt.
Goliath, meet David. Or maybe not. "Last year we showed [the hockey film] Miracle before the game," Schaefer said. "This year, we weren't talking about a miracle. I wasn't showing any movie. We weren't talking about a Philistine slaying a giant."
Scholars familiar with the first book of Samuel will recall that the Philistine was the giant, but Schaefer was on a roll here. As for Auriemma, a coach who has led his team to 10 consecutive Final Fours and has won 11 national championships, he could appreciate what he had just witnessed. He could appreciate the mountain Mississippi State had climbed in less than 53 weeks, from a 60-point loss to a program-defining victory. "I understand losing, believe it or not," he said. "I know how to appreciate when other people win."
Auriemma just hasn't had the opportunity to do so in a while.