Kennedy Relative Blasts GOP Colorado Senator for Using JFK Footage in Campaign Ad
Kerry Kennedy, the niece of the late former President John F. Kennedy, blasted Republican Colorado Senator Cory Gardner for using archival footage of her uncle in a campaign advertisement.
The one-minute ad, which was posted by Gardner via Twitter on October 20, opened with footage of Kennedy speaking in Pueblo, Colorado in 1962.
"In 1962, John F. Kennedy made a promise in Colorado," the ad said. "It took 50 years to get it done, and it took Cory Gardner."
The clip addressed issues of conservation that Kennedy spoke about over 58 years ago, which Gardner said he "finally fulfilled".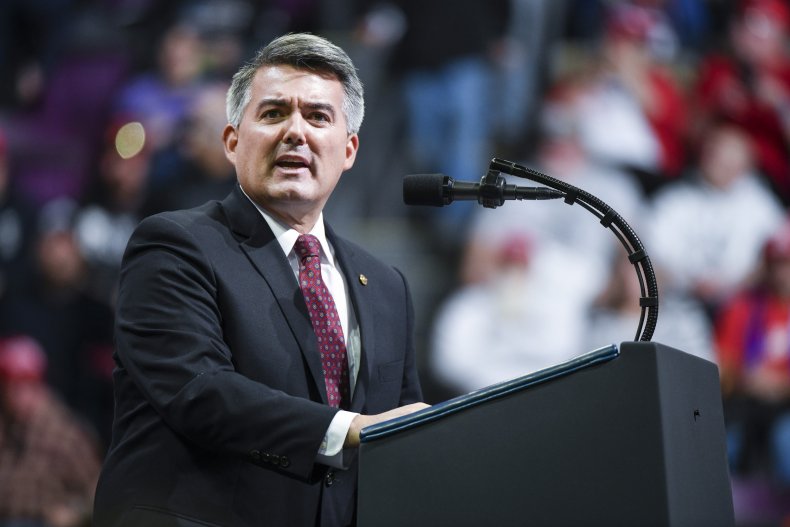 "I brought both parties together to finally fulfill a conservation promise John F. Kennedy made in Pueblo, CO more than 50 years ago," tweeted Gardner in a caption attached to the ad.
To which Kerry Kennedy—the daughter of the late Robert F. Kennedy and president of the non-profit Robert F. Kennedy Human Rights—replied in a tweet Saturday: "How dare you, Cory Gardner, misuse and abuse the memory of Uncle Jack in this grossly misleading advertisement. You have supported Trump's decimation of the EPA and fueled global warming."
"You are a disgrace," she continued.
Cory Gardner's campaign and Kerry Kennedy didn't respond to Newsweek's request for comment in time for publication.
In Colorado, Gardner is running against the state's former governor, John Hickenlooper.
Two October polls show Democratic candidate Hickenlooper ahead by 9 percentage points and 8 percentage points, respectively.
The first poll conducted by KUSA/SurveyUSA showed that Hickenlooper was supported by 48 percent of likely Colorado voters, while Gardner was backed by 39 percent.
The second survey conducted by the University of Colorado/YouGov showed similar results. About 48 percent of likely voters supported Hickenlooper, while 40 percent responded in Gardner's favor.
A third October survey released by RBI Strategies and Research showed an even larger lead for Hickenlooper. The poll found that 53 percent of likely Colorado voters intended to vote for Hickenlooper, while only 39 percent plan on voting for Gardner, giving Hickenlooper a 14 point lead.
The poll also found that Hickenlooper has a higher favorability rating among Colorado voters in comparison to Gardner.
A combined 52 percent of likely voters said they either had a very or "somewhat" favorable view of the Democratic candidate, while 41 percent said they had an unfavorable opinion of him.
In comparison, 49 percent of likely Colorado voters said they had an unfavorable view of Gardner, and only 42 percent reported liking the current senator.
With Hickenlooper's current lead, some speculated that the GOP Senate seat is likely to flip blue.