Kenosha Protests Caused $2 Million in Property Damage Over 8 Days, City Official Estimates
An official in Kenosha, Wisconsin, estimated Monday that it would take nearly $2 million to repair all city-owned property damaged following eight consecutive days of protests, the first three days of which were violent.
Shelly Billingsley, the city's public works director, told local leaders the amount would be necessary to replace garbage trucks, street lights, traffic signals and more that were damaged or destroyed in the daily protests following the non-fatal shooting of Jacob Blake, the Associated Press reported.
A white Kenosha police officer allegedly shot Blake, a 29-year-old Black man, seven times in the back during an altercation August 23. The protests began hours after Blake was shot and continued in some capacity for the next seven days. The situation turned deadly Tuesday when a 17-year-old, identified as Kyle Rittenhouse, allegedly opened fire against those protesting police brutality, leaving two dead and another wounded.
The Milwaukee Journal-Sentinel reported that buildings were set aflame and businesses were looted and vandalized during protests that occurred August 23 and 24. John Antaramian, Kenosha's mayor, requested $30 million on Sunday from Wisconsin Governor Tony Evers to help clean up the city.
"Kenosha is a safe community with hardworking individuals who are mourning and facing immense tragedy and devastation," Antaramian said in a statement. "We're asking the state and community partners to help rebuild what was lost and to invest in programs and training for our young people."
The state aid would be used to help cover property damages as well as revitalization efforts to attract new business investors to the city, the mayor said.
Evers announced Tuesday that Kenosha businesses suffering damage from the protests will be eligible for up to $20,000 each in no-interest loans that would help cover repair costs, Channel 3000 reported. The funds would provide "immediate aid" to businesses that are "hurting" following the civil unrest.
The Wisconsin Economic Development Corporation has allocated up to $1 million in funding for the loan program and will partner with the Kenosha Area Business Alliance to administer the money, according to a news release.
It is unclear whether city-owned businesses or property would be able to receive assistance from this program. Newsweek contacted Kenosha's public works department for comment, but did not hear back in time for publication.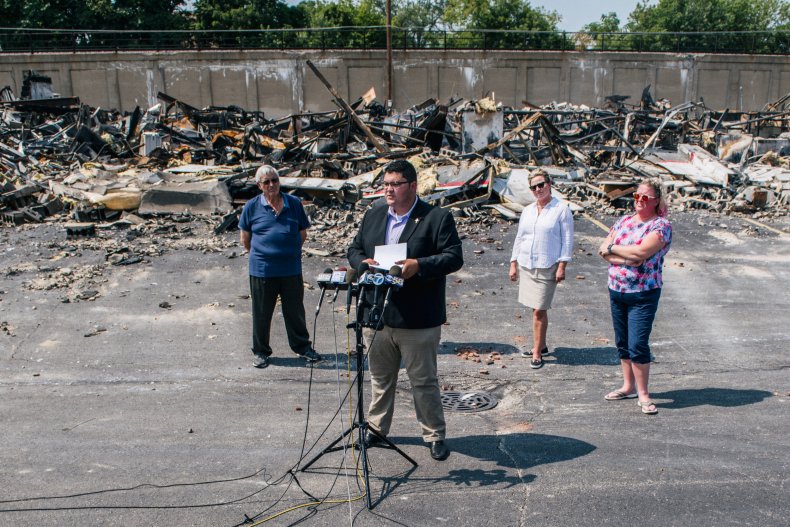 Billingsley revealed the estimated amount in damage one day ahead of President Donald Trump's scheduled visit to Kenosha to survey the destruction, despite Evers' request that he "reconsider" his trip.
Trump stopped by B&L Office Furniture Tuesday afternoon, a long-standing family-owned business that was destroyed by fire August 24, the Journal-Sentinel reported.
"We're going to work with you. We're going to help you rebuild," Trump addressed a group of people, including the store's owner. "It's a great area, it's a great state. A thing like this should never happen. They have to call early."
Trump told reporters ahead of Tuesday's visit that he declined to meet with members of Blake's family because they wanted a lawyer present. Justin Blake, Jacob Blake's uncle, told CNN that Jacob Blake's father "has no interest in speaking with President Trump."
The family instead planned a community gathering at the site of Blake's shooting to coincide with the president's trip, which "aims to support and celebrate the Kenosha community," according to a statement for the event.
"We don't need more pain and division from a President set on advancing his campaign at the expense of our city," Justin Blake said said in a statement. "We need justice and relief for our vibrant community."