Senior Citizen Has Jaw Broken During Kenosha Protests While Protecting His Workplace
A man in his 70s suffered a broken jaw Monday while attempting to protect his workplace from protesters in Kenosha, Wisconsin.
The man worked at a long-standing mattress store in the city and arrived at the shop that night to witness protesters attempting to set it on fire, FOX 6 Now Milwaukee reported. A video shows the man spraying two people with a fire extinguisher in an attempt to chase them off when another runs up behind him, appearing to attack the elderly man. In another clip, the man is seen lying on the ground.
Pamela Moniz, one of the store's owners, said her coworker suffered a broken jaw and lacerations to his head. The man is expected to recover, she said.
Moniz and her husband, Keith McCoy, arrived at the store Tuesday to survey the damage.
"I don't know what I expected, but I didn't expect this," Moniz said, crying as she looked at the building, which was ultimately burnt to the ground.
Moniz doesn't believe anyone from Kenosha could be responsible for the fire, she said. Hundreds of protesters have gathered in the city, located approximately 40 miles south of Milwaukee, every day this week to protest the shooting of Jacob Blake, a Black man who Kenosha police officers shot seven times in the back Sunday while Blake was reportedly trying to break up a fight.
McCoy told Fox 6 that he and his wife support the protests, but "we don't support this sh*t though," he said in reference to his destroyed store. The couple hopes to rebuild their business in another part of town, they said.
Newsweek contacted the Kenosha Police Department for comment, but did not hear back in time for publication.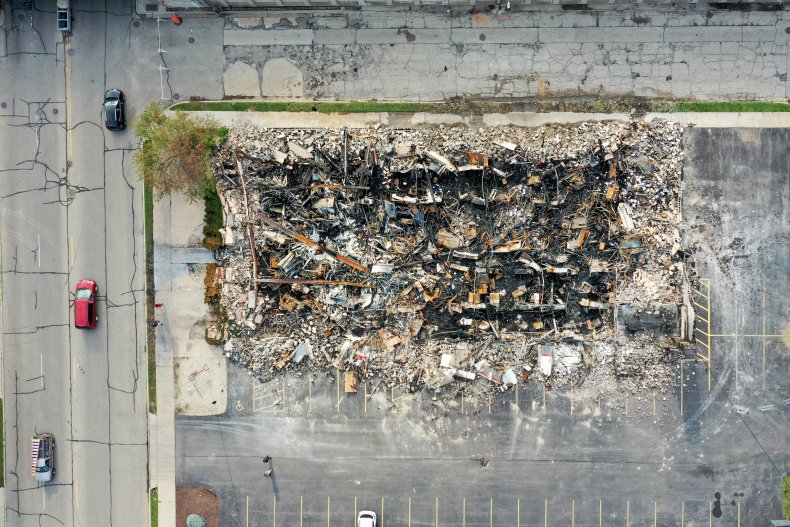 The shooting of Blake, 29, triggered protests almost immediately Sunday, with crowds of people marching in the streets to speak out against police brutality and systemic racism. The protests echoed those that have occurred throughout the summer over other deaths of Black men and women at the hands of white police officers, including George Floyd, Breonna Taylor, Elijah McClain and Rayshard Brooks.
Sunday's protests caused Kenosha County officials to enact an emergency curfew until 7 a.m. Monday. Protesters faced off against police dressed in riot gear outside the Kenosha County Public Safety Building, where the police department is located.
Wisconsin Governor Tony Evers called for members of the National Guard to assist police officers Monday to "help protect critical infrastructure and assist in maintaining public safety and the ability of individuals to peacefully protest," according to a statement.
Officials imposed another curfew until Tuesday morning. But social media posts showed people lighting numerous vehicles on fire in the streets, while some businesses were reportedly looted before being set ablaze.
Julie Bosman, a New York Times reporter, tweeted Monday night that protesters were setting off fireworks outside the courthouse as police officers fired tear gas into the crowd.
"I saw a furniture store in flames, two trucks burning, and shattered glass on the streets," she wrote. "It took a lot of tear gas to get most of the crowd to leave."
Bosman included a video of a massive fire burning in the city, writing in another tweet that neighbors said they witnessed people setting fire to a mattress store, which then appeared to have then spread to a bodega and Mexican restaurant.
Blake currently remains in an intensive care unit. His family's attorney, Ben Crump, said during a news conference Tuesday that Blake is paralyzed from the waist down and is unlikely to walk again because bullets severed his spinal cord and shattered some of his vertebrae.
The violent protests over Blake's death continued into Tuesday night, during which a group of armed men protecting a gas station reportedly shot at protesters, leaving two dead and another severely injured.
Julie Jackson, Blake's mother, has repeatedly asked for the violence to stop. The damage doesn't reflect her son or her family, she said.
"If Jacob knew what was going on...the violence and the destruction, he would be very unpleased," Jackson said during a press conference Tuesday. "So I'm really asking and encouraging everyone in Wisconsin and abroad, to take a moment and examine your hearts."