Kentucky Bill Prompted by Breonna Taylor Protests on Hold Until 2022
A controversial state bill, prompted by protests after the shooting death of Breonna Taylor by police last year in Louisville, will not make it to the Kentucky House floor this year after lawmakers failed to bring it up for vote last week.
Kentucky Senate Bill 211, sponsored by state Senator Danny Carroll, would in part make it a misdemeanor to "accost, insult, taunt, or challenge" police in public with the intent to provoke a violent response.
Carroll proposed the measure in response to widespread protests in Kentucky over the death of Taylor, the 26-year-old Black woman who was shot by police while asleep during a botched drug raid at her Louisville home.
Carroll, a retired police officer, told Newsweek he would continue working with colleagues to redraft the bill and reintroduce it during the next session, which begins in January 2022.
"We made several changes to the bill while it was in the Senate and as a result were running short of time. The bill passed the Senate with not very many days remaining in the session itself," Carroll said.
"When it got to the House, the members there—because of the controversial issue in this bill and the nature of this bill—I think the House members felt like they needed more time to study it."
The bill poses a penalty of 90 days in jail and fines for offenders, as well as steeper consequences for rioting, the bill states.
Critics of the bill, which passed in the state Senate 23-11 on March 11, have decried the anti-taunting measure as a First Amendment concern that could discourage people from protesting or leave them vulnerable to arbitrary arrest.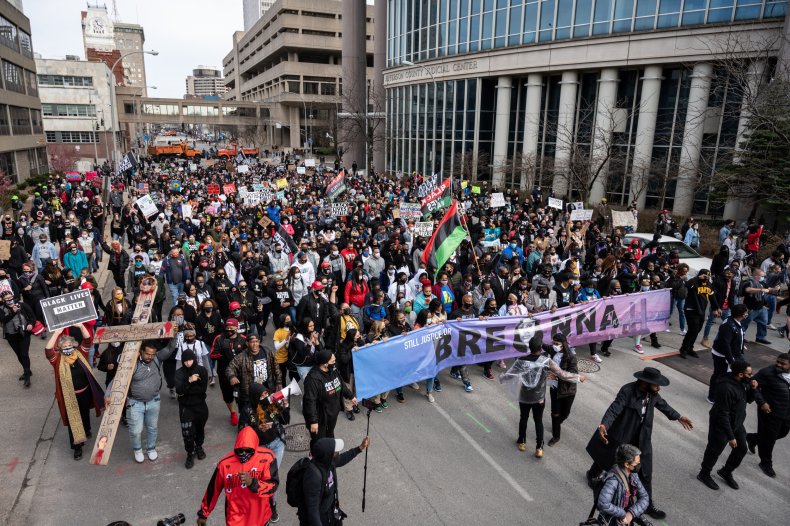 The Kentucky General Assembly is considering a bill that partially bans no-knock warrants, which allow officers to enter a property without immediate prior notification to the residents. The officers who shot Taylor in March 2020 entered her apartment under the authorization of a no-knock warrant, leading to nationwide calls for the eradication of no-knock.
Carroll said the measure, as well as several other bills with bipartisan support for police reform and protection from police violence that have passed or been proposed in Kentucky, should demonstrate to critics of Senate Bill 211 that the state's legislators have no interest in limiting free speech.
"If I thought this was a violation of freedom of speech or the First Amendment, I never would have filed the bill," he said.
Corey Shapiro, legal director for the American Civil Liberties Union-Kentucky (ACLU-Kentucky), called Bill 211 overboard in its scope and language, which he said could result in people being arrested for using foul language.
"It has multiple provisions that would chill constitutionally protected free speech. It appears to be designed to vilify and attack the protesters at a time when people in our community are demanding the legislature take action to reform and fundamentally alter the role that the police play, particularly in the way their tactics are used against communities of color," Shapiro told Newsweek. "This bill is going to disproportionately impact communities of color who are protesting."
The current language of the bill, more narrow than in the version passed through the Senate, makes it a crime to "accost, insult, taunt or challenge toward law enforcement using indecent, profane or vulgar language used as an instrument of assault and that serves no legitimate purpose or by gestures or other physical contact, all of which would have a direct tendency to provoke a violent response from the perspective of a reasonable and prudent law enforcement officer" while directly engaged with police.
Carroll argued that the fighting words doctrine, a limitation to freedom of speech as protected by the First Amendment, upholds the constitutionality of Senate Bill 211.
Under the fighting words doctrine, developed in Chapinsky v. New Hampshire, the Supreme Court created a categorical exception to the First Amendment for words that "produce a clear and present danger of a serious intolerable evil that rises above mere inconvenience or annoyance."
Carroll said the bill is derived from this ruling, and officers could arrest a citizen if they are "yelling and screaming, getting in (an officer's) face" during a situation like a large protest.
He added that like any law involving discretion, it would be up to the courts to decide the parameters.
But the ACLU said the language of the bill goes far beyond fighting words, allowing police to hold individuals in jail for 48 hours for speech and gestures that are protected by the Constitution, even given the fighting words doctrine.
"The fighting words doctrine protects against true threats. This language goes far beyond that and will certainly lead to people being arrested because of people making insults or offensive language," Shapiro said.
"We already have laws that would protect against violence and would allow the police to arrest people who are engaged in violent activity. Using your middle finger at the police, using offensive language, are constitutionally protected forms of free speech."