Candle Factory Workers Told They'd Be Fired If They Left Before Tornado Struck—Employees
Workers at a Kentucky candle factory leveled by a tornado over the weekend have said they were told they would be fired if they left their shifts early.
At least eight people died inside the Mayfield Consumer Products factory, and another eight are missing, the company said on Sunday. Initially, the death toll was feared to be as high as 70 after the tornado destroyed the building, leaving nothing but rubble.
At least five workers said supervisors had warned employees they would risk losing their jobs if they left work before their shifts ended, NBC News reports.
Worker McKayla Emery, 21, said employees had first asked to leave the factory in Mayfield shortly after tornado sirens sounded outside about 5.30 p.m. on Friday.
"If you leave, you're more than likely to be fired," Emery said she heard managers tell four workers who were standing near her. Emery preferred to stay at work to earn extra money, although it wasn't clear if those who stayed were offered additional pay.
Elijah Johnson, 20, said he had joined several employees asking to leave. "I asked to leave and they told me I'd be fired," Johnson told NBC.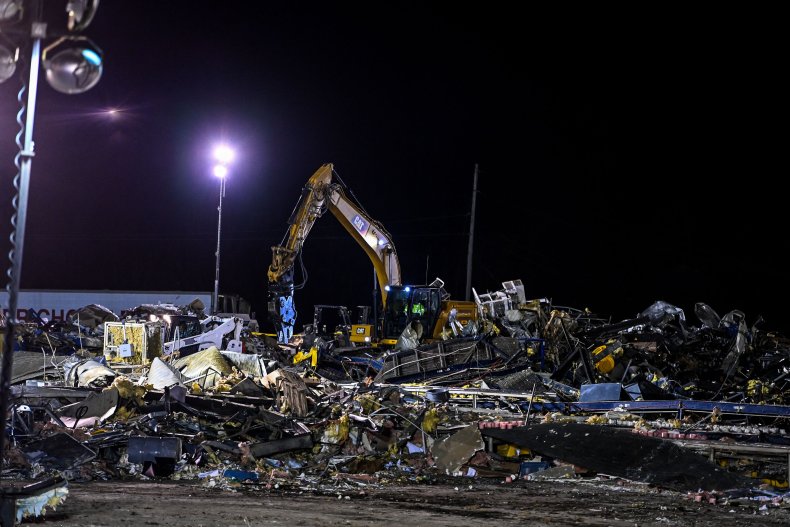 Another employee, Haley Conder, said that about 15 workers asked to leave during the night shift, shortly after the first emergency alarm sounded outside the factory.
Condor said there was a window of around three or four hours between the first and second emergency alarms when employees should have been allowed to go home.
She said supervisors initially told her that they would not let anyone leave for safety reasons, keeping people in the hallways and bathrooms. But when they assumed the tornado was no longer a threat, they sent everyone back to work.
Johnson said supervisors even took a roll call to determine who had left.
A company spokesman denied the allegations.
"It's absolutely untrue," Bob Ferguson told NBC. "We've had a policy in place since COVID began. Employees can leave any time they want to leave and they can come back the next day." Ferguson could not immediately be reached for additional comment.
On Saturday, one worker, who broadcast a Facebook Live from under the rubble, spoke about what happened to workers "in the area where you go in case there's a storm."
"And we were all there, and then the lights got to flickering and all of a sudden...we could feel the wind, and then my ears kind of start popping as they would as if you're on a plane, and then we did like a little rock—this way, and this way— and then everything came down on us," Kyanna Parsons-Perez told Today.
At least 74 people died in Kentucky, the worst hit state in the tornado outbreak that also destroyed a nursing home in Arkansas and collapsed an Amazon warehouse in Illinois.
Asked about warnings people at the candle factory received, Kentucky, Gov. Andy Beshear told reporters on Monday: "The information was absolutely out in the public about a strong set of storms that could produce tornadoes."
He added: "I don't think anyone could have predicted something as devastating as this is. I do believe there were warnings. I believe for days people were advised. I don't fault warning systems. I don't fault training. I don't know about the procedures in the candle factory and don't have any reason to fault that either."