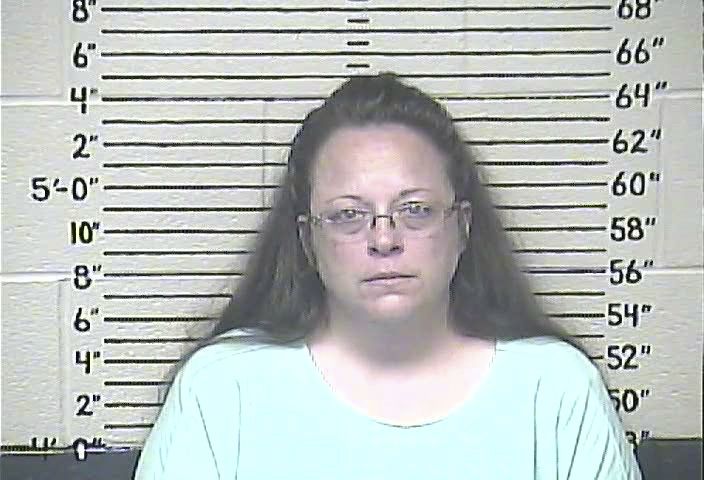 Kim Davis was released from jail on Tuesday afternoon. Davis was jailed after repeatedly refusing to issue same-sex marriage licenses in Rowan County, Kentucky, because of her personal religious beliefs. As a county clerk, Davis is obligated to issue marriage licenses and a Supreme Court decision this summer struck down gay marriage bans.
On August 26th, a U.S. appeals court ruled she must issue the marriage licenses. She refused once more and was sued by the ACLU. The ACLU requested she be held in contempt and fined. The judge agreed Davis should be held in contempt but felt a fine was not a harsh enough punishment for Davis. She was jailed on September 3.
Davis had six deputy clerks and all but one, her son, agreed to issue licenses to same-sex couples after Davis was jailed. Those clerks issued the first such license last Friday. Because the plaintiffs in the case, a same-sex couple who was previously denied, were able to obtain a license from those clerks, the contempt order can be lifted.
"The court is...satisfied that the Rowan County Clerk's Office is fulfilling its obligations to issue marriage licenses to all legally eligible couples, consistent with the U.S. Supreme Court's holding in Obergefell and this Court's August 12, 2015 Order. For these reasons, the Court's prior contempt sanction against Defendant Davis is hereby lifted," wrote Judge David Bunning. Davis' husband previously called Bunning "a butt" for jailing Davis.
A status report reviewed by Bunning found the marriage licenses had been altered to remove Davis' name. On the line reserved for her name, the form instead read "Rowan County." "Plaintiffs have not alleged that the alternations affect the validity of the licenses," Bunning wrote.
Davis previously requested her name be removed from the licenses. "Just remove her name from the marriage licenses. That's all she has asked from the beginning," her attorney said in a statement on September 3.
On Tuesday, Davis was set to be visited by GOP hopefuls Mike Huckabee and Ted Cruz. "Praise God that Kim Davis is being released. It was an outrage that she was imprisoned for six days for living according to her Christian faith," Cruz said in a statement after her release.
Huckabee joined Davis' attorney in front of the court house for a press conference. He said he would be willing to take her place in jail if need be. "The court order did not resolve the underlying issue," her attorney said. Davis offered no comment.
Here's the court's full order:
Kentucky clerk Kim Davis ordered released from jail by Grasswire