Why Kentucky Clerk Kim Davis Can't Be Fired for Refusing to Issue Same-Sex Marriage Licenses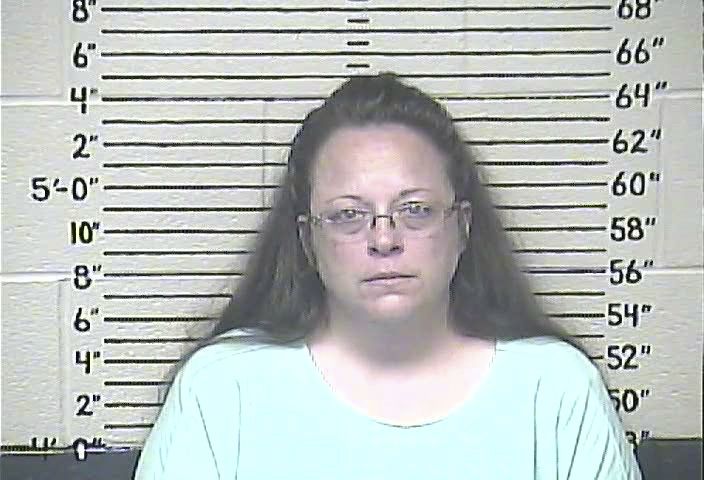 Kim Davis, a Kentucky county clerk, spent the night in jail for refusing to issue same-sex marriage licenses. She'll likely spend a few more nights in the slammer because Davis is strongly opposed, for religious reasons, to signing the licenses, even though it is one of her primary job functions to issue them.
The ACLU sued Davis on behalf of a same-sex couple to whom she'd denied a license. A judge found in the couple's favor, ruling that Davis must issue the licenses. Davis refused and on Thursday, Judge David L. Bunning of United States District Court held Davis in contempt. He ordered Davis to jail after determining a fine would be paid by supporters and wouldn't change her behavior.
But even when Davis is in jail, she's still the clerk. She hasn't been fired, and she hasn't resigned. While her deputy clerks began giving out same-sex marriage licenses on Friday morning, those licenses had to be handed out without her signature. Because of the unusual circumstances in this case, the Rowan County attorney ruled the license is still valid, though it lacks the court clerk's signature.
Getting rid of a county clerk isn't easy. Davis is an elected official, so she would have to be impeached by the state legislature. Not even the governor could fire Davis on his own.
"The future of the Rowan County Clerk is now in the hands of the courts. The legislature has placed the authority to issue marriage licenses squarely on county clerks by statute, and I have no legal authority to relieve her of her statutory duty by executive order or to remove her from office," Governor Steve Beshear explained. "The General Assembly will convene in four months and can make any statutory changes it deems necessary at that time. I see no need to spend hundreds of thousands of dollars of taxpayers' money calling a special session of the General Assembly when 117 of 120 county clerks are doing their jobs."
Even if a special session were called, the assembly may not agree to impeach her.
Of course, Davis could just resign. But, according to her lawyer, she apparently isn't interested in doing that. "The tragedy is that there are simple ways to accommodate her convictions. Just remove her name from the marriage licenses. That's all she has asked from the beginning," Davis's attorney said. She'd like to keep her job under a unique set of circumstances for issuing the licenses. She's seeking a religious exemption to create these circumstances. Thus far, the courts have denied her suggestion.
Joe Davis, Kim's husband, has made it clear she would not resign. "She won't resign, I promise you. Until something gives, she'll be there," he said. He also added that Bunning is "a butt." Joe and Kim Davis married twice. (The clerk is thrice divorced; she's been married four times total.)
Regardless of whether Judge Bunning is or is not "a butt," he made an interesting case against religious exemption after holding Davis in contempt. Bunning said he is a Catholic—he has a history of conservative politics—but "public officials must respect the law."