Kentucky Clerk Found in Contempt of Court and Jailed for Denying Same Sex Marriage Licenses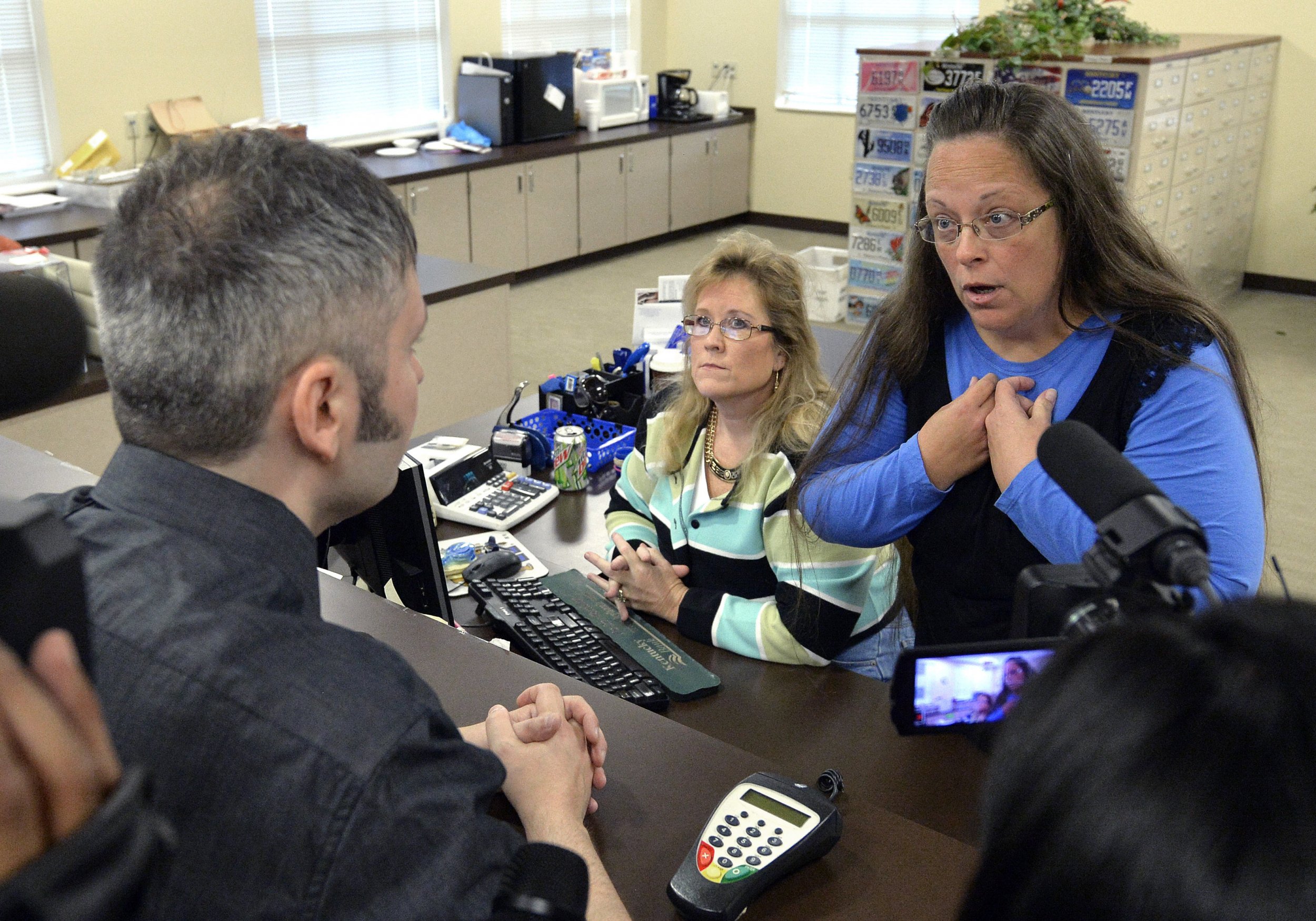 Kim Davis, a Kentucky clerk, was held in contempt on Thursday afternoon after refusing repeatedly to issue marriage licenses to same sex couples.
The ACLU filed a contempt motion against Davis after she refused a license to April Miller and Karen Roberts on Tuesday morning.
Davis was taken into custody, though the ACLU was only seeking a fine. "The ACLU has asked she be fined in an amount sufficient to compel her compliance to the court's ruling. No one wants Kim Davis to go to jail, we just want her to follow the law and do her job," Ria Tabacco Mar, a staff lawyer with the ACLU, told Newsweek on Tuesday, when the motion was filed.
Randall Kessler, a Georgia based family attorney, said the decision to jail Davis was not surprising as she had "made it clear the fine wouldn't change anything." Judge David Bunning also found others were fundraising to pay the fines on her behalf and therefore thought it was not a fitting punishment. He added he was a Catholic but "public officials must respect the law."
"She'll be held until she purges her contempt. It'll be until the judge decides she's not capable with complying or she cooperates. The point of incarceration is to encourage people to cooperate. The judge can leave her there as long as he wants, within reason. It'll be a will contest," Kessler explained.
On August 26th, a U.S. appeals court ruled Davis must issue such marriage licenses. The Supreme Court ruled gay marriage bans unconsitutional earlier this summer and as a result, clerks are obligated to issue marriage licenses to same sex couples. Davis said issuing such licenses violated her religious beliefs. At the time, Judge Bunning said Davis would have to uphold her county clerk duties, which now included marriage licenses for gay couples.
"I never imagined a day like this would come, where I would be asked to violate a central teaching of Scripture and of Jesus Himself regarding marriage. To issue a marriage license which conflicts with God's definition of marriage, with my name affixed to the certificate, would violate my conscience," Davis said in a statement before the judge ruled to hold her in contempt. "It is a Heaven or Hell decision."
Davis has been divorced three times. "Everyone is stunned at this development. Kim Davis is being treated as a criminal because she cannot violate her conscience. While she may be behind bars for now, Kim Davis is a free woman. Her conscience remains unshackled," her attorney, Mat Staver, said in a statement after she was jailed. "This is not the kind of America the Founders envisioned or that most Americans want."
The deputy clerks who work for Davis at the Rowan County office are also in danger of facing jail time if they refuse to issue marriage licenses to same sex couples. Five of the six deputies agreed, the sixth is her son. His fate remains unclear.
Davis was given a final chance by the court to issue the licenses just before 4 p.m. and refused. She will spend the night in jail as a result. In her absence, her office will begin issuing marriage licenses to same sex couples on Friday morning, however, without her signature, the licenses may not be valid.