Kentucky Gov. Beshear Says Legislature 'Now Owns This Pandemic' After Mask Mandate Block
Kentucky Gov. Andy Beshear criticized his state's lawmakers on Friday, after they moved to end a statewide mask mandate and prevented him from issuing new mask orders.
On Thursday, the Kentucky Legislature, led by Republicans, overrode Beshear's vetoes of bills that restricted the state's ability to impose mask mandates in schools and elsewhere.
After the move, Beshear, a Democrat, said the state legislature "now owns this pandemic moving forward," the Lexington Herald-Leader reported.
Beshear said since the beginning of the pandemic, he has been able "to quarterback Kentucky through this pandemic."
"I have made the tough calls, sometimes the unpopular calls and I have taken the hits that go along with them," he said.
"But I have owned every single decision I had to make. We have been successful, successful in fighting back three different waves of this virus because we followed the science and we had the courage to make the tough decisions," he added.
But he noted that legislators "wanted that ball."
"They went to the Supreme Court and said the governor should not be making the calls, they should be making the calls," he said.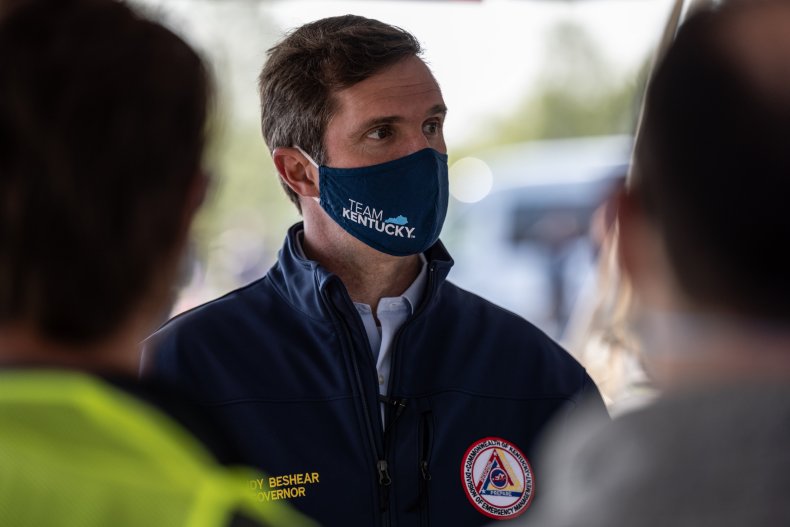 In August, the Kentucky Supreme Court ruled that the legislature has the power to limit the governor's emergency powers, the Associated Press reported, paving the way for the legislation to curb Beshear's ability to impose pandemic restrictions.
Beshear said Friday that he believes masks are "the best way to keep our children learning in the classroom," and urged school districts to "do the right thing" by requiring masks in schools.
Supporters of ending Kentucky's school mask mandate argued that the authority to impose such pandemic restrictions should rest with local officials.
"This bill will give local control back to the districts — not mandating they do, not mandating they don't," said Republican Sen. Max Wise, the AP reported.
"They make the decision of what they think is best for their constituents in their communities."
The end of the school mask mandate comes as Kentucky continues to see high rates of COVID-19 cases and hospitalizations. Beshear said Friday that Kentucky was reporting 32 new COVID-19 deaths, its "fifth highest day of newly reported cases, with 5,197, and a record day for hospitalizations and Kentuckians in the ICU."
"We are in a dangerous place. Please, help us encourage folks to get vaccinated and make sure to mask up indoors," Beshear tweeted.
Newsweek has reached out to the Republican leaders of Kentucky's House and Senate for comment.