Kentucky Governor Wants Public to See Footage of Louisville Man Shot Dead by Police During George Floyd Protest
After a man protesting George Floyd's death was shot and killed by police in Louisville early Monday morning, Kentucky Governor Andy Beshear called for the prompt release of video footage recorded during the incident.
During a news conference Monday afternoon, Beshear said he had contacted Louisville Mayor Greg Fischer and the Louisville Metro Police Department (LMPD) to request they share the footage "as soon as possible." The governor previously authorized the Kentucky State Police's involvement in an independent investigation of the shooting and the events that preceded it, according to a statement issued earlier and posted to Twitter.
Regarding the circumstances that led police to fire at demonstrators in Louisville, Beshear told reporters, "We are still learning a significant amount."
His earlier statement said the LMPD and the Kentucky National Guard were fired upon while attempting to disperse a group of protesters rallying after the city's designated 11 p.m. curfew. "LMPD and the Kentucky National Guard returned fire resulting in a death," the statement continued. The account aligns with Louisville Police Chief Steve Conrad's description of the shooting, according to multiple reports from local news outlets.
Footage from law enforcement's body cameras will allow for more clarity, Beshear said during Monday's news conference, before emphasizing that state residents "deserve to see it" so they can evaluate the situation themselves.
"I believe that the people of Kentucky deserve to see [video footage] for themselves. And I believe, in seeing it, can decide whether this was justified, or whether it is cause for more concern," Beshear explained. "While I have been given basic facts, I want the people of Kentucky to be able to decide for themselves—to not have to rely on anybody else, especially at this time and with the feelings that I know are out there."
Demonstrations against police violence had already taken place in Louisville before Floyd's death on May 25 while in Minneapolis police custody. After 26-year-old EMT Breonna Taylor was shot multiple times by law officers who entered her Louisville apartment on a "no knock" search warrant for narcotics, which they did not find, the city's police department has come under scrutiny. Taylor's mother, who spoke at the governor's conference on Monday, filed a wrongful death lawsuit in April, about one month after her daughter was killed.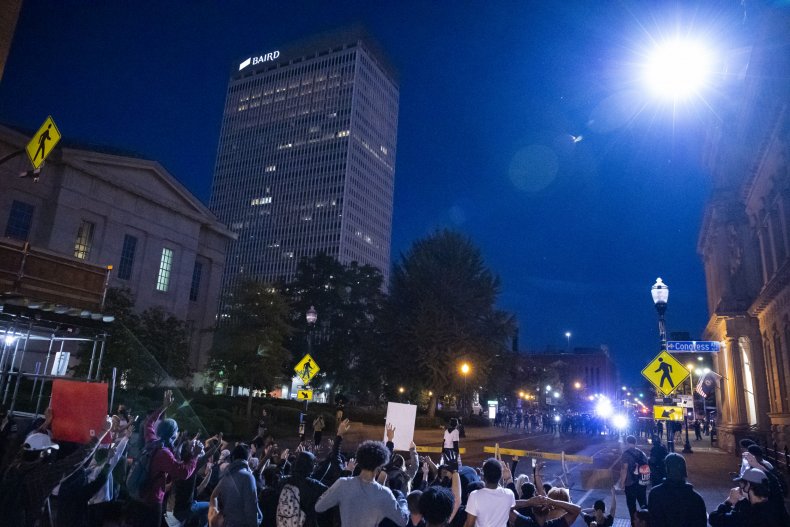 As in other cities where protests have escalated recently, a curfew was implemented in Louisville after some demonstrations over the weekend resulted in looting and destruction of property. On Saturday, Beshear announced that hundreds of the state's National Guard members had been deployed to Kentucky cities to assist local law enforcement in preventing further damage.
Newsweek reached out to Beshear's office and the LMPD for additional comments but did not hear back before publication.