Ketanji Brown Jackson More Popular Than Trump's SCOTUS Nominees: Polls
A majority of Americans support Ketanji Brown Jackson's confirmation as the next Supreme Court justice, according to a new poll.
Monmouth University found 55 percent of U.S. adults said Jackson should be confirmed by the Senate after being named by President Joe Biden to replace retiring Justice Stephen Breyer. Just 21 percent of respondents said she shouldn't be placed on the Court, while nearly a quarter of Americans had no opinion.
The findings show Jackson is entering the first day of her confirmation hearings with a higher level of support than former President Donald Trump's three nominees to the bench. Trump's nominations ultimately shifted the ideological makeup of the Court to a 6-3 conservative majority.
Justice Neil Gorsuch, whom Trump selected after Republicans blocked President Barack Obama's nomination of Merrick Garland in 2016, saw support from 45 percent of the public, while 32 percent said he shouldn't be confirmed.
Justice Brett Kavanaugh, whom Trump selected to serve on the Court in 2018, was opposed by a plurality of Americans (43 percent) before his confirmation hearings. Kavanaugh was a controversial nominee after he was accused by several women of sexual misconduct when he was in high school and college. He denied all the claims.
A majority of Americans still opposed his confirmation even after he was approved by the Senate on October 6, 2018. An ABC News/Washington Post poll found that 51 percent of Americans disapproved of Kavanaugh being on the Supreme Court, while 41 percent approved.
Justice Amy Coney Barrett, who was nominated by Trump to serve on the Court after Justice Ruth Bader Ginsburg's death in 2020, had higher public support than Kavanaugh but was not supported as much as Jackson.
Barrett's public approval was underwater ahead of her confirmation hearings, CNN found. Forty-six percent said they didn't want her to sit on the bench, while 42 percent said the Senate should confirm her.
But her polling numbers climbed and eventually reached majority approval. After four days of hearings, Morning Consult found that 51 percent of voters said the Senate should vote to confirm Barrett.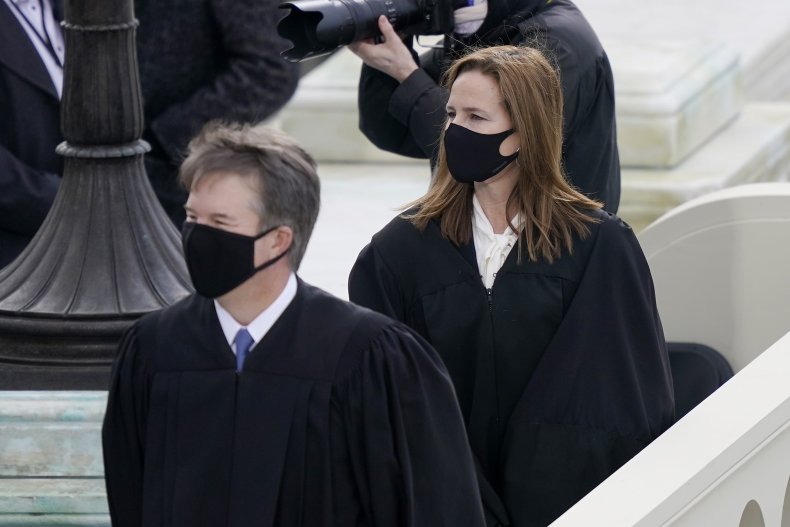 If confirmed, Jackson will be the first Black woman to serve on the Supreme Court. A simple majority is all that's needed for her to be confirmed. Democrats have narrow control of the evenly split Senate because Vice President Kamala Harris can act as tiebreaker.
More than half of Americans said they approve of Biden's decision to name a Black woman to serve on the Supreme Court, while 41 percent disapproved.
After Biden announced her nomination last month, Jackson called America "the greatest beacon of hope and democracy the world has ever known."
Monmouth University polled 809 adults between March 10 and 14. The survey has a margin of error of plus or minus 3.5 percentage points.