Ketanji Brown Jackson Rebuts Criticism on Child Porn Cases, Gitmo Detainees
Supreme Court nominee Ketanji Brown Jackson is defending her record on child pornography cases and representing Guantánamo Bay detainees on the second day of her confirmation hearings.
Jackson will face the first round of questioning from 22 lawmakers on the Senate Judiciary Committee on Tuesday following a day of opening statements. In her remarks on Monday, Jackson pledged to decide cases "without fear or favor" if appointed.
Jackson's nomination to the high court by President Joe Biden was met with little attack from Republicans last month, but in the days leading up to her hearings several lawmakers began to criticize her of being "soft" on crime. If confirmed, Jackson will be the first Supreme Court justice to have spent time serving as a public defender.
Here's how Jackson responded to questions from lawmakers on these issues:
Dick Durbin
The Democratic chairman of the Judiciary Committee kicked off Tuesday's round of questioning by giving Jackson a chance to address her judicial philosophy and the criticism of her record.
Jackson said she understands the "limited power" judges have and laid out her three-point methodology to approaching cases. Her remarks come after Republicans claimed she hadn't been specific enough on her views.
On criticism from Senator Josh Hawley and others that she was too lenient on sentencing in child pornography cases, the judge said such cases are "some of the most difficult" to deal with and pointed to limitations in the statute for sentencing these crimes.
"As a mother and a judge who has had to deal with these cases, I was thinking that nothing could be further from the truth," Jackson said in response to Hawley's criticism.
Jackson also addressed her work representing detainees at Guantánamo Bay, telling lawmakers that federal public defenders "don't get to pick their clients." She also said the work was an opportunity to stand up for the "constitutional value of representation" in the wake of September 11 attacks.
Patrick Leahy
The Vermont Democrat asked Jackson to respond directly to allegations that she's "soft" on crime. In response, Jackson highlighted her family's extensive law enforcement background as her brother and uncles were police officers.
"As someone who has had family members on patrol and in the line of fire, I care deeply about public safety," Jackson said.
Jackson also discussed continuing her work defending Guantánamo Bay detainees in private practice, noting that one of the detainees she represented as a public defender was later taken on as a client by her private law firm. "That was the only person I represented in the context of my private firm who was a detainee," she said.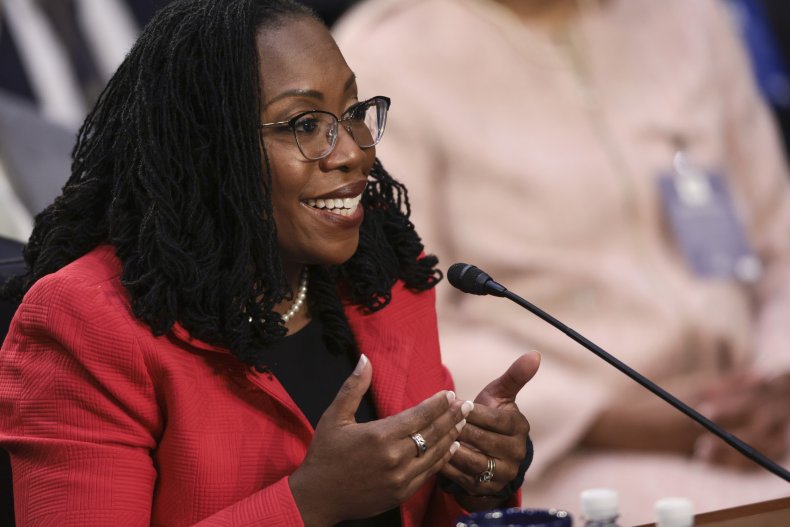 Lindsey Graham
The South Carolina senator used some of his time on Tuesday pressing Jackson on her work related to Guantánamo Bay.
Graham grilled Jackson on an amicus brief she filed arguing the executive branch ordering indefinite detention for Guantánamo Bay detainees. Jackson told Graham that "it was not my argument" as she was filling it on behalf of clients she was representing at the time.
Graham also discussed how many Guantánamo Bay detainees rejoined extremist groups after being released.
Durbin, the committee chairman, then offered some more information on Guantánamo Bay, the repeat rate since the Obama administration and the expense of holding the 39 remaining detainees at $450 million per year.
The exchange ended with Graham walking out of Tuesday's confirmation hearing.
"I hope they all die in jail if they're going to go back and kill Americans," Graham said as he left. "That's a better outcome than letting them go."
Mike Lee
Lee questioned Jackson on sentences in 10 child pornography cases on which she departed from the guidelines.
"These are horrible cases that involve terrible crimes, and the court is looking at all of the evidence consistent with Congress's factors for sentencing," Jackson responded. She added that in most, if not all, of the cases, the federal government is asking for a sentence below the guidelines.
Jackson also said the guidelines don't take into account the technological changes in which the offenses are now being committed.
Update 3/22/2022 at 2:30 p.m. EDT: This story has been updated to include information about Lee's questioning of Jackson.
Update 3/22/2022 at 1:30 p.m. EDT: This story has been updated to include information about Graham's questioning of Jackson.
This is a developing story that will be updated with more information as it becomes available.