Kevin Durant, Draymond Green Have Heated Exchange in Warriors Loss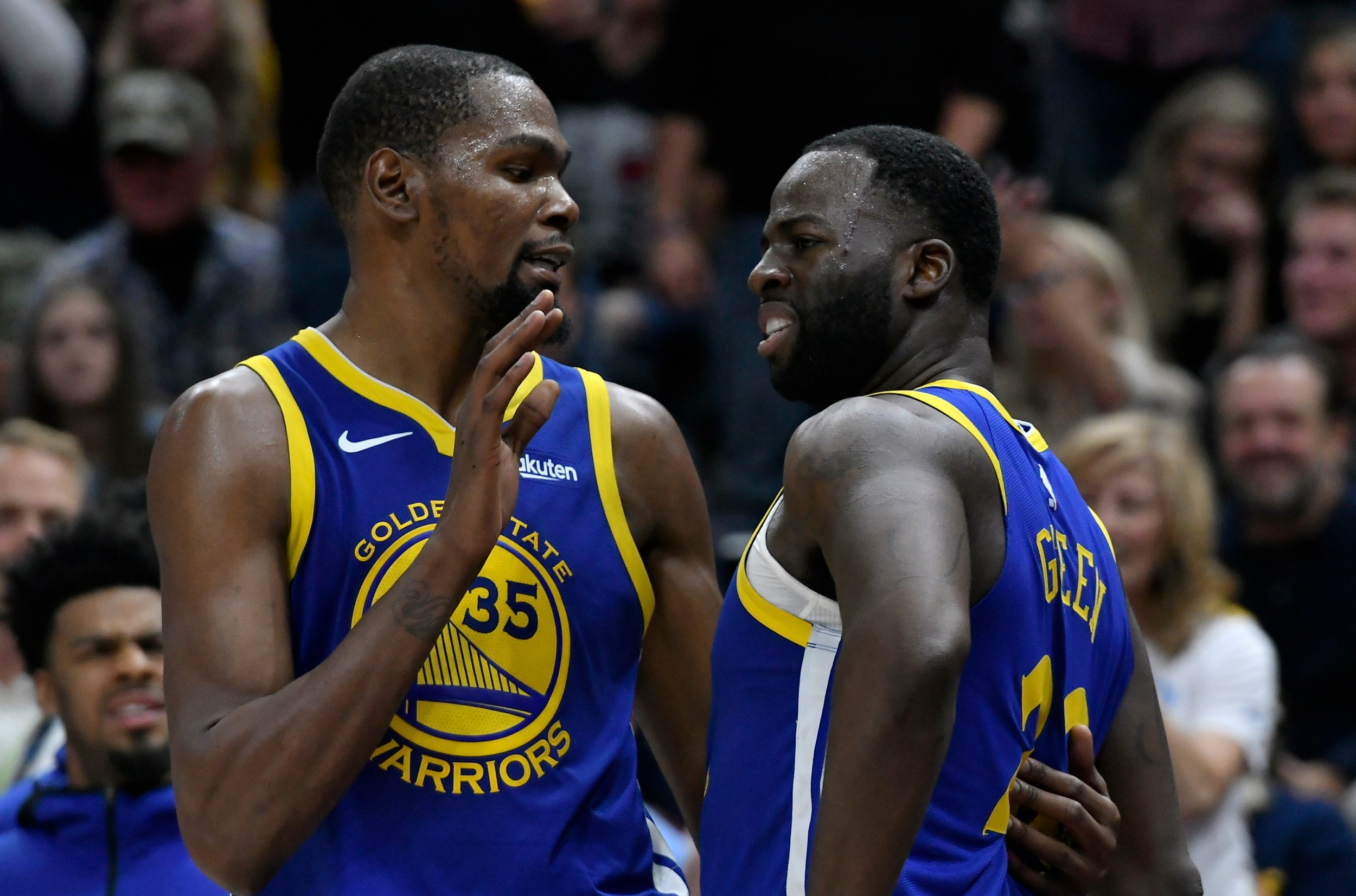 Draymond Green and Kevin Durant appeared to have a heated exchange on the bench Monday night, as the Golden State Warriors squandered the chance to beat the Los Angeles Clippers in regulation time.
With the score tied at 106 and four seconds left in the fourth quarter, Green beat Durant to a defensive rebound to secure possession.
Footage clearly shows Durant demanding the ball from his teammate, who completely ignored him, preferring instead to dribble up court. Despite having Andre Iguodalaand Klay Thompson wide open either side of him, Green lost both balance and possession by the time he reached the top of the key and the chance went begging.
As the teams returned to the bench ahead of overtime, Durant and his teammate exchanged words. Initially, Green appears to be the most incensed of the two and remonstrates towards the two-time NBA Finals MVP, who does not return eye contact.
Durant eventually cracks a sardonic smile, before turning towards his teammate. As the discussion grows more intense, Thompson, who is sat between the two, appears to act as peacemaker. He is helped by Iguodala.
Neither Green nor Durant, who had 33 points, 11 rebounds and 10 assists, spoke with the media after the game. Warriors point guard Shaun Livingston, however, sought to minimize the incident.
"Guys wanted a different outcome than what happened," he was quoted as saying by ESPN.
"Obviously, Dray had the turnover, guys might have thought they were open or wanted the basketball, didn't get it. Things happen like that in sports. But it was good to see some fire, some emotion."
The exchange between the two took the gloss off a remarkable comeback, which saw the Warriors put together a 19-5 run to haul themselves back into the game and force it into overtime.
However, the defending NBA champions fell short in the additional period, losing 121-116. Despite the defeat, the Warriors remain top of the Western Conference rankings with an 11-3 record, while the Clippers' second consecutive win saw them improve to 8-5, the fourth-best record in the conference.
Both Green and Durant have notoriously uncompromising personalities on and off the court. Last season, in the first round playoffs series against the New Orleans Pelicans, the former was involved in an altercation with Rajon Rondo, which prompted an exasperated Charles Barkley to claim he wanted to punch Green in the face.