NBA Finals 2019: How Long Is Kevin Durant Out For? Warriors Star Suffers Achilles Injury in Game 5
Kevin Durant's long-awaited return ended in the worst imaginable way as he suffered a suspected torn Achilles on Monday night in Toronto.
The two-time reigning NBA Finals MVP will undergo an MRI scan on Tuesday to determine the extent of his injury and the Golden State Warriors expect their worst fears to be realized.
According to ESPN, the defending champions believe the scan will show that Durant has torn his Achilles tendon.
Achilles tears are one of the most serious injuries basketball players can suffer, as they generally involve a long layoff. According to the U.S. National Library of Medicine, the prognosis depends on whether the tear is partial or complete.
For a partial tear, surgery might not necessarily be required but the patient would have to wear a cast or protective boot for about six weeks to allow the tendon to grow back together.
If the tendon is completely torn, surgery is required to repair it. Durant's teammate DeMarcus Cousins spent almost a year out after rupturing his left Achilles tendon in January 2018.
Durant had not played since May 8 because of a right calf strain but was cleared to return to action in Game 5 of the NBA Finals, as the Warriors trailed the Toronto Raptors 3-1 in the series.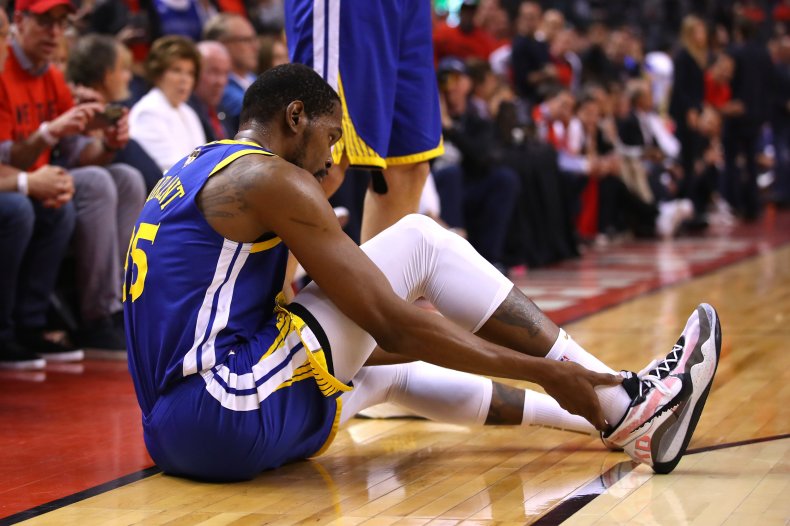 Despite being sidelined for over a month, the 30-year-old quickly got back in the groove, scoring 11 points in the first quarter as he landed all of his three attempts from beyond the arc.
With 9:51 left in the second quarter, disaster struck as Durant tried to dribble past Serge Ibaka. He suddenly stopped and limped sideways, before slumping to the court as he grabbed the same lower right calf area that had troubled him for the last month.
The 10-time All-Star departed the arena on crutches and it was left to Warriors general manager Bob Myers to sum up the situation.
"I don't believe there's anybody to blame," a highly-emotional Myers told reporters in a post-match press conference. "But I understand this world, and if you have to, you can blame me. I run my basketball operations department."
A teary-eyed Myers insisted the Warriors had "felt good about the process" of clearing Durant to return on Monday night, despite the fact he had not played since May 8.
"Prior to coming back, he went through four weeks with our medical team," he explained. "And it was thorough, and it was experts and multiple MRIs and multiple doctors. And we felt good about the process. He was cleared to play tonight. That was a collaborative decision."
In an Instagram story post, Durant said the new injury was a major blow, which had however been partially softened by seeing the Warriors win 106-105 on the road to keep the NBA Finals dream alive.
"I'm hurting deep in the soul right now I can't lie," he wrote. "But seeing my brothers get this win was like taking a shot of tequila, I got new life lol."
Raptors fans initially cheered as Durant went down, but then recognized the extent of the injury and erupted into "KD! KD!" chants. As the Warriors star left the court supported by teammates Stephen Curry and Andre Igoudala he was consoled by Drake.
While fans packed into Scotiabank Arena applauded Durant as he left the court, Cousins had strong words for those who cheered the injury. "Trash. So trash," he told reporters after the game when asked what he thought of the crowd reaction.
Even without Durant, the Warriors managed to force the series to Game 6 after mounting a furious comeback in the final three minutes to erase Toronto's six-point lead. For Golden State head coach Steve Kerr, Durant's injury took some gloss off a crucial win.
I didn't know what to say, because—on the one hand, I'm so proud of them—just the amazing heart and grit that they showed," Kerr told ESPN. "And on the other, I'm just devastated for Kevin. And so it's a bizarre feeling that we all have right now. An incredible win, and a horrible loss at the same time."