NBA Finals 2019: Will Kevin Durant Play in Game 5?
Kevin Durant might make his long-awaited return from injury on Monday night, with the Golden State Warriors needing to win Game 5 to keep the NBA Finals alive.
The two-time reigning NBA Finals MVP has not played since May 8, when he suffered a right calf strain in Game 5 of the second round series against the Houston Rockets.
The Warriors had initially hoped to have Durant back in Game 3 or Game 4 but the optimism quickly dissipated and the 30-year-old is yet to step onto the court in the series.
However, the defending champions find themselves 3-1 down ahead of Monday's game in Toronto, Canada, and might have to take a punt on Durant's fitness if they're to force their way back into the series.
On Sunday, the 10-time All-Star practiced with his teammates for the first time since suffering his injury. ESPN reported that Durant walked onto the court after his teammates and was one of the first players to return to the locker room after practice.
He then reappeared with an ice pack wrapped around his right calf and the Warriors have officially listed him as questionable for Game 5.
However, Golden State head coach Steve Kerr remained hopeful about the forward's chances of playing on Monday night.
"What he's going to do today he hasn't done," he told reporters before practice.
"He's doing more today, and then we'll know more after that."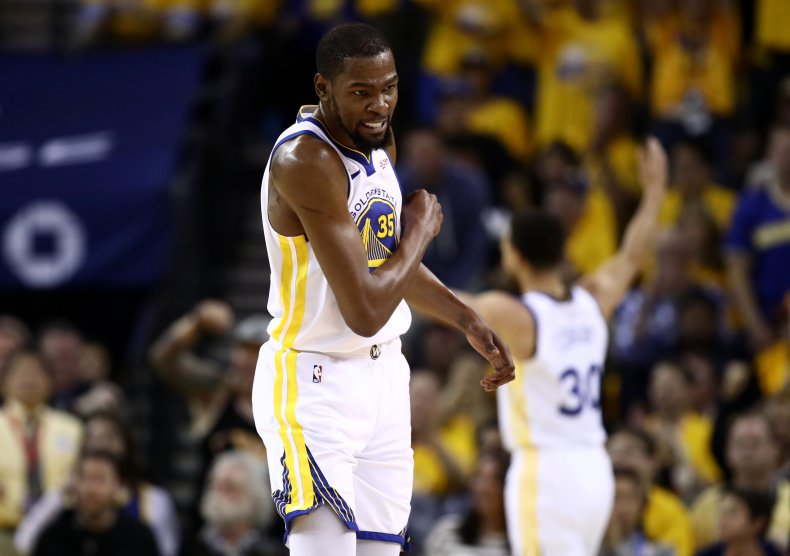 Durant's absence has been one of the main narratives of the Finals so far. Going into the series, the Warriors were 31-1 in games in which Stephen Curry had played and Durant had not.
With the Warriors winning Game 2 on the road to square the series, the suggestion they are a better and more fluent team without Durant was again floated.
However, their performances in the next two games swiftly put that concept to bed. Golden State struggled at both ends of the court, suffocated by the Raptors' defense and unable to find an answer to cope with Kawhi Leonard at the other end.
The Warriors have badly missed Durant and it could have hardly been otherwise, given that up until his injury he averaged 34.2 points on 51.3 percent shooting from the field, including 41.6 percent shooting from beyond the arc.
He also added 5.2 rebounds, 4.9 assists, 1.2 steals and 1 block per game.
"I feel for Kevin," Warriors guard Klay Thompson told ESPN.
"I know what type of competitor he is, and we obviously miss him dearly.
"But whether it's tomorrow or Game 6, we just have to do everything in our willpower to help him get back. If that's win a game and be patient, then we got to go do that."
The uncertainty over his injury has reportedly caused discontent in the Warriors locker room.
Writing in The Athletic on Sunday, Sam Amick wrote that Golden State players' "irritation grew in large part because they simply didn't understand why" Durant didn't play in Game 4.
His protracted absence has also added a new layer of intrigue to the upcoming summer. The 30-year-old has a player option and is widely expected to test the free agent market.
Should he not suit up in Game 5, it might well be that Durant has played his last game for the Warriors.