Video: Kevin Durant Launches Rant Against Media—'I Don't Trust None of You All'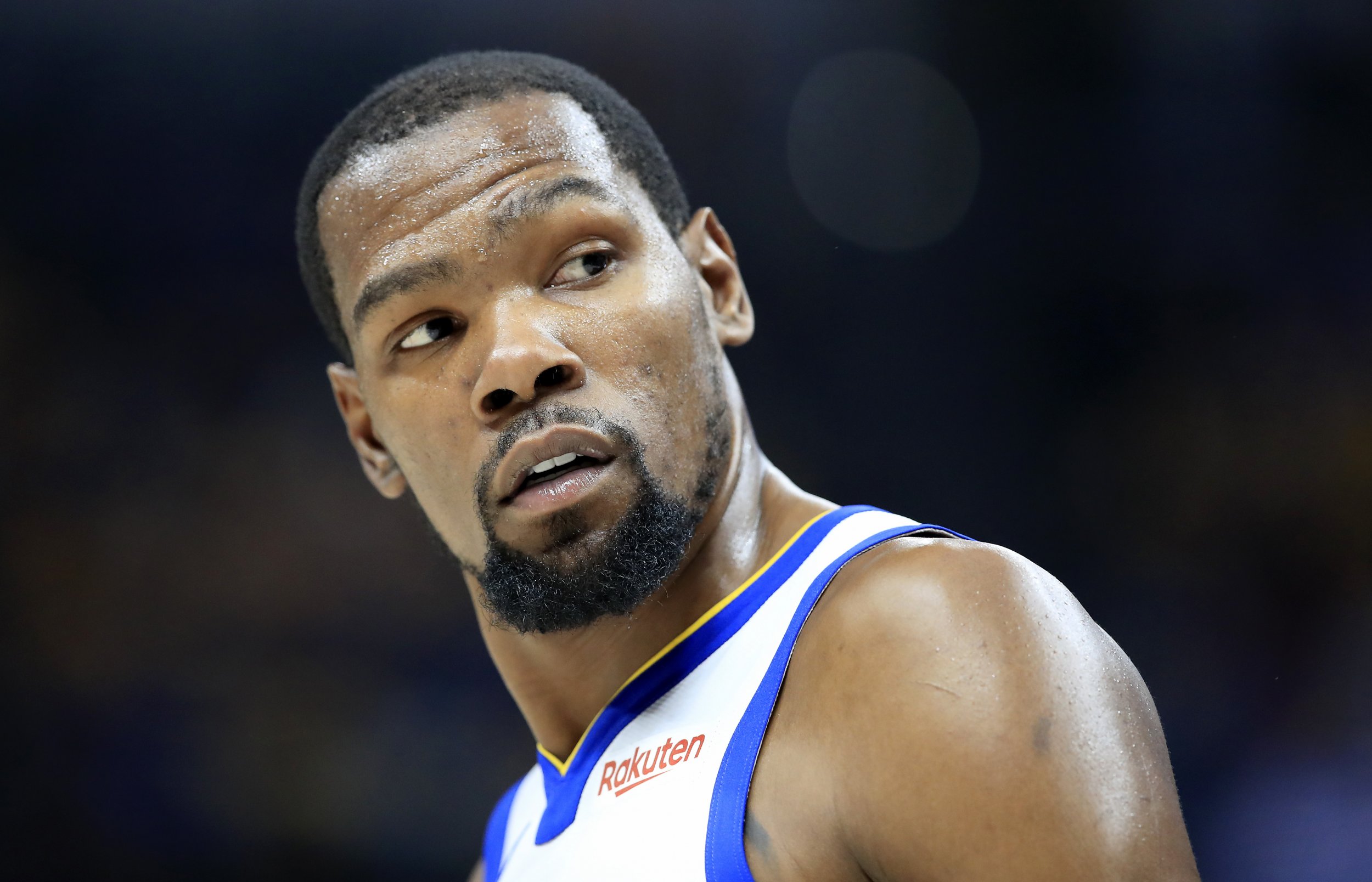 Kevin Durant launched into an extraordinary rant in a post-game conference on Wednesday night, when he accused the media of repeatedly twisting his words and told reporters they should "grow up."
Speaking after the Golden State Warriors' 141-102 win over the San Antonio Spurs, the two-time NBA Finals MVP was asked why he had been uncharacteristically quiet over the last few weeks and replied he simply "did not feel like talking."
When asked whether his silence was down to conversations over his upcoming free agency, he replied: "That's the conversation you're gonna have. I don't think about that type of stuff."
Durant's future has been one of the most talked about topics in the NBA. The 30-year-old is expected to become a free agent in the summer and has been linked with a move to the New York Knicks.
The fact the franchise traded Porzingis last week and will have over $70 million in salary cap space this summer was interpreted as further proof the Knicks are preparing to go all out to sign Durant.
The 10-time All-Star suggested the media were guilty of making their opinions sound like they came straight from him. On the subject of free agency, he added: "I have got nothing to do with the Knicks, I don't know who traded [Kristap] Porzingis, I'm trying to play basketball.
"I come here every day and [you reporters] ask me about free agency, ask my teammates, my coaches and you rile up the fans about it. Let us play basketball. That's all I'm saying. And now when I don't want to talk to you all it's a problem with me. Come on man, grow up."
Durant then elaborated on his alleged reluctance to speak to reporters and said it was motivated by his desire to play basketball. "I come here and go to work every day, I don't cause no problems, I play the right way and I try to be the best player I can be on every possession. What's the problem? What am I doing here?
"Who are you? Why do I have to talk to you? Tell me, is that going to help do my job better? No, I don't feel like talking."
A second reporter then pointed out that Durant's upcoming free agency was not the only issue that interested the media, adding it was unusual to see the Warriors star keep so quiet, as he "normally shares his thoughts." Moreover, an increasing number of fans were asking members the media to elaborate on the reason behind Durant's silence.
"I don't trust none of y'all," the two-time NBA champion fired back as an explanation. "Every time I say something it gets twisted up and thrown out and so many different publications try to tear me down with the words that I say. So when I don't say nothing, that's a problem? I just want to play ball, I just want to go to the gym and go home. That's all. Is that a problem?"
Eventually, Durant was asked about how his and the Warriors' form. "I'm done," he swiftly replied. "You know you don't care about that."