Kevin Durant Unwilling to Join LeBron at the Lakers
LeBron James has reportedly set his sights on playing alongside the man who has prevented him from winning another ring in each of the last two years.
The three-time NBA champion can become a free agent at the end of the month if he decides to opt out of the final year of his deal with the Cleveland Cavaliers, with the Los Angeles Lakers considered the clear favorites to land LeBron if he does.
The Lakers have cleared enough salary cap space for two-max level contracts this summer, which would allow them to sign the four-time MVP and potentially another high profile free agent such as Paul George.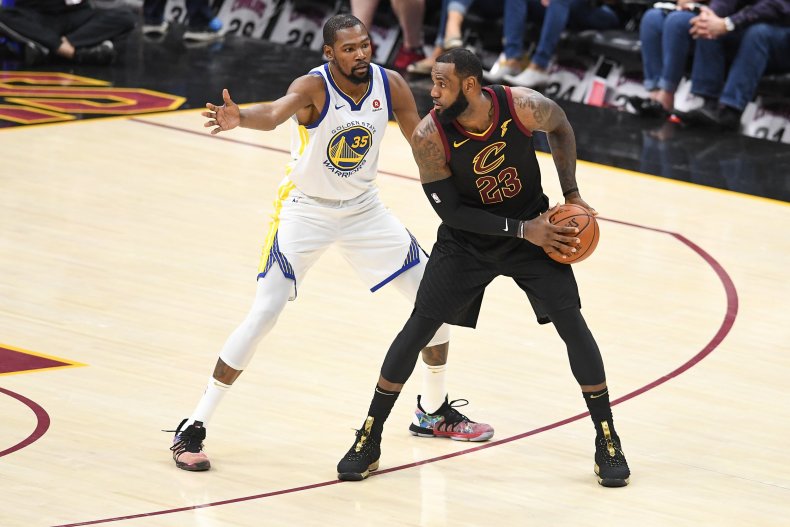 However, ESPN's Stephen A. Smith revealed sources have told him LeBron wants Kevin Durant to join him in L.A. in a move that would drastically alter the NBA landscape.
"I had two phone calls last night… with folks telling me that LeBron James has reached out to Kevin Durant," he said.
"LeBron James reached out to Kevin Durant via text… about joining forces in Los Angeles."
Smith said the sources did not specify what Durant's reply was, although he reportedly privately suggested the prospect was not as alluring as some might think.
"I don't know what Kevin Durant's response was but I can tell that behind the scenes Kevin Durant was like 'Why would I do that?'" said Smith.
He then suggested that the two-time NBA Finals MVP would be reluctant to join forces with LeBron as he wants to be recognized as the best player in the NBA in his own right and playing alongside the best player of his generation could make that difficult.
The ESPN analyst added that while LeBron had got in touch with Durant, there was little chance of the latter swapping the Golden State Warriors for the Lakers.
"Kevin Durant ain't coming to L.A.," he explained. "Kevin Durant plans to stay in Golden State. His goal is to surpass LeBron James not to help LeBron win more rings. He believes in the next couple of years he will have more rings than LeBron James has and that's his mentality."
Earlier this month, Durant ended speculation over his future as he revealed he intends to prolong his stay in the Bay Area after winning two NBA titles in his first two seasons with Golden State.
Last year, the nine-time All Star signed a $51 million two-year deal which included an opt-out clause, which will allow him to become an unrestricted free agent this summer and restructure his deal with the reigning NBA champions.
A week later, Warriors' general manager Bob Myers suggested the team was ready to pay Durant "whatever he wanted" when he sits down to negotiate a new deal.
"Sometimes you don't negotiate," Myers was quoted as saying by the Associated Press.
"I'd love to have him for 10 years. Kevin Durant, look what he did for us last year. He did us a great service. He's earned the right to sign whatever deal he wants. I just want him to sign a deal."