Why Kevin Hart Offended Don Cheadle on His Talk Show 'Hart to Heart'
Kevin Hart and Don Cheadle are trending online after people started to notice a tense moment they shared on the Peacock talk show Hart to Heart.
The two friends sat down for an open, long, and frank discussion but things seemed to take a turn when the topic of Cheadle's age came up.
The internet decided the moment should live in infamy and many Twitter users shared the exchange and added their own takes.
What Did Kevin Hart Say to Upset Don Cheadle?
Prior to the launch of his talk show, Hart said Hart to Heart would feature no prep, just real dialogue between real people but it seems Hart could have done with a bit of prep when he accidentally offended Cheadle.
Cheadle was discussing his dreams of becoming a jazz musician, his private life and the future when he casually mentioned his age. After revealing to Hart that he was 56 years old, Hart exclaimed, "Damn," which was then followed by an awkward silence and a hard stare from Cheadle.
"I'm sorry," Hart quickly said. "I'm sorry. It was a thought and I blurted it out. I did not mean it that way."
Cheadle told Hart it's fine and he's fine but the tension in the studio could be cut with a knife. They went on to discuss the tone of Hart's "damn" and whether or not it was complimentary or not.
The tone of the interview may have appeared to have dropped dramatically in this moment but in the wider context of the whole interview, the two remain close friends. Sharing a preview clip of their interview on his Instagram, Hart wrote that in the show he and Don Cheadle can be seen doing what they do best "and that's being assholes to one another" followed by four laughing emojis.
Don Cheadle has also since reacted to the moment on his Twitter account. After a fan asked him what was going through his mind at the time, he wrote, "that @KevinHart4real and i need to do a movie together asap! i think this is my favorite interview ever. 'damn!'"
Kevin Hart also reacted to the clip on his Twitter account, telling his followers they have to check out the interview in full too.
Twitter Reaction to Kevin Hart and Don Cheadle
The clip from Hart to Heart was widely shared online with many fans having their say.
Many compared the moment to popular memes while others called it a clip that will make you "cringe."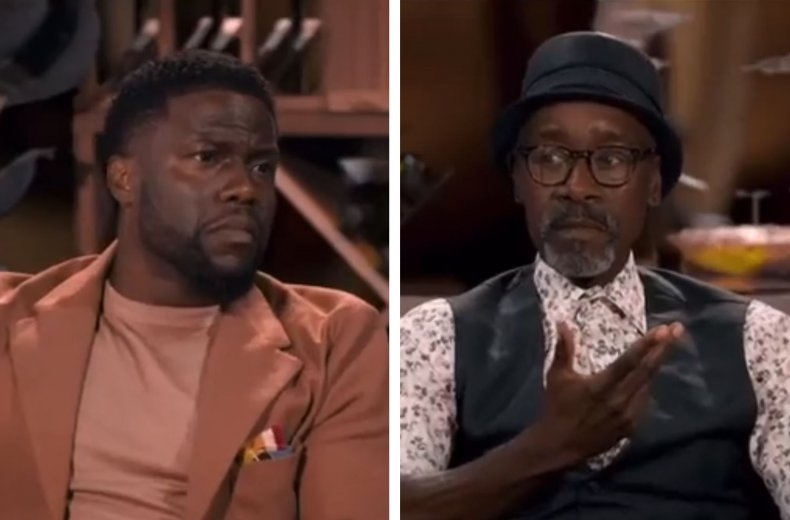 @lowlifejoe_ shared the clip and said "Kevin Hart did not have to do Don Cheadle like that" while @HentlemanBeau claims "Don Cheadle is now 46 cause he just sucked ten years out of Kevin Hart's soul."
Twitter user @sohelpmegawd perhaps summarized the moment the best when they said: "Don Cheadle is such a good actor that people think he's actually offended."
Upcoming Guests on 'Hart to Heart'
The clip from the Cheadle interview came from the second episode of Peacock show Hart to Heart. Other guests during the first three episodes were Miley Cyrus and Kelly Clarkson.
Three new episodes with Jimmy Kimmel, Cameron Diaz and Taraji P. Henson just dropped earlier this week. The next batch of guests will be announced in the days leading up to the episodes' air dates on Thursdays on Peacock.