The House Republican leader Kevin McCarthy said the Republican Party could "control the floor" of the House if a small number of Democrats were to join them on votes after the party gained seats in the lower chamber on Election Day.
Appearing on Fox News on Sunday, the California representative added that House Speaker Nancy Pelosi could lose her role if 10 of the 15 Democrats who voted against her bid in January 2019 did so again at the start of next year.
He also warned that "internal fights" in the Democratic Party were emerging after the party failed to build on its House majority despite President-Elect Joe Biden's victory in the presidential contest.
Speaking on Fox News' Sunday Morning Futures yesterday, McCarthy said: "Well we'll only know in January because to become speaker you have to have 218 votes on the floor. When she went up for that vote two years ago, there were 15 Democrats who voted against her. Ten of those Democrats will be coming back to Congress.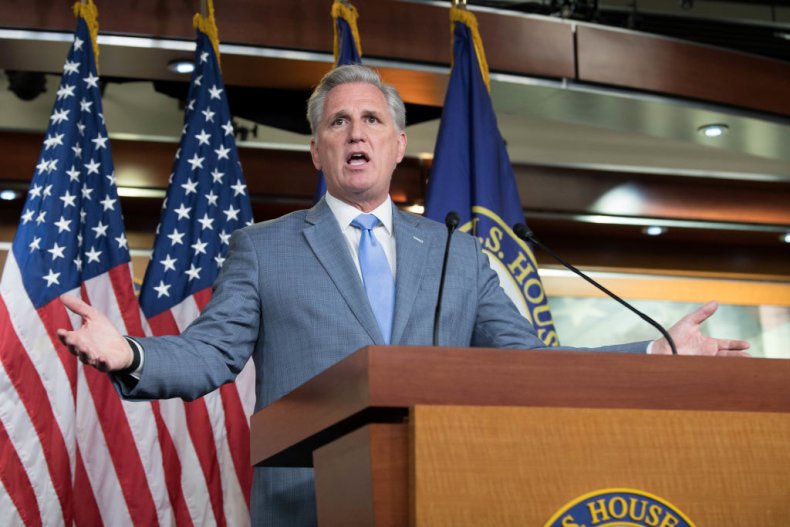 "If those 10 vote against her again, she will not be speaker of the House, because she won't have 218 because of the gains of the Republicans. We are close enough now that we can control the floor with a few Democrats joining with us."
After touting the performance of Republicans in key House races on November 3, the minority leader added that the Democratic Party's performance could put Pelosi's position at the helm of the House in jeopardy.
"She's got internal fights because she promised them that she would win enough seats that they would keep the majority this time and next time," he said.
Newsweek has contacted Speaker Pelosi's office for comment. This article will be updated with any response.
The House minority leader warned that the GOP could control the floor of the lower chamber in the next Congress, despite not having an outright majority, as Pelosi wrote to her colleagues asking them to support her in the coming speaker election.
"Our vision for the next two years must be to build on the success of the Democratic House Majority in the 116th Congress, and to harness the extraordinary vision, values and vibrancy of our Caucus to secure the progress that the American people deserve," she wrote in a letter seen by Politico. "In that spirit, I am writing to request your support to be re-elected as Speaker."
The letter was sent on the same day it was reported that a Democratic caucus call grew fractious after centrist and progressive lawmakers sparred over who was to blame for the party's lacklustre results in House races across the country.
At the time of writing, Republicans have flipped eight House seats as Democrats have overturned three seats, giving the GOP a net gain of five seats with several races still to call, according to the New York Times' latest tally.