Kevin McCarthy's Gifts to Republicans Could Completely Backfire
The appointment of certain Republicans to the House Rules Committee could lead to dissent within the GOP as legislation is expected to be debated in the most transparent manner in years.
House Speaker Kevin McCarthy appointed five new members to the committee on Monday, including two Republicans—Chip Roy and Ralph Norman—who are Freedom Caucus members who openly disavowed his speakership during the majority of his strenuous 15-vote saga.
Along with Roy and Norman, new GOP members include Representatives Thomas Massie, Erin Houchin and Nick Langworthy. They join existing GOP members Michael Burgess, Guy Reschenthaler, Michelle Fischbach and Tom Cole.
"I am delighted to welcome a diverse slate of Republican members to the House Rules Committee," said Cole, the committee chair, in a statement. "Between our returning members and those joining the panel for the first time, each has an important role to play and brings valuable perspective."
The Texas Republican Roy voted against McCarthy 11 times, instead favoring Florida Representative Byron Donalds.
The Hill reported that Roy's secured concessions in holding out against McCarthy led to the single-member motion to vacate the chair, the 72-hour rule to consider a bill, banning House GOP leadership and affiliated PACs from getting involved in open-seat primaries, increasing the number of Freedom Caucus members on the House Rules Committee, and creating a committee to target "weaponized government."
"My colleagues and I worked hard to secure institutional changes to the rules of this body to empower rank-and-file members, allow members to hold leadership accountable, and to confront the business-as-usual practices that are destroying our Republic," Roy said in a statement January 10 following the passing of reforms to House procedure.
"From the outset of this process, we set out to get the tools necessary to protect the American people from the machinations of this godforsaken town; that's what we got," he added.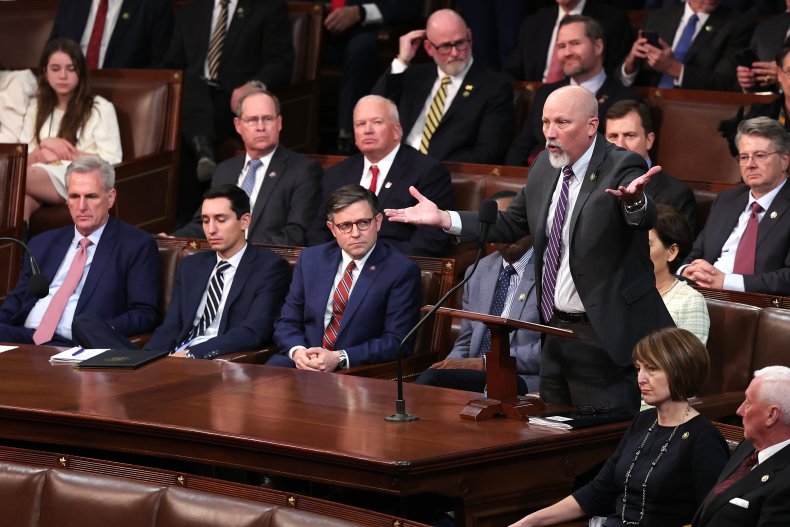 New rules will "require that amendments remain germane to bills so there is no unnecessary pork included," he added. A Jeffersonian rule is returning as well, to allow any member to bring forth a motion to "vacate the Chair" to improve leadership accountability.
In line with the "weaponization of government," Roy said alleged abuses of the executive branch will be evaluated. He specifically mentioned "targeting parents," the role of the FBI, and public health authorities' actions during the COVID-19 pandemic.
Massie, who continuously voted for McCarthy, is not a Freedom Caucus member but has ardent views that are perceived as anti-establishment. He tweeted Monday about COVID-19 and, in his view, ill-informed information presented by the FDA, CDC and White House.
Casey Burgat, an assistant professor and director of the Legislative Affairs program at the Graduate School of Political Management at George Washington University, told Newsweek the Rules Committee has historically been the arm of the speaker.
Members have traditionally been chosen as loyalists to past speakers, without being watched over their shoulders and allowed to simply execute an agenda. But the newest members, notably Roy, Norman and Massie, could end up biting McCarthy in the long run.
"Who [McCarthy] named to the committee definitely will not be the historical arm of appointees," Burgat said. "These are folks that have for a long time asked for decentralized power from the Speaker's Office and more debate on the House floor—antithetical to how leadership wants to consider how legislation is discussed."
That can put McCarthy in a bind if the three aforementioned members defect on any votes, as four Democrats on the committee could help to further upend votes. Those three members could also leverage other aspects.
Burgat said it has been several Congresses since members could offer any amendment on any portion of any bill, likely what said members want to push as the norm in this new Congress.
That provides the Democrats, the minority in this instance, an opportunity to offer amendments and also puts the Republicans in a tough spot if dissenters exist. The debt ceiling bill could preview what the next two years may hold.
Burgat said aside from what a losing party vote on the floor leads to politically, these new rules could improve political debate—especially when the majority of the American people aren't keyed into issues most of the time.
On the contrary, it could lead to GOP grandstanding, infighting and legislative shortcomings.
"If we say that we want robust debate, if we say where we want our representatives to stand, this is the way to do it," Burgat said.
Former Republican Congressman Justin Amash, now a libertarian, praised Massie and Roy being appointed.
"We might actually get a properly functioning legislative body if the other Republicans don't screw things up at the behest of GOP leaders," Amash tweeted.
Tea Party Patriots, described as a grassroots movement predicated on personal and economic freedom, congratulated Massie, Norman and Roy for their appointments.
"They will help bring accountability, change and responsibility to Washington," the group tweeted.
Newsweek reached out to McCarthy for comment.