House Speaker Kevin McCarthy is facing threats of another GOP revolt, which could see him ousted from his leadership role in the House of the Representatives.
McCarthy is once again under pressure from hardline members of his own party who are unhappy with the California Republican for stalling on the launching of impeachment hearings against President Joe Biden. They are also demanding large-scale spending cuts while the House speaker negotiates with Democrats to avert a government shutdown before the end of the month.
One of the GOP members of Congress who are discussing taking steps to remove McCarthy is Florida Rep. Matt Gaetz. He was among the group of Republicans who refused to vote for McCarthy to become speaker in January, with the Californian getting elected only at the 15th attempt as six Republicans withheld their ballot.
One of the concessions McCarthy made to appease hardline and extreme members of his party to back his reelection was changing Congress rules so that just one member could introduce a so-called "motion to vacate" to force a vote on removing the House speaker.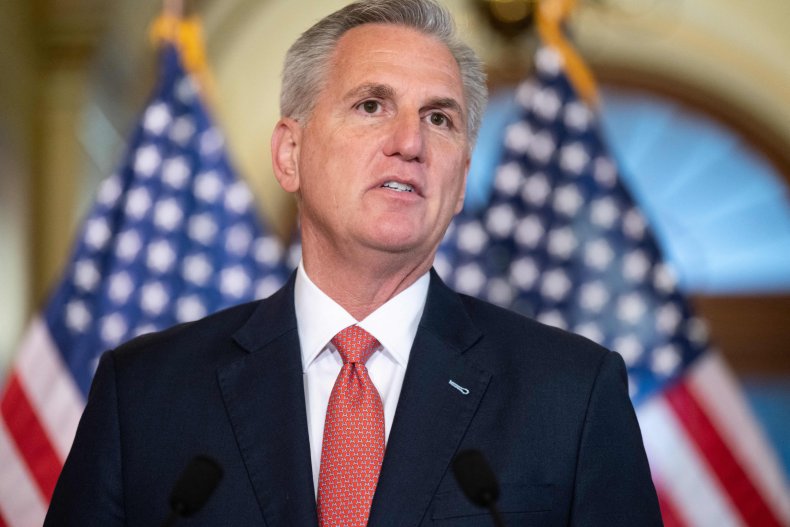 The New York Times congressional reporter Annie Karni said that Gaetz will make moves to remove McCarthy. He has spent several days voicing his frustration that the House speaker has not triggered impeachment proceedings against Biden. This is over claims that the president intervened and personally benefited, while vice president, from his son Hunter Biden's foreign business deals.
"On Tuesday, Gaetz plans to deliver a floor speech laying out a detailed case against McCarthy," Karni posted on X, formerly Twitter. "He isn't expected to call for a motion to vacate, but he is laying the groundwork for a potential move to oust him if things reach that point."
Newsweek has contacted McCarthy's office for comment via email.
The GOP has yet to reveal any meaningful evidence to back up the allegations of corruption against Biden, and the claims have denied by the White House and Hunter Biden's lawyers. McCarthy previously said the House could hold a vote to launch an impeachment inquiry sometime this month. It is far from certain that the Republicans, who have a razor-thin majority in the House, will have the two-thirds majority votes needed to launch an impeachment hearing against Biden.
However, if a motion to vacate is called by just one lawmaker, only a few Republicans would have to side with Democrats to remove McCarthy as House speaker in a simple majority vote.
In social-media posts, Gaetz had previously threatened to take steps to remove McCarthy as House speaker if he does not launch impeachment proceedings against Biden.
"I worked very hard in January to develop a toolkit for House Republicans to use in a productive and positive way. I don't believe we've used those tools as effectively as we should have. We've got to seize the initiative," Gaetz posted on X on September 5. "That means forcing votes on impeachment. And if McCarthy stands in our way, he may not have the job long. Let's hope he works with us, not against us."
Gaetz recently posted on X that he would seek a deal with Democrats including California Rep. Eric Swalwell to pass a motion to vacate if one is introduced.
"If I'll work with Alexandria Ocasio-Cortez to ban congressional stock trading I'll absolutely work with Eric Swalwell to rid the House of ineffective leadership," Gaetz wrote. "How many votes can you deliver against a Motion to Table a Motion to Vacate, Eric? Asking for (many) friends!"
Elsewhere, moderate members of the GOP are concerned that McCarthy will once again cave to pressure from far-right and hardline members of the party who want massive cuts in a spending bill. The moderates have spoken out against the House speaker's hopes of passing a short-term funding bill to postpone a potential government shutdown. Congress will need to pass legislation to avoid such an event by September 30 as federal agencies are due to run out of cash at the end of the month.
Texas Rep. Chip Roy, a member of the influential House Freedom Caucus, is one of those who said he will not support a short-term funding bill.
"A shutdown isn't an objective. The objective is to force the administration to the table to come sit down with Republicans and say, 'How are we going to fund a government that's supposed to carry out its responsible duties for the American people?'" Roy told Newsmax on Monday.
He added that the looming shutdown should not be used as a bargaining tool in the impeachment of Biden, as the financial negotiations are a separate calculation for the GOP.
Nebraska GOP Rep. Don Bacon has also expressed concerns that McCarthy may again try to please hardline members of the party in the shutdown negotiations, just like he did when he was trying to win over votes for his reelection in January.
"There's at least 180 of us that will vote for the speaker 15 more times if we've got to. So we just can't be held hostage to a threat," Bacon told Politico.
"We're talking about a small minority who want to control the conference," Bacon added, adding that Republicans "should support Kevin" on a short-term bill to avoid a shutdown.