Kevin McCarthy Says Joe Biden Isn't Backing up His 'Unity' Message
Republican House Minority Leader Kevin McCarthy has said President Joe Biden is failing to back up the message of "unity" in his inaugural address, complaining about the commander-in-chief's plans for immigration and jobs.
The California Republican told Fox News that the unifying actions promised by Biden had not taken place within his first five days in office and argued that the president was not as prepared for COVID-19 as he had claimed he would be on the campaign trail.
Posting on social media on Sunday, Rep. McCarthy wrote: "Remember what President Biden said about 'unity' just a few days ago? So far, he has done nothing to back it up."
Speaking to Fox News at the weekend, he said: "I'll tell you what would unify this nation is exactly what we're working on in the Republicans in Congress... Not 11 million new illegal immigrants having citizenship. What about those 10.7 million Americans who need a job?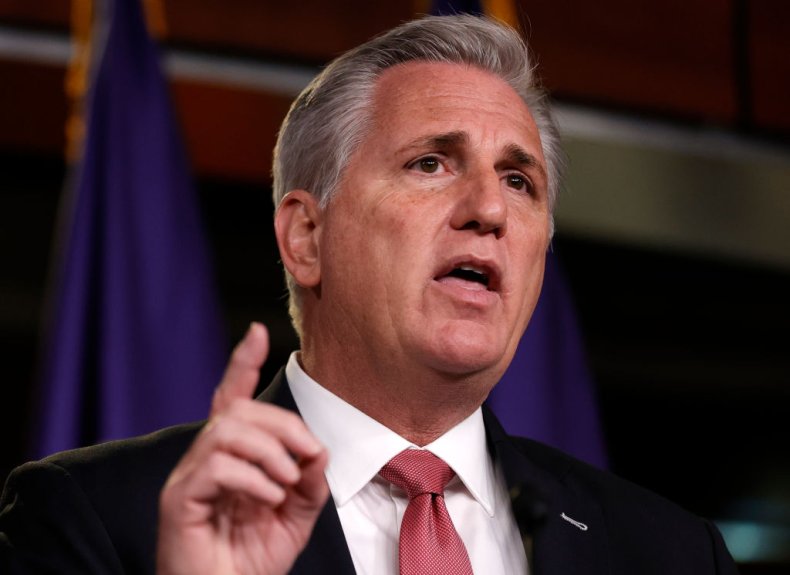 "Or what about getting our kids back in school? Or getting the vaccine efficiently to everyone who wants it. His program when he was campaigning, on day one he was going to be prepared for COVID. What can he tell us? He can do nothing else."
Newsweek has contacted the White House for comment.
The House Republican leader hit out at Biden over his immigration plan and COVID preparedness after it was reported that the president planned to open a route to citizenship for the estimated 11 million undocumented immigrants living in the U.S.
In a readout of a phone call between Biden and his Mexican counterpart President Andrés Manuel López Obrador, the White House said the pair had discussed increasing "lawful alternative immigration pathways" and reversing "draconian" policies set out by the previous administration.
Outlining the proposals in an immigration bill, White House press secretary Jen Psaki said: "It includes smarter security, it includes a path to citizenship, but it also includes funding to address the root cause."
A Gallup poll published last year found that most Americans wanted immigration to be kept at its present level or decreased, while a little more than a third (34 percent) said they wanted immigration to increase.
Delivering his inaugural address on Wednesday last week, Biden promised to be a president for all Americans as he stressed the need for unity in the wake of the Trump administration and the Capitol riots on January 6.
"I pledge this to you: I will be a president for all Americans, all Americans," he said. "And I promise you I will fight as hard for those who did not support me as for those who did."