Kevin McCarthy Says Tim Scott 'Upstaged' Joe Biden, Suggests He Could Run For President
Representative Kevin McCarthy (R-CA) has touted Senator Tim Scott as a possible presidential contender following his delivery of the GOP's response to President Joe Biden's joint address to Congress.
During the 14-minute rebuttal, the South Carolina senator accused Biden and his administration of "pulling us further apart" and outlined his own backstory of being raised by a single mother and benefitting from "opportunities that are only possible here in America."
Kevin McCarthy told Fox News host Sean Hannity: "The part that made the most history tonight—this will be the first time the response has upstaged the president.
"People are going to start talking tomorrow that Tim Scott should be running for president. Could you imagine him on the debate stage versus Joe Biden? It's not even close."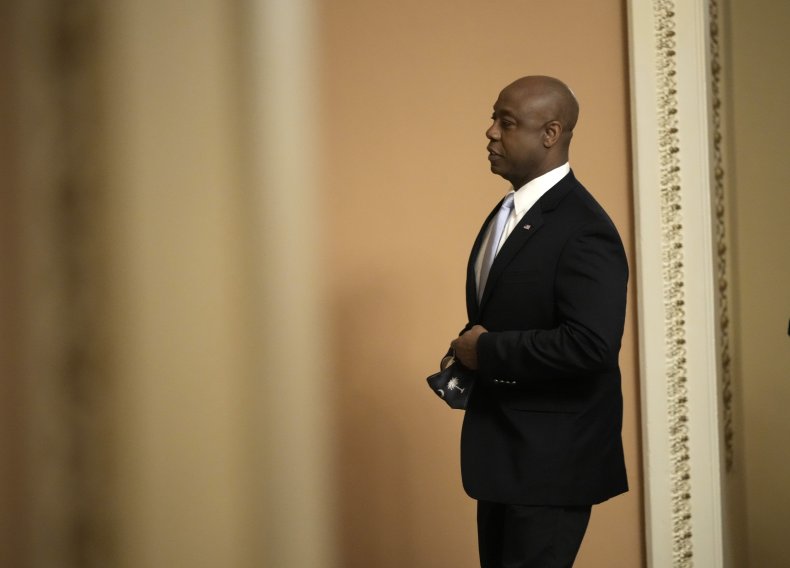 The address by Scott, the only Black GOP senator, shows his rise within the party ranks. He has said that his last Senate race will be 2022. He is considered to be a contender for the Republican Party's 2024 nomination.
Describing him as a "close personal friend," McCarthy praised Scott's "most compelling story about the exceptionalism of America," in which Scott described how his grandfather had a newspaper in front of him at the kitchen table every day.
"It was only years later that Tim found out that his grandfather could not read, but wanted a better life for his grandsons. He knew that is what American meant, that he wanted him involved in the current events."
Mentioning the Trump administration only once, in a reference to its COVID response, Scott criticized Biden's $2.3 trillion infrastructure proposal and tried to fire up the GOP base by contrasting his party's policies with the Democrats' "socialist dreams."
Describing his own story about race and how in the past he has been "pulled over for no reason" by law enforcement, he insisted that "America is not a racist country."
Scott defended Republican moves on voting rights in general, and a new law in Georgia in particular, which critics say will disenfranchise minority voters.
He said the Peach State had "passed a law that expands early voting; preserves mail-in voting; and, despite what the President claimed, did not reduce Election Day hours."
"If you actually read this law, it's mainstream. It will be easier to vote early in Georgia than in Democrat-run New York," Scott said.
"I'm an African-American who has voted in the South all my life. I take voting rights personally," he said.
Newsweek has contacted Scott's office for comment.