Kevin McCarthy Says COVID Funds Should Be Used to Reduce Doors at Schools
In the wake of this week's deadly school shooting in Texas, House Minority Leader Kevin McCarthy has proposed using funds intended to combat the COVID-19 pandemic on efforts to reduce doors at schools.
McCarthy made the remarks Thursday during an interview on Fox Business Channel's Fox Business Tonight. The California Republican pondered whether Salvador Ramos, the suspected shooter in Tuesday's elementary school massacre, could have been stopped from entering the school if it had fewer doors. He proposed using untapped COVID-19 funds to address mass shootings by redesigning school entrances.
"If this school was on lockdown, could the doors have been locked where he couldn't have got in?" McCarthy asked. "There are billions of dollars sitting out there after COVID, for schools. We should redirect that money to allow the schools to use that to have one central point of entrance to protect these kids from a lot of different items."
As of last week, schools had spent only about 7 percent of the $122 billion in COVID-19 relief funds they had been given as part of President Joe Biden's $1.9 trillion American Rescue Plan, according to a Wall Street Journal article citing data from the Department of Education.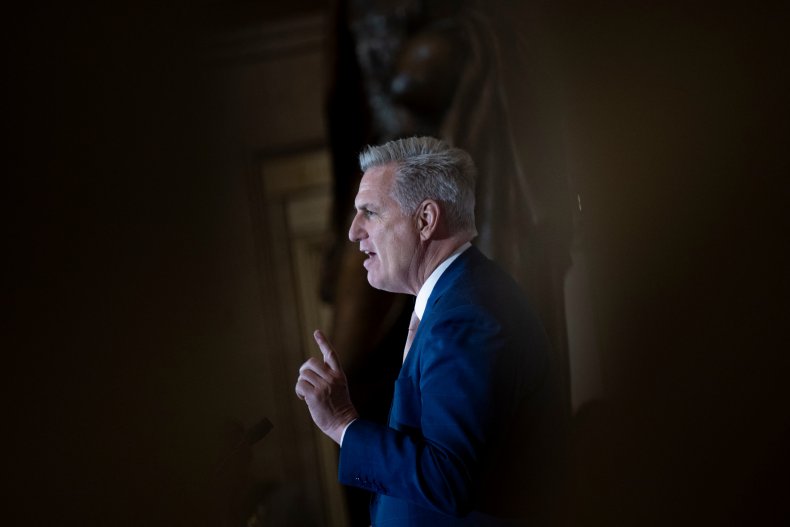 While the funds will expire if they are not used by September 2024, it is not clear when the pandemic will end or how much of the money might be needed for related purposes in the more than two years it will remain available.
Newsweek reached out to McCarthy's office for comment.
McCarthy is one of several Republicans who have proposed alternative solutions while rejecting Democratic calls for greater gun control following Tuesday's shooting in Uvalde, about 80 miles west of San Antonio. The shooting left 22 people—including 19 children, two teachers and the alleged gunman—dead at Robb Elementary School, making it the deadliest school shooting since the 2012 Sandy Hook shooting in Newtown, Connecticut.
Republican Senator Ted Cruz has also suggested addressing gun violence by reducing the number of doors at schools. The Texas senator insisted that "having one door that goes in and out of the school" with "armed police officers at that one door" could have "prevented the horror" of the mass shooting while speaking to reporters in Uvalde on Wednesday.
Cruz repeated his suggestion of eliminating excess doors and other methods of "hardening" access to schools while speaking about school shootings at the National Rifle Association's annual convention in Houston on Friday.
Cruz stormed out of an interview with a British journalist earlier this week after being asked why school shootings happened so frequently in the U.S., accusing the journalist of being a "propagandist."
In addition to the number of doors, Republicans have also blamed gun violence at schools on COVID-19 lockdowns, the impact of social media, a lack of home schooling, mental health issues and not having enough guns at schools.