Ted Cruz Angrily Walks Away From Interviewer When Gun Control Is Brought Up
Ted Cruz walked away from a journalist who asked the Texas senator whether gun reform is needed in the wake of the Uvalde school shooting.
Cruz was being interviewed by Mark Stone, the U.S. correspondent for U.K. network Sky News, at a vigil for the 19 children and two adults who were killed by a gunman at the Robb Elementary School.
Asked if there need to be reforms to gun laws in the U.S., the only country in the world where school shootings happen so frequently, Cruz dismissed the question.
"You know, it's easy to go to politics," the Republican senator said. "I get that that's where the media likes to go."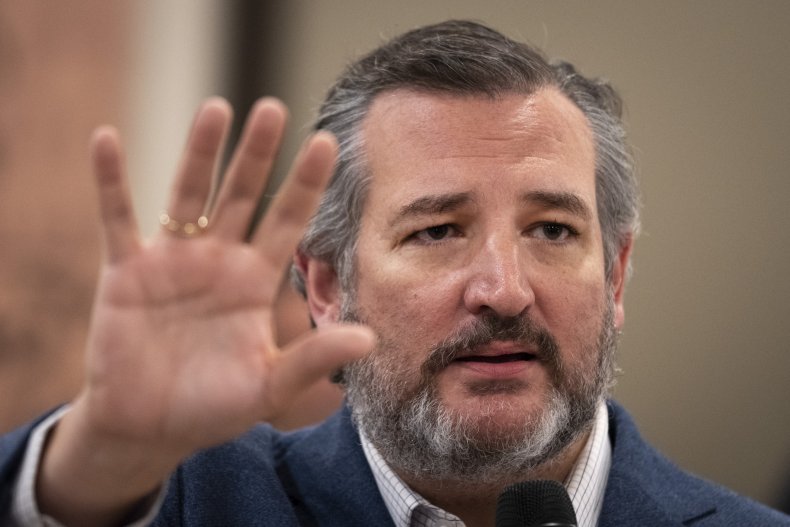 When Stone said the debate on gun laws is also where many Uvalde residents would like to go in the wake of the tragedy, Cruz added: "The proposals from Democrats and the media, inevitably, when some violent psychopath murders people [...] if you want to stop violent crime, the proposals the Democrats have? None of them would have stopped this."
Stone suggested that one law that may have prevented the shooting was restricting the 18-year-old gunman Salvador Ramos from being legally able to purchase two assault-style rifles before carrying out the attack.
Stone then asked Cruz why such shootings only occur in the U.S. and why the nation is willing to accept such "American exceptionalism."
"I'm sorry you think American exceptionalism is awful," Cruz said. "You've got your political agenda, God love you," Cruz added before walking away from the interview.
When asked again why mass shootings only occur frequently in the U.S., Cruz said: "Why is it that people come from all over the world to America? Because it's the freest, most prosperous, safest country on Earth. Stop being a propagandist."
Cruz—who is scheduled to appear at an NRA event in Houston, Texas, over the weekend along with Texas Gov. Greg Abbott and former President Donald Trump—previously suggested that the way to prevent school shootings is to station armed officers on campus, rather than introduce stricter gun laws.
"We know from past experience that the most effective tool for keeping kids safe is armed law enforcement on the campus," Cruz told reporters hours after the shooting at Robb Elementary.
"Inevitably, when there's a murder of this kind, you see politicians try to politicize it. You see Democrats and a lot of folks in the media whose immediate solution is to try to restrict the constitutional rights of law-abiding citizens," Cruz added. "That doesn't work."
On Wednesday, Cruz was part of a press conference hosted by Abbott about the school shooting which was interrupted by Beto O'Rourke, the Democratic Texas gubernatorial candidate.
O'Rourke, who has frequently called for stricter gun laws as part of his political campaigns, accused the governor of "doing nothing" to prevent such tragedies occurring.
Abbott has pushed back against all calls for gun reform, including signing several bills loosening gun laws in Texas despite a series of high-profile mass shootings in the state in recent years.
Cruz, who beat O'Rourke in a closely contested Texas Senate race in 2018, later told Fox News the Democrat's actions at the press conference were "disgusting."
Update 5/26/22 6:23 a.m. EDT: This article was updated with additional quotes and context.