Kevin McCarthy Says He'd Wager His House That GOP Will Win Control of House in 2022
House Minority Leader Kevin McCarthy of California has said he's so confident that Republicans will take the House majority in 2022 that he would wager his own house on it.
In a Saturday CPAC appearance with American Conservative Union Chair Matt Schlapp and Rep. Jim Banks of Indiana, McCarthy said there was "no chance" that Democrats will keep control of a majority in the House next year.
"We're going to get the majority back. We're five seats away," he said. "I would bet my house. My personal house. Don't tell my wife, but I will bet it. This is the smallest majority the Democrats have had in 100 years."
McCarthy also credited former President Donald Trump for Republicans gaining seats in the House in the November 2020 election.
"You know why we won that? President Trump worked on all these races, let me give you a little secret and some facts, this is the first time since 1994 that no incumbent Republicans lost, we beat 15 Democrats," he said. "You know who the 15 Democrats lost to? Conservative women and conservative minorities. Each and every one of them."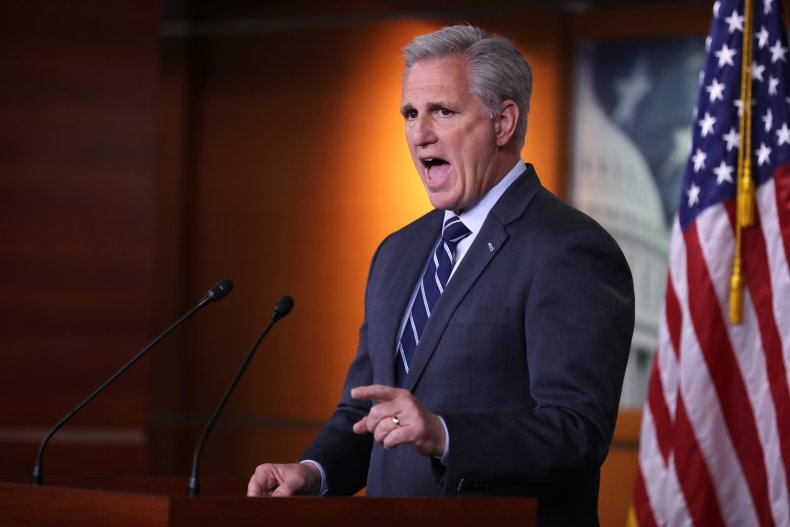 "Even when President Trump was sick with COVID. He called me this night in the hospital, he said, 'Kevin I've gotta keep doing this.' Because we couldn't do the rallies [so] he would do the rallies over the phone for each district and he'd have the candidate on and then he would talk. It would turn out the votes and that's what shocked cause all the polls said we'd lose but on Election Day the voters said, 'No there's a new path,'" McCarthy added.
Newsweek reached out to House Speaker Nancy Pelosi for comment.
His remarks come as the GOP grapples with its future in the post-Trump era. Since the ex-president lost the election, the Republican Party has devolved into a civil war between the Trump wing and the establishment wing impatient to quell his influence.
During their CPAC discussion, Banks called McCathy "the most popular Republican figure in Congress today."
"Let me tell you who the least popular Republicans in the party are today," he continued, "they are those very few Republicans who want to erase Donald Trump and Donald Trump supporters from our party."
The 10 House Republicans who voted to impeach Trump for a second time—including Rep. Liz Cheney of Wyoming—and the seven Senate Republicans who voted to convict him have all faced attacks from within their party for breaking with the former president.
McCarthy and Cheney disagreed about whether Trump should deliver an address at CPAC during a joint press conference earlier this week. The ex-president is scheduled to speak at the conservative conference on Sunday afternoon.