The House Republican leader Kevin McCarthy has warned Speaker Nancy Pelosi that he will "bring action" against Rep. Maxine Waters this week if the Democratic leader fails to punish the lawmaker for inciting confrontation.
Posting on social media, Rep. McCarthy (R-CA) accused Waters (D-CA) of inciting violence in Brooklyn Center, Minneapolis at the weekend, and engaging in dangerous rhetoric amid anger over the killing of Daunte Wright.
The 20-year-old Black man was shot dead by police after he attempted to evade arrest following a traffic stop. Police said he had a warrant standing against him.
Appearing with protesters in Brooklyn Center on Sunday night, around the time of a curfew, Waters said activists had to let law enforcement know "we mean business," along with other remarks construed as incitements to violence.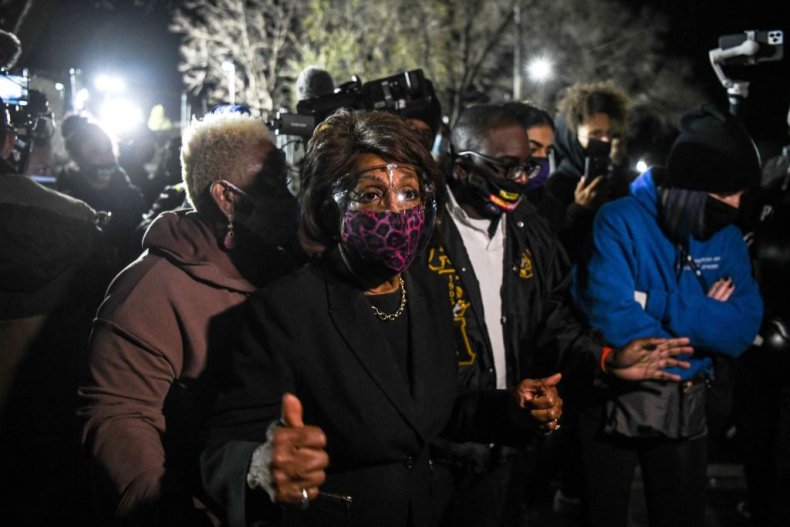 Asked what protesters should do as she appeared on camera, Waters said: "We've got to stay on the street, and we've got to get more active. We've got to get more confrontational. We've got to make sure that they know that we mean business."
The House minority leader was one of several GOP lawmakers to express outrage at the Democratic congresswoman's comments.
"Maxine Waters is inciting violence in Minneapolis — just as she has incited it in the past," Rep. McCarthy tweeted. "If Speaker Pelosi doesn't act against this dangerous rhetoric, I will bring action this week."
Rep. Marjorie Taylor Greene (R-GA) also announced that she would introduce a resolution to expel the congresswoman from the House of Representatives over her comments at the weekend.
"Very soon I'll be introducing a resolution to expel [Rep. Maxine Waters] from Congress for her continual incitement of violence on innocent American people," she tweeted. "Rep Waters is a danger to our society."
Newsweek has contacted Speaker Pelosi's office for comment on Waters' remarks. Rep. Waters' office has also been contacted for comment.
Protesters and police in Brooklyn Center have clashed for much of the past week, but Associated Press reported on Sunday that efforts were being made to keep the peace after days of tear gas and other objects being hurled outside the local police department.
It was reported last week, when clashes were at their most intense, that a number of businesses had been looted or destroyed as a result of rioting and protests in the suburb of Minneapolis.
John Harrington, commissioner of the Minnesota Department of Public Safety, told a press briefing that the National Guard has been activated as around 20 businesses had reportedly been broken into in the area.